"Renatle: Mosaic of Life" by Renate Mousseux hits Amazon.com's Best Seller List in multiple categories.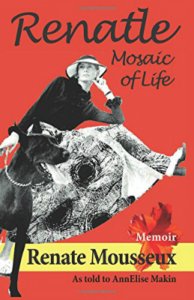 Founder of Body Language 4 Success, Renate Mousseux's recent release, Renatle: Mosaic of Life hit Amazon's best seller list on February 2, 2017 in categories for Inspirational Biographies, Memoirs of Educators, and Conduct of Life.
In response to reaching the best seller list, Mousseux stated, "I am 100% pleased. If I do a project, any project, I give my very best and that spells SUCCESS. I am very proud to have reached the best seller list; it is the greatest honor for me."
Renatle: Mosaic of Life is the true story of courage, perseverance, and survival against seemingly insurmountable obstacles. In the book, Mousseux recounts her experiences as she survived a bombing attack as a toddler, was evacuated for three years to a remote village in the Black Forest, only to have her mother pass away and her father abandon her.
Raised by her aunt, Mousseux eventually becomes a teacher, and consultant, but not before embarking on a journey of heartbreak, abuse, drugs and scandal. Through it all, Mousseux never loses hope, her sense of humor, or her will to overcome.
With the release of her new book, Renatle: Mosaic of Life, Mousseux's goal is to provide a family history for her son and granddaughter. With a family tree dating back to 1633, Mousseux felt it important to add to the family legacy. She also wanted to inspire others. In her own words, she aims to "inspire others to be courageous, not to whine, and to solve [their] own problems. Be positive! Never lose your sense of humor. Be kind!"
Mousseux has lived those words by successfully raising herself from nothing to enjoying a long career as a teacher, and finally a successful consultant. She now operates Body Language 4 Success where she is called upon to interpret the body language of celebrities, politicians, and criminal defendants, among others.
Renatle: Mosaic of Life is now available on Amazon at https://www.amazon.com/dp/B01MU1Y7N2. Both paperback and Kindle editions are available.
To learn more about Renate Mousseux, visit http://bodylanguage4success.com/
Media Contact
Company Name: Pursuit Media Company
Contact Person: Chris Gunkle
Email: chris@chrisgunkle.com
Phone: (608) 397-5956
Country: United States
Website: http://bodylanguage4success.com/