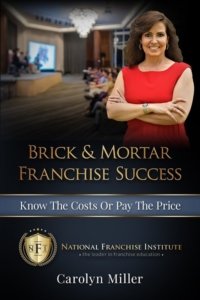 Miller dedicated her book to all the brave entrepreneurs who join the franchise ranks with dreams of opening a successful location.
Her new book hit best-seller lists on Amazon.com within 24 hours of release. It was ranked #1 in the Kindle "Franchises" category, as well as #29 in "Entrepreneurship & Small Business." The book is now available on Amazon in a 260 page paperback.
Failure is not an option – until it happens! The purpose of the book is to take the guesswork out of the entire development process so franchisees know exactly what it takes to get their new location open in the least amount of time, for the best overall price and, more important than anything else, without making costly mistakes in the process.
With a Foreword by Rick Grossmann and Michael J. Katz, Esq., authors of Entrepreneur Magazine's Franchise Bible, "Brick & Mortar Franchise Success" provides roadmaps through the build-out process from calculating a realistic timeline for the project, hiring of the right general contractor, architect and attorney, through the physical reality of the construction process and getting the doors open for business.
Carolyn Miller's no-nonsense approach to site intelligence and construction management reveals specific strategies that have saved hundreds of franchisees millions of dollars. Many new franchise buyers learn the hard (and expensive) way that setting up a new brick and mortar business is challenging and confusing. The average franchise buyer is in unfamiliar territory and historically many make costly mistakes, which can be the downfall of their business.
Miller said: "The franchise model is brilliant. Its success across countless industries leaves many people in awe of just what's possible when a proven business model is proved yet again. But don't be fooled. Success isn't guaranteed and the stakes are a lot higher when leasing space and building physical locations."
"Brick & Mortar Franchise Success: Know The Costs or Pay The Price" can be purchased on Amazon
Media Contact
Company Name: National Franchise Institute
Contact Person: Carolyn Miller
Email: carolyn@nationalfranchiseinstitute.com
Phone: 303-532-3377
Country: United States
Website: http://www.NationalFranchiseInstitute.com