Horses Help Heroes, founded in 2016, has acquired 501(c)(3) status. The organization's programs in support of disabled veterans are conducted in Gambrills, Maryland.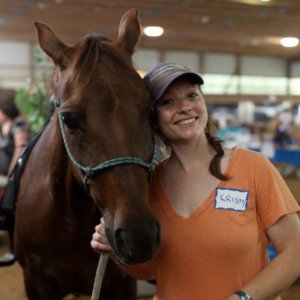 Horses Help Heroes is a non-profit organization dedicated to making positive change in the lives of disabled veterans, their families, and families who have lost loved ones while serving on active military duty. The organization offers a variety of equine-related programs at no cost to veterans and families. Horses Help Heroes recently acquired 501(c)(3) status.
Under the concept of "returning freedom to those who fought for ours," the organization is in the process of establishing programs and services for service-connected disabled veterans and their families.
The following programs are planned:
• Small group sessions at the farm, ranging from unstructured time to hang out with the horses, interactive educational experiences, and structured therapeutic activities.
• Short-term individual riding and carriage driving instruction.
• Volunteer opportunities at the farm.
• Family fun sessions including picnics at the farm, trail riding opportunities, holiday photos with horses, and more.
The staff at Horses Help Heroes can also create programs to meet the specific needs of participating groups.
Horses Help Heroes Program Director Kristy Alvarez said, "Helping military veterans who have served our country and helping people through equine-assisted learning are two of my passions. At Horses Help Heroes I am able to combine the two in an effort to improve the lives of disabled veterans and their families."
Horses Help Heroes runs most of its programs at the former U.S. Navel Academy Dairy Farm in Gambrills, Maryland. The farm, which includes over 800 acres, was established in 1913 for the purpose of supplying the Academy's midshipmen with healthy, high-quality milk and it remained in operation until 1998. Just one year prior to closing, the Dairy Farm was determined eligible for the National Register of Historic Places.
For more information about Horses Help Heroes, visit: https://www.HorsesHelpHeroes.org
Media Contact
Company Name: Nations Media Group
Contact Person: Bill Kopatich
Email: BillK@NationsMediaGroup.com
Phone: 704-625-0097
Country: United States
Website: http://www.NationsMediaGroup.com