Rose Phan Author and CEO of Bella Vie Water LLC spoke to a select group of thought leaders from around the world at a symposium held at the Military Academy at West Point, NY in the fall of 2016.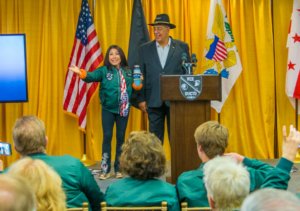 Phan shared the stage with world-renowned figures Astronaut Buzz Aldrin and Lt. Gen Russel Honore. The event was part of the Faculty Leadership Speakers Academy, an event that brings cutting edge leadership innovation to entrepreneurs and other thought leaders.
Phan shared her story of rising from being an immigrant from Vietnam and stay at home mother to creating a company with billings of 40 million dollars. Phan's concern for people's health and the environment led her to invent and patent a water filtration bottle and pitcher that filters water removing 99.9% of impurities, contaminants, and viruses while increasing the alkaline level.
Phan is on a mission to promote hydration and alkaline ph levels worldwide. When she traveled back to her native country, she reflected on how as a boat refugee she was thirsty with water all around yet unable to drink it. In her speech at West Point, she spoke passionately about how her products are saving lives in third world countries and promoting good heath in developed countries. Her marquee product, a water bottle with a built-in micron and charcoal filter removes the many contaminants and viruses that lead to water borne diseases.
In the program, Lt. General Honore' spoke about his vision, "The next wars will be about water, not oil (a topic that is near and dear to Phan's heart). From global and domestic terrorist threats to natural disasters, we encounter new risks to our individual, community, and economic security each day. We will need to leverage technology to deal with 7 to 10 Million people it's not an option we must do it. Imagine a plane landing at LaGuardia and the computer tells the pilot that the passenger in seat 22 has a fever. None of this is invented, and we have to live up to our ability to be innovators and dreamers."
The other keynote speaker, Col. and Astronaut Buzz Aldrin, an American engineer and a former astronaut shared his next mission. As the Lunar Module Pilot on Apollo 11, he was one of the first two humans to land on the Moon, and the second person to walk on it spoke about going big on his mission to Mars. He commented, "In my opinion, there is no more convincing way to demonstrate American leadership for the remainder of this century than to commit to a permanent presence on Mars, going to Mars without setting up a colony — launching only round-trip manned missions is not enough, nor would establishing human outposts on the moon."
Through her humanitarian and business success, Phan has been recognized and honored with prestigious awards. These include a nomination to the top 500 women-owned business due to her phenomenal revenue growth. Phan has received multiple awards from the National Association of Women Business Owners, Business Woman of the Year, Asian Business Association of OC (ABA), Keepers of the Dream from Reader's Digest and much more.
Ms. Phan is the best-selling author of the book, "Fire of Hope." Former CNN Anchor and Writer, Sharon Frame, wrote, "From a Vietnamese boat refugee to a U.S. citizen who embodies the American dream and appreciates the land of opportunities comes a riveting must-read. The real-life stories that leap from the pages of Fire of Hope will captivate your attention and warm your heart. This book is a light of hope and guidance to a struggling humanity."
To view the entire presentation go here.
The Fire of Hope is available on Amazon.com.
To find out more about water filtration go here.
Media Contact
Company Name: The Authority Syndicate Group, LLC.
Contact Person: T. Allen Hanes
Email: info@theauthoritysyndicate.com
Phone: 2819108728
Country: United States
Website: http://www.tallenhanespublishinggroup.com