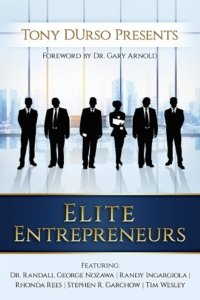 Higher Purpose Publishing and Tony DUrso (host of Revenue Chat Radio) launched a collaborative book project for Entrepreneurs that benefits The Kevin Richardson Wildlife Sanctuary in South Africa.
The book hit best-seller lists on Amazon.com within 24 hours of release. It ranked #2 in the Kindle "Business & Money Green Business" category, as well as #15 in "Business & Money Economics."
Explaining the project, DUrso said, "This is an important book for us, so we reached out to a select group of Elite Entrepreneurs we feel are true advocates for the success of their customers and community, while at the same time committing to spread the word about a great organization like The Kevin Richardson Wildlife Sanctuary." Higher Purpose Publishing pledges 100% of the royalties from the retail sales of the book to be donated to The Kevin Richardson Wildlife Sanctuary.
Contributing authors included: Dr. Randall Nozawa with Transformation Kaizen Institute for Personal Freedom, Randy Ingargiola with The Entrepreneur's Source, Rhonda Rees with Rhonda Rees Public Relations Company, Stephen Garchow with Foresight Business Consulting and Tim Wesley with TWfics Strategic Marketing.
With a foreword by Dr. Gary Arnold, CEO of Windhorse Corp. who said: "You'll enjoy the strength and wisdom that roars from the six lions of industry in this book. This is a management and business book that shows how to focus and strengthen your key competencies in today's unpredictable business world. If you want to be a great leader, if you want to have a great company, then use this book to help you deconstruct and rebuild your own cutting edge ideas."
DUrso continued, "This book is more than simply discussing sales, marketing and successful actions of our Elite Entrepreneurs. The contributors we selected are passionate about helping their customers. They answer the most common questions and misconceptions many people have about sales, marketing and leadership. The book covers sales, marketing, leadership and successful actions that took these experts from zero to the pinnacle of success in their field—a lot information that is rarely talked about."
"Tony DUrso Presents: Elite Entrepreneurs" can be purchased on Amazon
To learn more about The Kevin Richardson Wildlife Sanctuary visit http://www.lionwhisperer.co.za
Media Contact
Company Name: Marketing Huddle
Contact Person: Mike Saunders, MBA
Email: mike@marketinghuddle.com
Phone: 1-888-467-6374
Country: United States
Website: http://www.MarketingHuddle.com