Chuck Boyce has filed with the Federal Elections Commission to run for Delaware's United States Senate seat in 2018. Boyce, a Delaware business owner, is the only Republican filed for the race.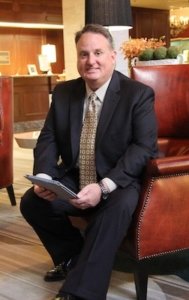 "Each period of transition creates a time of radical divisiveness throughout the country. I'm eager to provide a much-needed respectful and outside voice as a Rational Republican," Boyce said. "We must end the musical chair mentality that is plaguing what it means to be a public servant. I look forward to providing the people of Delaware an alternative."
Boyce is an international best selling author, entrepreneur, philanthropist, and owner of Brandywine Executive Center in Wilmington. His successful business career has solidified Boyce's strong fiscal conservative values, however he believes the federal government is distracted by party politics. "Delawareans deserve better than what is currently being delivered in Washington," Boyce said. "It's time to focus on getting our priorities straight."
Those priorities include addressing stagnant wage growth and continued recession recovery, returning power back to our classrooms and ending the national standard of teaching to test, and ensuring better transitional tools and healthcare benefits are available to our nation's veterans. For too long our elected officials have gravitated toward divisive issues instead of proposing bi-partisan legislation for common sense solutions, Boyce said.
"While our current elected officials are distracted with party politics, we have an obligation to protect those most at risk and provide opportunities for all Americans to thrive. We must continue to reward the risk takers, and provide not just a safety net that entangles families within the system, but instead a springboard that rebounds them toward success."
Boyce has filed his statement of candidacy with the Federal Election Commission to run for the seat currently held by incumbent Tom Carper in the U.S. Senate.
His campaign committee, the Committee to Elect Chuck Boyce can be reached at 300 Delaware Avenue, Suite 210, Wilmington, DE 19801 and online at www.chuckforsenate.us
Media Contact
Company Name: Committee to Elect Chuck Boyce
Contact Person: ToriAnn Parker
Email: tparker@chuckforsenate.us
Phone: (302) 894-7755
Country: United States
Website: https://chuckforsenate.us