Feminine Influencers' Zaza Giroday begins the search for international healers, leaders and givers to be included in their upcoming book project that focuses on women who serve from the heart. The authors will also be featured in major US media.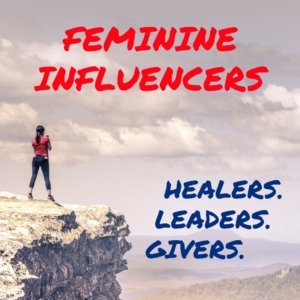 Zaza Giroday, President of Feminine Influencers confirmed they have officially launched a search for international women coaches and healers to be featured in the upcoming book and second volume, "Feminine Influencers: Healers, Leaders, Givers. Women who serve from the heart."
Explaining the search process, Giroday said, "This is an important book for us, so we will be reaching out to a select group of healers, leaders and givers we feel are true advocates for the success and transformation of their people, while at the same time committing to help them spread the word about the difference they make in other peoples' lives."
Scheduled for release in July 2017, "Feminine Influencers: Healers, Leaders, Givers" will spotlight each of the women selected from this search, sharing their insights and real world experience on how they help their people. To help them expand their reach with their message, they will also be featured in major media outlets and as guest experts on radio shows.
Giroday said, "The women we select are passionate about helping their people world-wide. They will answer the most common questions and bust the myths and misconceptions so many people have about their services. "Feminine Influencers: Healers, Leaders, Givers" will cover a lot information that is rarely talked about, and will unveil how these women's own journeys uncovered their healing gift and allowed them to step up and make a real difference in their client's lives.
With several industry leaders expressing interest in participating, Feminine Influencers is expected to announce the final selection in the next 10 days.
What makes this book different is that participants will be taken through a special process to unveil what their true message is to give them complete clarity. This makes the project atypical in its approach, Giroday asserted, "One of the reasons we launched this search is because we did not want to go the route of filling this book with the stereotypical 'Experts.' This search would be unnecessary if that was the case. In addition, the process the participants go through makes them more comfortable speaking about what they do and as a consequence about being more visible. We anticipate a lot of media exposure around this project and for the women we select to be featured in the book, so we really want to showcase those who are actually in the trenches, working hard every day and willing to share their experience and the success of their people. That is what will make this a win, win project."
Giroday is an educator and advocate for women coaches and healers, boosting their visibility and recognition. She stops female business owners from being best-kept secrets and helps them hold their space using the power of positioning and influence marketing.
For more information about participating in the Feminine Influencers Book project contact Giroday at zaza@feminineinfluencers.com
Media Contact
Company Name: Feminine Influencers
Contact Person: Zaza Giroday
Email: zaza@feminineinfluencers.com
Country: France
Website: http//:www.feminineinfluencers.com