Butch Baccala, VP of Scouting for Program 15 and the New Balance Future Stars Series shares behind the scenes insights to the Major League scouting and evaluation process in a recent interview with veteran sports writer Mike Ashmore.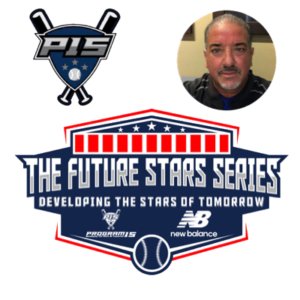 Injuries may have derailed Butch Baccala's major league dreams as a player, but his influence as a scout, where he served as an Area Supervisor, Regional Crosschecker and National Crosschecker, is still felt at the game's highest level today.
Now the VP of Scouting for Program 15 and the New Balance Future Stars Series, that ability to properly and fairly evaluate a player is as important as ever, and is a role Baccala takes very seriously. But the baseball lifer doesn't view it as giving back to the next generation of players, instead focusing on the position he's in to help make those dreams he once had come true.
"I look at it as being an extreme honor to be an evaluator that can influence schools or people so that it may lead to a scholarship or an opportunity for a player," Baccala said.
"You always want to help kids who had dreams, because when I was a player, I had huge major-league dreams and you'd like to be able to do that for another kid. A lot of times, we're a dream maker, and a lot of times, we're a dream breaker."
Baccala, who is in both his high school and college's respective hall of fames as a player and was drafted by the Philadelphia Phillies, has made a lot of those dreams come true with the Atlanta Braves as a Regional Crosschecker, then the Cincinnati Reds as a National Crosschecker, and lastly the Seattle Mariners where he started as an Area Supervisor and then circled back later in his career as a National Crosschecker.
He also runs the California Academy of Baseball, which is a partner of Program 15, for whom his responsibilities are to make sure that every player that comes to one of the Program 15 combines or events is properly scouted and evaluated to best of their abilities.
"I've always looked at it, even when I was an area scout or regional crosschecker or national crosschecker, as just going to a bigger playground," Baccala said.
"On those bigger playgrounds, you see better players. You're just trying to give a fair evaluation. These evaluations go out to different schools and different coaches, so you're just trying to help a get be noticed by a school that maybe he wants to go to and maybe open the door to an opportunity."
After Baccala worked together with Program 15 and New Balance Future Stars Series CEO and President of Baseball Operations Jeremy Booth in the scouting department with the Mariners, the two were searching for an opportunity to work together again.
"When we were both with Seattle, I had a tremendous amount of respect for Jeremy," Baccala said.
"In the draft rooms, Jeremy would always speak his piece and he was accountable for the region he worked in. Plus, when he would go around the country scouting players, he was a stand-up guy and he gave a fair evaluation. For a guy in my position, as the national crosschecker, you knew when he gave you an opinion that you could really count on it.
That evolved, as we grew together in Seattle, (and I knew) that we were going to work together some day. Last September, I think it was, he calls me and says, 'Are you ready to come to work for me?' I was ready to do whatever he wanted me to do and was happy to be a part of a team that he was involved with."
Booth was more than happy to bring him aboard, saying, "Butch and I met when I was doing Southern Texas and Louisiana for Milwaukee and he was doing the west coast for Seattle. When the Mariners called to bring me over to do the Midwest, Butch was someone I had already spent some time getting to know. The thing about Butch is his passion; the man genuinely cares about the game, players, and the people he works with. When I moved over to take the West and spend more time with our affiliates, my first question was to make sure Butch was moving up. He has always had my back and I have his, and I respect his evaluation skills to the point where I don't question him. When we parted ways in Seattle, I knew we would work together again and the first chance I had to make that a reality I took it."
The Future Stars Series is the initiative between New Balance and Program 15 to elevate the game of baseball by providing amateur baseball players across all economic levels an opportunity to reach their full potential through the training, development, and guidance of former MLB players, scouts, and coaches.
For the latest Future Stars Series updates and announcements follow @ftrstarsseries on Twitter or visit http://futurestarsseries.com
To learn more about Program 15, visit http://program15.com. And keep up-to-date with all of the latest Program 15 news and announcements on Twitter @Program15BB.

To learn more about New Balance baseball, visit http://www.newbalance.com/men/featured/baseball/, and follow @NB_Baseball on Twitter and @Nbbaseball on Instagram.

About Program 15:
Program 15, based in Houston, TX is built with the idea of quieting the noise and helping families to navigate the paths of proper instruction and development plans for all youth players with aspirations of playing baseball beyond high school and select ball levels through the execution of personalized development plans for each player.
About New Balance:
New Balance, headquartered in Boston, MA has the following mission: Demonstrating responsible leadership, we build global brands that athletes are proud to wear, associates are proud to create and communities are proud to host. New Balance is the only major company to make or assemble more than 4 million pairs of athletic footwear per year in the USA, which represents a limited portion of our US sales. Where the domestic value is at least 70%, we label our shoes Made in the USA. New Balance owns five factories in New England and one in Flimby, U.K. New Balance employs more than 5,000 associates around the globe, and in 2015 reported worldwide sales of $3.72 billion.
To learn more about New Balance, please visit www.newbalance.com and for the latest press information please visit http://newbalance.newsmarket.com
Keep up-to-date with all of the latest New Balance news on Twitter @NewBalance and newbalance on Facebook.
Media Contact
Company Name: Program 15
Contact Person: Rachel Allen
Email: press@authoritymediamarketing.com
Phone: 713-242-1662
Country: United States
Website: http://program15.com