People feel it is increasingly difficult to enjoy freedom, as their burdens are heavier and heavier. There is a need to have a change, and we should not put the cart before the horse. The feeling of freedom is obtained by Fosjoas K2 foldable electric scooter.
Freedom is so important for individuals, especially for the modern society folks. They are occupied with work and study, which is totally bound by the trivial matters. As freedom is so important for individuals, especially for the modern society folks, no matter for what kind of excuses, you cannot be bound by the trivial. Actually, there is an easy way to gain the feeling of freedom—Fosjoas K2 foldable electric scooter. Superior industrial design and artistic artisanship are embedded in this product.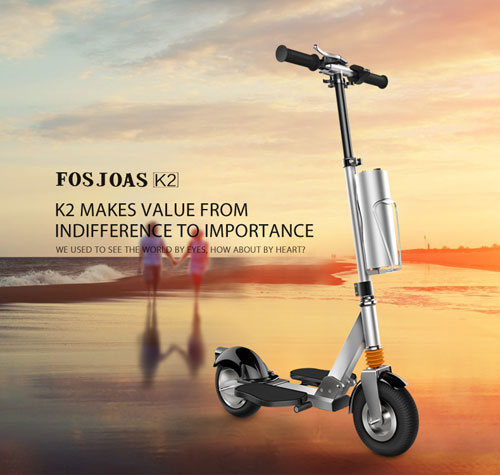 Fosjoas K2 electric scooter is armed by the most advanced processor worldwide: top architecture and significant performance improvement and monitoring real-time data via the App. It accords with principles of ergonomics, and changes the side standing which easily cause fatigue. The contoured shape plus the contrasting colour match make Fosjoas K2 even a spotlight at night. The shiny lighting and colourful breath light can not only warn the cars and pedestrians around, but transfer the night travel into cool and colourful one. What's more, the operation rod can be adjusted according to the height of the riders to provide the most comfortable riding experience.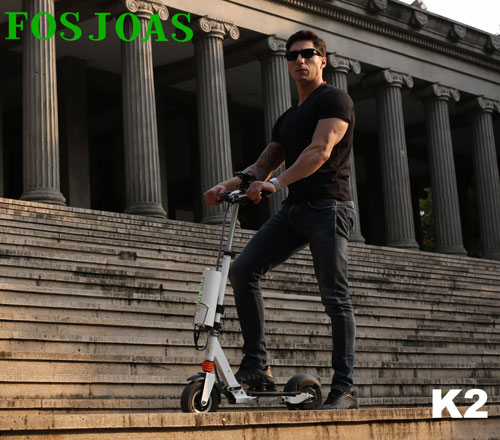 Fosjoas K2 standing up electric scooter will enable you to go the furthest distance, thanks to the DIY battery design. That is, riders just replace the exhausted one to a full one. A ride without stops can help you release stress and enjoy the feeling of freedom fully. Secondly, with the up-equipped battery design, K2 fast electric scooter will be with you rain or shine which suitable for all weather conditions and road conditions.
More importantly, Fosjoas K2 mini electric scooter can be folded into a small size so that riders can take it to bus, subway or car trunk. There are many other types of electric scooters in Fosjoas, except the mentioned Fosjoas K2. An impulsive trip will be realized and a feeling of freedom will be gained both by Fosjoas intelligent power scooter.
Media Contact
Company Name: Moben Intl (England) Co., Limited
Contact Person: Jason
Email: moben@fosjoas.com
Phone: +86-755-83777600
City: London
Country: United Kingdom
Website: http://www.fosjoas.com/