HOPE4BLUE will be the featured nonprofit beneficiary of the retail royalties for new book for Heroes: law enforcement, medical professionals, firefighters, teachers and military personnel.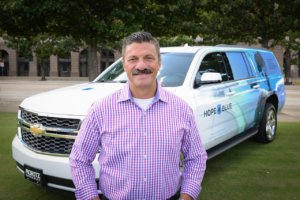 HOPE4BLUE, a nonprofit organization founded by Jeff Halstead, a retired Chief of Police, who served valiantly as a police officer for more than 28 years, raises funds to support every police officer and every police agency across the United States, and was officially selected as the beneficiary organization for the upcoming book, "Helping Heroes: Setting You Up To Live the Life You Desire Now and in Retirement."
Since May is the official month of recognition for public servants, communities and professionals are coming together to give back to our Heroes that work every day to protect our communities. Augmented Publishing Group (APG) has launched a marketing campaign to "buy-a-book-for-a-hero" of the purchaser's choosing: law enforcement, medical professionals, firefighters, teachers or military personnel.
The book Helping Heroes is part of a personal social responsibility project that APG attaches to all of their "Leading the Way" book projects. The projects provide valuable information to a specific audience while also naming a charity as their featured beneficiary and rewarding that nonprofit organization with the book's retail royalties.
Lisa Williams, president of APG, says," HOPE4BLUE has a mission that aligns with our mission to support and honor heroes, and we are honored to work with such a seasoned and respected professional like retired Chief Halstead."
One hundred percent of the retail royalties and a portion of the sponsorship will be donated to HOPE4BLUE.
"It is such an honor and a privilege to be selected as the featured nonprofit in this campaign that recognizes and serves our countries Heroes," Halstead says. "Even though HOPE4BLUE is a law enforcement nonprofit, we work with our community's faith leaders as well, and have a sincere respect for all of these heroes we will be serving in this partnership! These heroes work to make our nation stronger and safer, and they truly deserve our support."
The book will offer advice to enhance Heroes lives in the area of legal, financial, real estate, health, wellness and more.
"Helping Heroes is an invaluable resource for anyone, and the concept is truly revolutionary in that it can drive positive change across America," Halstead says enthusiastically. "This resource book outlines many services our heroes need to help them in everyday life, and you can provide help to a hero and support the many heroes in our communities for less than the cost of a fast food lunch!"
APG is presently calling on all schools, churches, businesses, and organizations at large to participate in the community initiative.
About HOPE4BLUE
HOPE4BLUE works year-round to provide advanced officer training, support for critically injured police officers who cannot return to their posts, support to faith-based leadership initiatives, and above all, a sense of hope for every law enforcement officer in today's tumultuous climate.
For more information, visit www.hope4blue.org
Media Contact
Company Name: HOPE4BLUE
Contact Person: Jeff Halstead
Email: jeff@hope4blue.org
Phone: 702-907-0304
Country: United States
Website: http://www.hope4blue.org