Four Seasons Roofing of Farmingdale, NY, has received GAF's 2017 President's Club Award. A GAF Master Elite(R) contractor since 2000, its factory-certified craftsmen work for flawless installations that are customized to each roof's design.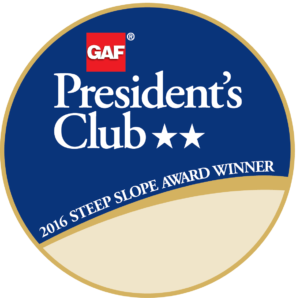 Farmingdale, NY – May 17, 2017 –
Four Seasons Roofing, Inc., of Farmingdale, New York, has received the most prestigious contractor award GAF offers: The GAF President's Club Award. This highly coveted award recognizes Four Seasons Roofing as one of the "elite of the elite" residential roofing contractors in the United States.
GAF is North America's largest roofing manufacturer, and only GAF Master Elite(R) Contractors can compete for its residential President's Club Award. To qualify for this award, a residential roofing contractor must demonstrate an exceptional level of excellence in their business, especially in the areas of Installation Excellence, Consumer Protection, and Installer Training.
Four Seasons Roofing has been a GAF Master Elite(R) Contractor since 2000; the company received the President's Club Award due to its excellent performance in 2016. To become a Master Elite(R) Contractor–a status that less than 2% of roofing contractors nationwide are able to achieve–a candidate must meet specific criteria in at least one out of three different pathways: the Performance pathway, where contractors focus on giving their property owners the best possible service, quality, and protection; the Reliability pathway, where the contractor has a long history of offering their customers the best quality and protection; and the Service pathway, where contractors consistently offer their customers the best protection available in the marketplace.
Since 1983, customers on Long Island have trusted Four Seasons Roofing to protect their homes. This family-owned company provides full roof replacements and roof-over projects that are accompanied by lifetime material and 25-year labor warranties, a full 40-point roof inspection, and an annual roof maintenance program
Homeowners needing a new roof or seeking to improve energy efficiency can rest assured that Four Seasons will ensure a professionally installed project. The company's experts assist customers to select options that suit their preferences but still stay within budget. Four Seasons provides a variety of home-improvement services to add curb value and save on energy costs, including roof installations, repair and maintenance, siding, windows and doors, roof and attic ventilation, insulation, skylights, drainage solutions, custom copper flashing, decks, masonry, pergolas, and chimneys.
The company also services homeowner associations, apartment buildings, and condominium complexes. Four Seasons has installed more than 30 million square feet of flat roofing for commercial customers and provides repairs, coatings, restoration, and maintenance. By paying attention to the smallest details, the company ensures that every square foot of roof is carefully examined and protected for optimum short- and long-term performance. Commercial services include inspections, new construction, repairs to masonry and metal roofs, custom metal fabrication, snow removal, and emergency service.
The family at Four Seasons expresses gratitude for its success by helping others and giving back to the community. Honored to help local families and children in need, the company supports Nourish the Children and Make-A-Wish(R) Foundation; it also works with Habitat for Humanity of Suffolk County. Four Seasons is actively involved in the industry; it is a member of National Roofing Contractors Association, National Association of the Remodeling Industry, Building Trades Association, North/East Roofing Contractors Association, Hauppauge Industrial Association, and Long Island Solar Energy Industries Association. Certified by Building Performance Institute, Four Seasons is a GAF Certified Green Roofer(TM) and authorized GAF Solar Elite Contractor(TM). A multi-year winner of the Angie's List Super Service Award, it is accredited by the Better Business Bureau and holds an A+ rating.
With its factory-trained team of experts, certifications by major manufacturers, and superb record of consumer affairs, the company has created thousands of satisfied customers. Customers in need of roofing expertise should call Four Seasons Roofing, with its earned reputation as the number-one trusted choice throughout Nassau, Suffolk, Brooklyn, Queens, and Manhattan.
About Four Seasons Roofing, Inc.
Founded in 1983, Four Seasons Roofing is a winner of the Long Island Press "Best of L.I." award as one of the best local roofing contractors. The company works with customers from start to finish to choose the best roofing system that fits within their budgets. Its fully trained and factory-certified craftsmen work as a team for a flawless installation that is customized to each roof's design. Fully licensed and insured, Four Seasons Roofing stays up-to-date on technological advancements within the industry to ensure that each customer receives a state-of-the-art roof that will provide many years of safety and satisfaction.
Four Seasons Roofing
90 Florida Street
Farmingdale, NY 11735
(631) 412-4088
Toll-free: (800) ROOF-307
http://www.fourseasonsroofinginc.com
Facebook: https://www.facebook.com/FourSeasonsRoofingInc
Twitter: https://twitter.com/4SeasonsRoof
YouTube channel: https://www.youtube.com/watch?v=G2mVmBgYNPc
About GAF:
Founded in 1886, GAF is the largest roofing manufacturer in North America. The Company is an operating subsidiary of Standard Industries.
GAF products include a comprehensive portfolio of roofing systems for residential and commercial properties, which are supported by an extensive national network of factory-certified contractors. Its success is driven by its commitment to Advanced Quality, Industry Expertise, and Solutions Made Simple. GAF was the first roofing manufacturer to offer a Lifetime limited warranty on all of its laminated shingles, which then evolved with the introduction of the GAF Lifetime Roofing System by extending the Lifetime coverage beyond just the roofing shingles.
With a focus on social responsibility, GAF developed Advanced Protection(R) Shingle Technology, providing excellent durability and wind resistance while reducing the use of natural resources. The Company has also developed single-ply and asphaltic roofing membranes with excellent durability and high reflectivity to meet the most rigorous industry standards while helping commercial property owners and designers reduce energy consumption.
GAF also supports the roofing industry through CARE, the Center for the Advancement of Roofing Excellence(TM), which has provided education to over 230,000 professionals. CARE's mission is to help professional contractors and distributors build their businesses through sales and management education, and to provide product and installation training to contractors, distributors, architects, property owners, and related industry personnel.
For more information about GAF, visit gaf.com
About Standard Industries:
Standard Industries is a privately-held, global, diversified holding company with interests in building materials, aggregates, and related investment businesses in public equities and real estate. With over 7,500 employees and operations in more than 80 countries, Standard maintains a team-oriented culture of meritocracy and operational excellence, and a passionate focus on investing in its people.
Media Contact
Company Name: Four Seasons Roofing
Contact Person: Laurie Taylor
Email: 4seasonsroofing@optonline.net
Phone: (631) 412-4088
Country: United States
Website: http://www.fourseasonsroofinginc.com