Campopiano Roofing of Twinsburg, OH, has received GAF's 2017 President's Club Award. A GAF Master Elite(R) contractor since 2007, it provides residential and commercial customers with premier roofing and exterior-improvement services.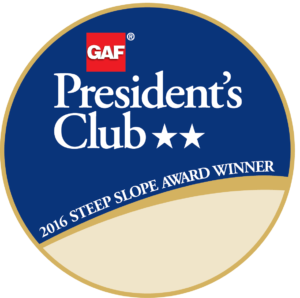 Twinsburg, OH – May 17, 2017 –
Campopiano Roofing, Inc., of Twinsburg, Ohio, has received the most prestigious contractor award GAF offers: The GAF President's Club Award. This highly coveted award recognizes Campopiano Roofing as one of the "elite of the elite" residential roofing contractors in the United States.
GAF is North America's largest roofing manufacturer, and only GAF Master Elite(R) Contractors can compete for its residential President's Club Award. To qualify for this award, a residential roofing contractor must demonstrate an exceptional level of excellence in their business, especially in the areas of Installation Excellence, Consumer Protection, and Installer Training.
Campopiano Roofing has been a GAF Master Elite(R) Contractor since 2007; the company received the President's Club Award due to its excellent performance in 2016. To become a Master Elite(R) Contractor–a status that less than 2% of roofing contractors nationwide are able to achieve–a candidate must meet specific criteria in at least one out of three different pathways: the Performance pathway, where contractors focus on giving their property owners the best possible service, quality, and protection; the Reliability pathway, where the contractor has a long history of offering their customers the best quality and protection; and the Service pathway, where contractors consistently offer their customers the best protection available in the marketplace.
Since its inception as a proprietorship doing small contracts in new construction and tear-offs, Campopiano Roofing has grown to offer numerous residential services and has expanded into commercial steep- and flat-roof projects. Today, the second-generation, family-run company is continually motivated to be a part of new projects throughout northern Ohio and beyond; its teams are equally adept at out-of-town projects, making Campopiano Roofing a perfect fit for both local and national contractors.
One call to Campopiano Roofing is all that's needed to begin the solution to a customer's residential roofing issues. The company installs new roofs and re-roofs and performs repairs. It works with asphalt and synthetic shingles, as well as metal, copper, slate, shake, and specialty roofs; it also does restorations, installs coating systems, and works with decorative copper and sheet metal. Other residential services offered by Campopiano Roofing includes skylights and sun tunnels, attic ventilation, installations of siding and replacement windows, decorative shutters and trim, gutters, vinyl railings, awnings, and rooftop patios and gardens.
Campopiano Roofing has skillfully serviced commercial clients on projects both large and small for three decades, offering a variety of roofing systems for both low- and steep-slope applications. Commercial services include restorations, re-roofs, and tear-offs, as well as service and repair. The company works with a variety of roofing systems, including EPDM single-ply, PVC, TPO, single-ply standing rib, modified bitumen, and coatings. Campopiano Roofing also services metal roofing systems and performs custom sheet-metal work.
Having seen all kinds of storm damage, the company is adept at responding to storm damage. Its crews respond quickly to protect vulnerable areas and prevent further damage. Campopiano Roofing will also work with a homeowner's insurance company and assist with the insurance adjustment process.
The company's reputation is reflected in its awards and professional associations. Campopiano Roofing, a member of the National Roofing Contractors Association, is a multiyear winner of the Angie's List Super Service Award. It is accredited by the Better Business Bureau and maintains an A+ rating.
The company offers the advanced materials and skills necessary to complete every roofing project correctly, on time, and within budget, making it the one-source solution for any residential or commercial roofing need. Understanding that superior customer service drives company success, Campopiano Roofing always keeps in mind its founding principles of integrity and relationship-building. From enhancing an older home's curb appeal to installing the latest style of shingles on ultra-steep new homes, Campopiano Roofing handles everything with precision and professionalism.
About Campopiano Roofing, Inc.
Since 1978, Campopiano Roofing has been helping homeowners and contractors achieve success with their roofing and siding projects. Providing a wide variety of commercial and residential roofing solutions, this family-owned business has worked hard to provide northeastern Ohio with premier roofing and exterior-improvement services. Campopiano Roofing builds strong working relationships with homeowners as well as custom builders and nationally known builders, with the goal of meeting and exceeding industry standards while providing each customer with the highest level of personal attention.
Campopiano Roofing
2100 Case Parkway North
Twinsburg, OH 44087
(330) 425-1285
Facebook: http://www.facebook.com/CampoRoof
Twitter: http://twitter.com/camporoof
LinkedIn: http://www.linkedin.com/company/1845443
YouTube channel: https://www.youtube.com/user/CampopianoRoofing
About GAF:
Founded in 1886, GAF is the largest roofing manufacturer in North America. The Company is an operating subsidiary of Standard Industries.
GAF products include a comprehensive portfolio of roofing systems for residential and commercial properties, which are supported by an extensive national network of factory-certified contractors. Its success is driven by its commitment to Advanced Quality, Industry Expertise, and Solutions Made Simple. GAF was the first roofing manufacturer to offer a Lifetime limited warranty on all of its laminated shingles, which then evolved with the introduction of the GAF Lifetime Roofing System by extending the Lifetime coverage beyond just the roofing shingles.
With a focus on social responsibility, GAF developed Advanced Protection(R) Shingle Technology, providing excellent durability and wind resistance while reducing the use of natural resources. The Company has also developed single-ply and asphaltic roofing membranes with excellent durability and high reflectivity to meet the most rigorous industry standards while helping commercial property owners and designers reduce energy consumption.
GAF also supports the roofing industry through CARE, the Center for the Advancement of Roofing Excellence(TM), which has provided education to over 230,000 professionals. CARE's mission is to help professional contractors and distributors build their businesses through sales and management education, and to provide product and installation training to contractors, distributors, architects, property owners, and related industry personnel.
For more information about GAF, visit: gaf.com
About Standard Industries:
Standard Industries is a privately-held, global, diversified holding company with interests in building materials, aggregates, and related investment businesses in public equities and real estate. With over 7,500 employees and operations in more than 80 countries, Standard maintains a team-oriented culture of meritocracy and operational excellence, and a passionate focus on investing in its people.
Media Contact
Company Name: Campopiano Roofing
Contact Person: Kevin Campopiano
Email: kevin.campopiano@camporoof.com
Phone: (330) 425-1285
Address:2100 Case Parkway North
City: Twinsburg
State: OH
Country: United States
Website: http://www.facebook.com/CampoRoof