Rêve Exteriors of Vancouver, WA, has received GAF's 2017 President's Club Award. A GAF Master Elite(R) contractor since 2012, it provides quality exterior renovation services to homeowners in the greater Vancouver area and southern Idaho.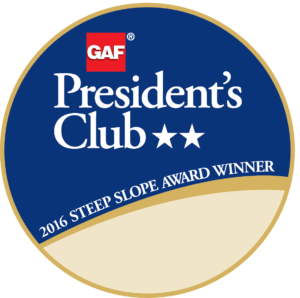 Vancouver, WA – May 18, 2017 –
Rêve Exteriors of Vancouver, Washington, has received the most prestigious contractor award GAF offers: The GAF President's Club Award. This highly coveted award recognizes Rêve Exteriors as one of the "elite of the elite" residential roofing contractors in the United States.
GAF is North America's largest roofing manufacturer, and only GAF Master Elite(R) Contractors can compete for its residential President's Club Award. To qualify for this award, a residential roofing contractor must demonstrate an exceptional level of excellence in their business, especially in the areas of Installation Excellence, Consumer Protection, and Installer Training.
Rêve Exteriors has been a GAF Master Elite(R) Contractor since 2012; the company received the President's Club Award due to its excellent performance in 2016. To become a Master Elite(R) Contractor–a status that less than 2% of roofing contractors nationwide are able to achieve–a candidate must meet specific criteria in at least one out of three different pathways: the Performance pathway, where contractors focus on giving their property owners the best possible service, quality, and protection; the Reliability pathway, where the contractor has a long history of offering their customers the best quality and protection; and the Service pathway, where contractors consistently offer their customers the best protection available in the marketplace.
Since opening its doors in 2012, Rêve Exteriors has held a commitment to build and run its business around five core principles: the best American-made, eco-friendly products, unbeatable lifetime manufacturer product warranties, great customer service, factory-trained installers, and highly trained staff. "We bring home that dream," says president Donnie R. McMillan, Jr. "Helping customers to renovate their homes to 'stunning' is our role and our highest purpose."
Capitalizing on decades of general contracting experience, Rêve Exteriors improves customers' homes with time-tested, trusted products. "The exterior home-improvement market is filled with competitors who can put on a roof, a set of doors, or a window," states McMillan. "That's not enough for us. We've conducted extensive research and interviewed manufacturers to select the right partners, ones who share our foundational principles."
Whether a homeowner wants a new roof for aesthetic reasons or needs one, due to a roofing problem that can no longer be ignored, Rêve Exteriors has a solution. "Whatever the reason for the re-roof, we don't want homeowners to make costly mistakes," explains McMillan. "Often, the primary cause of roof failure is the absence of proper maintenance and inspection. We recommend, as a minimum, an annual inspection for every roof system. Those periodic inspections are key to increasing the long-term service life of a roof. Our qualified inspectors check the entire roof area, documenting and photographing all deficiencies. We can then present recommended maintenance actions to the homeowner."
The company has been recognized for its exceptional performance. Rêve Exteriors has received Alside's Award of Excellence and the Angie's List Super Service Award, as well as HomeAdvisor's Seal of Approval, Elite Service Award, and Best of 2015 Award. It also holds an A+ accreditation with the Better Business Bureau.
With periodic special offers to deliver greater value, Rêve makes it simple and budget-friendly for homeowners to make repairs or improvements to roofing, siding, windows, gutters, and skylights. "Whether a home needs a new lifetime roofing system, weather-tight doors, bright picture windows, skylights, siding, or baths, we can do the job," concludes McMillan. "Our product selections are meant to 'wow' homeowners, and we can fit their desired styles, performance, and budget needs. Rêve Exteriors knows about building dreams!"
About Rêve Exteriors
Since 2012, Rêve Exteriors has provided quality exterior renovation services to homeowners in the greater Vancouver area, Spokane, Kent, and southern Idaho. Backed by years of general contracting experience, Rêve has revolutionized the home-improvement industry. By working around its five core principles, selecting the right industry partners, and using only time-tested, trusted materials, Rêve Exteriors offers quality products, solid warranty protection, impeccable installation, and brag-worthy customer service.
Rêve Exteriors LLC
4613 NE St. Johns Road
Vancouver, WA 98661
(360) 859-9982
http://www.Rêveexteriors.com
Facebook: https://www.facebook.com/Reveexteriors
Twitter: https://twitter.com/ReveExteriors
YouTube channel: https://www.youtube.com/channel/UCwFdvUDfPB8S3eQ4aBScRLg
About GAF:
Founded in 1886, GAF is the largest roofing manufacturer in North America. The Company is an operating subsidiary of Standard Industries.
GAF products include a comprehensive portfolio of roofing systems for residential and commercial properties, which are supported by an extensive national network of factory-certified contractors. Its success is driven by its commitment to Advanced Quality, Industry Expertise, and Solutions Made Simple. GAF was the first roofing manufacturer to offer a Lifetime limited warranty on all of its laminated shingles, which then evolved with the introduction of the GAF Lifetime Roofing System by extending the Lifetime coverage beyond just the roofing shingles.
With a focus on social responsibility, GAF developed Advanced Protection(R) Shingle Technology, providing excellent durability and wind resistance while reducing the use of natural resources. The Company has also developed single-ply and asphaltic roofing membranes with excellent durability and high reflectivity to meet the most rigorous industry standards while helping commercial property owners and designers reduce energy consumption.
GAF also supports the roofing industry through CARE, the Center for the Advancement of Roofing Excellence(TM), which has provided education to over 230,000 professionals. CARE's mission is to help professional contractors and distributors build their businesses through sales and management education, and to provide product and installation training to contractors, distributors, architects, property owners, and related industry personnel.
For more information about GAF, visit gaf.com
About Standard Industries:
Standard Industries is a privately-held, global, diversified holding company with interests in building materials, aggregates, and related investment businesses in public equities and real estate. With over 7,500 employees and operations in more than 80 countries, Standard maintains a team-oriented culture of meritocracy and operational excellence, and a passionate focus on investing in its people.
Media Contact
Company Name: Rêve Exteriors LLC
Contact Person: Donnie McMillan
Email: amym@reveexteriorsllc.com
Phone: (360) 859-9982
Country: United States
Website: http://www.reveexteriors.com/