Linda Tucker, PsyD, LCSW, topped Amazon charts this week with her new book "At a Crossroads: Finding the Right Psychotherapist (Even If You Already Have One)."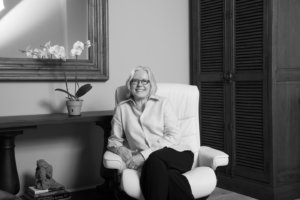 Tucker wrote At a Crossroads to aid people in search of finding the right psychotherapist.
"I decided to write this book because I know from personal experience that finding the best qualified psychotherapist is challenging," says Tucker. "I believe that when you are brave enough to acknowledge the need for help—most likely at a time when you are at your wits' end—there should be a place to go for a helping hand. I wrote At A Crossroads to be this kind of place."
At a Crossroads released on May 9, 2017 and within a few days became a best-seller. It hit #1 in the "Medicine & Psychology" category as well as Top-10 in "Couples & Family Therapy."
It also ranked internationally, hitting the Top-10 on charts in the United Kingdom and #1 in Canada.
The release of At a Crossroads was designed to coincide with the observation of National Mental Health Awareness Month, observed in May. "I'm honored to watch At a Crossroads become part of a larger, national conversation surrounding mental health treatment," she says.
Dr. Tucker currently practices in the San Francisco Bay Area, and hosts an award-winning iTunes podcast titled Challenge Your Thinking, where she interviews people who have challenged themselves, faced their fears, and accomplished great things.
At A Crossroads: Finding the Right Psychotherapist (Even If You Already Have One is available now on Amazon Kindle, and will be released in paperback at the end of May.
For more information about Dr. Linda Tucker, At A Crossroads: Finding the Right Psychotherapist (Even If You Already Have One), or the Challenge Your Thinking podcast, please visit: www.drlindatucker.com
Media Contact
Contact Person: Dr. Linda Tucker
Email: drtucker@drlindatucker.com
Phone: 415-595-7277
Country: United States
Website: www.drlindatucker.com