Quality First Home Improvement of Citrus Heights, CA, has received GAF's 2017 President's Club Award. A GAF Master Elite(R) contractor since 2007, the company installs exterior jobs with quality products and the industry's best warranties.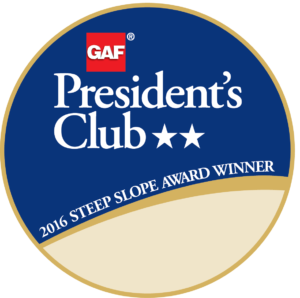 Citrus Heights, CA – May 20, 2017 –
Quality First Home Improvement, Inc., of Citrus Heights, California, has received the most prestigious contractor award GAF offers: The GAF President's Club Award. This highly coveted award recognizes Quality First Home Improvement as one of the "elite of the elite" residential roofing contractors in the United States.
GAF is North America's largest roofing manufacturer, and only GAF Master Elite(R) Contractors can compete for its residential President's Club Award. To qualify for this award, a residential roofing contractor must meet specific criteria in at least one out of three different pathways: the Performance pathway, where contractors focus on giving their property owners the best possible service, quality, and protection; the Reliability pathway, where the contractor has a long history of offering their customers the best quality and protection; and the Service pathway, where contractors consistently offer their customers the best protection available in the marketplace.
Quality First Home Improvement has been a GAF Master Elite(R) Contractor since 2007; the company received the President's Club Award due to its excellent performance in 2016. To become a Master Elite(R) Contractor–a status that less than 2% of roofing contractors nationwide are able to achieve–a candidate must demonstrate proper licensing, maintain insurance (in states that require it), have a proven reputation, and show commitment to ongoing professional training.
Quality First Home Improvement is, literally and figuratively, on top of every roofing job. "About 25% to 30% of the work we do is roofing, and we use GAF materials exclusively," according to Gerry Anderson, president. "The Golden Pledge warranty is extremely important to us–every roof is backed by GAF. Every customer is assured of a great job because of the follow-up from GAF, with the post-installation roof inspection, and the security of having a lifetime warranty on the roof."
Talking about his company's dedication to customers, Anderson adds: "We have been a Triple Excellence Award winner for the past six or seven years. A contractor doesn't get that by just going out and bidding on roofs. Our customers get complete explanations of what we do and how we do it. Unless there is an unusual problem with the home, a roof by Quality First will typically be finished within 10 days of the customer making a buying decision."
Another way that Quality First looks out for customers and provides extra value is by offering roofing-system packages. "When other companies bid on a roof, they charge individually for each component of the roof," explains Anderson. "What we've done is put together three different roofing programs–Standard, Premium, and Vintage packages–each of which includes all the necessary components. By doing it this way, we're able to discount it and save money for the customers. All of this is done without any worry or additional charge to the customer."
The company looks out for members of the community, as well. "We work with charitable organizations, such as the Union Gospel Mission, to help provide food for their Thanksgiving and Christmas meals," says Anderson. "Additionally, I'm a veteran, and I tend to be very close to the service organizations that support veterans. We are big supporters of the Wounded Warrior Project. We also have quite a few veterans working for us and are looking to hire even more, whether for sales, marketing, or installation jobs."
Going forward, Quality First looks to continue its record of success in northern California and Nevada. "We do home improvements throughout the whole northern half of the state," concludes Anderson. "We have three roofing service centers–one in the San Jose area, one in the Sacramento area, and one in Reno for northern Nevada. Our goal is to achieve the Triple Excellence Award for each of those areas–and to win the President's Club Award again!"
About Quality First Home Improvement
"Quality First" is not just a name; it's a motto and a mission. Taking care of all exterior home-improvements, the company provides ongoing staff training and stays up to date on new products and industry developments. Quality First customers deal with one project manager, who oversees every aspect of the job, and they receive top-of-the-line products with the best warranties in the industry.
Quality First Home Improvement, Inc.
6545 Sunrise Blvd., Suite 202
Citrus Heights, CA 95610
Toll-free: (800) 859-7494
http://www.QualityFirstHome.com
Facebook: https://www.facebook.com/QualityFirstHomeImprovement
Twitter: https://www.twitter.com/Quality1stHome
LinkedIn: https://www.linkedin.com/company/quality-first-home-improvement-inc.
YouTube channel: https://www.youtube.com/user/Quality1stHome
About GAF:
Founded in 1886, GAF is the largest roofing manufacturer in North America. The Company is an operating subsidiary of Standard Industries.
GAF products include a comprehensive portfolio of roofing systems for residential and commercial properties, which are supported by an extensive national network of factory-certified contractors. Its success is driven by its commitment to Advanced Quality, Industry Expertise, and Solutions Made Simple. GAF was the first roofing manufacturer to offer a Lifetime limited warranty on all of its laminated shingles, which then evolved with the introduction of the GAF Lifetime Roofing System by extending the Lifetime coverage beyond just the roofing shingles.
With a focus on social responsibility, GAF developed Advanced Protection(R) Shingle Technology, providing excellent durability and wind resistance while reducing the use of natural resources. The Company has also developed single-ply and asphaltic roofing membranes with excellent durability and high reflectivity to meet the most rigorous industry standards while helping commercial property owners and designers reduce energy consumption.
GAF also supports the roofing industry through CARE, the Center for the Advancement of Roofing Excellence(TM), which has provided education to over 230,000 professionals. CARE's mission is to help professional contractors and distributors build their businesses through sales and management education, and to provide product and installation training to contractors, distributors, architects, property owners, and related industry personnel.
For more information about GAF, visit: gaf.com
About Standard Industries:
Standard Industries is a privately-held, global, diversified holding company with interests in building materials, aggregates, and related investment businesses in public equities and real estate. With over 7,500 employees and operations in more than 80 countries, Standard maintains a team-oriented culture of meritocracy and operational excellence, and a passionate focus on investing in its people.
Media Contact
Company Name: Quality First Home Improvement, Inc.
Contact Person: Sunny Gay
Email: sgay@qualityfirsthome.com
Phone: (800) 859-7494
Address:6545 Sunrise Blvd., Suite 202
City: Citrus Heights
State: CA
Country: United States
Website: http://www.QualityFirstHome.com