Unique Home Solutions of Indianapolis, Indiana, has received GAF's 2017 President's Club Award. A GAF Master Elite(R) contractor since 2009, it is a leader in the home-improvement and construction industries in Indiana and Ohio.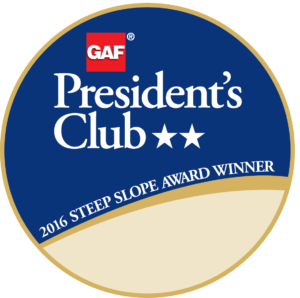 Indianapolis, IN – May 22, 2017 –
Unique Home Solutions of Indianapolis, Indiana, has received the most prestigious contractor award GAF offers: The GAF President's Club Award. This highly coveted award recognizes Unique Home Solutions as one of the "elite of the elite" residential roofing contractors in the United States.
GAF is North America's largest roofing manufacturer, and only GAF Master Elite(R) Contractors can compete for its residential President's Club Award. To qualify for this award, a residential roofing contractor must meet specific criteria in at least one out of three different pathways: the Performance pathway, where contractors focus on giving their property owners the best possible service, quality, and protection; the Reliability pathway, where the contractor has a long history of offering their customers the best quality and protection; and the Service pathway, where contractors consistently offer their customers the best protection available in the marketplace.
Unique Home Solutions has been a GAF Master Elite(R) Contractor since 2009; the company received the President's Club Award due to its excellent performance in 2016. To become a Master Elite(R) Contractor–a status that less than 2% of roofing contractors nationwide are able to achieve–a candidate must demonstrate proper licensing, maintain insurance (in states that require it), have a proven reputation, and show commitment to ongoing professional training.
Unique Home Solutions began decades ago with a single objective: to elevate the standards of product quality and installation procedures to an ethical and professional level above that of its competitors. Today, the company is the regional leader in the home-improvement industry. Never using subcontractors, the company doesn't cut corners; its roofing systems are made of premium materials designed to defy the typical roof-aging process while remaining aesthetically pleasing for decades to come.
The company offers only the highest quality products for exterior and interior improvements. Unique Home Solutions provides services in roofing, gutters, windows, doors, siding, kitchens and baths, and basement waterproofing. It also operates a handyman department, does work in home safety, and offers a non-prorated 50-year warranty that includes labor.
Since its beginning, Unique Home Solutions has won awards in business ethics and practices. A member of the Better Business Bureau holding an A+ rating, it is the only home-improvement company in Indiana to be a four-time winner of the BBB Torch Award for Market Place Ethics. The company also supports many charitable and civic organizations; raising money, collecting toys, running marathons, and building playgrounds are some of the ways in which it gives back to the community.
Tens of thousands of past and current customers can validate Unique Home Solutions' core commitment to premium-quality products and installation by qualified employees. Customer referrals are the company's biggest source of new sales. The company has the goals of becoming a customer's life-long partner, offering expert and unique home solutions, and fulfilling a mission to improve each home's appearance and efficiency by adding to its quality and comfort. As Unique Home Solutions tells every customer: "We will make your house a better home."
About Unique Home Solutions
Since 1983, Unique Home Solutions has been a leader in the home-improvement and construction industries in central Indiana and northeastern Ohio. The company has proudly served more than 40,000 customers since its beginning, offering American-made, premium-quality home-improvement products. Using only full-time, manufacturer-certified employees, Unique Home Solutions has the goal of making each customer's house into a better home.
Unique Home Solutions
5550 Progress Road
Indianapolis, IN 46241-4331
(317) 337-9300
Toll-free: (800) 800-1971
http://uniquehomesolutions.org
Facebook: http://www.facebook.com/UniqueHomeSol
Twitter: http://twitter.com/uniquehomesol
LinkedIn: http://www.linkedin.com/company/unique-home-solutions
YouTube channel: http://www.youtube.com/user/uniquehomesol
About GAF:
Founded in 1886, GAF is the largest roofing manufacturer in North America. The Company is an operating subsidiary of Standard Industries.
GAF products include a comprehensive portfolio of roofing systems for residential and commercial properties, which are supported by an extensive national network of factory-certified contractors. Its success is driven by its commitment to Advanced Quality, Industry Expertise, and Solutions Made Simple. GAF was the first roofing manufacturer to offer a Lifetime limited warranty on all of its laminated shingles, which then evolved with the introduction of the GAF Lifetime Roofing System by extending the Lifetime coverage beyond just the roofing shingles.
With a focus on social responsibility, GAF developed Advanced Protection(R) Shingle Technology, providing excellent durability and wind resistance while reducing the use of natural resources. The Company has also developed single-ply and asphaltic roofing membranes with excellent durability and high reflectivity to meet the most rigorous industry standards while helping commercial property owners and designers reduce energy consumption.
GAF also supports the roofing industry through CARE, the Center for the Advancement of Roofing Excellence(TM), which has provided education to over 230,000 professionals. CARE's mission is to help professional contractors and distributors build their businesses through sales and management education, and to provide product and installation training to contractors, distributors, architects, property owners, and related industry personnel.
For more information about GAF, visit: gaf.com
About Standard Industries:
Standard Industries is a privately-held, global, diversified holding company with interests in building materials, aggregates, and related investment businesses in public equities and real estate. With over 7,500 employees and operations in more than 80 countries, Standard maintains a team-oriented culture of meritocracy and operational excellence, and a passionate focus on investing in its people.
Media Contact
Company Name: Unique Home Solutions
Contact Person: Paul Harlow
Email: nbrown@uniquehomesolutions.org
Phone: (317) 337-9300
Country: United States
Website: http://uniquehomesolutions.org