Sela Roofing & Remodeling of St. Louis Park, Minnesota, has received GAF's 2017 President's Club Award. A GAF Master Elite(R) contractor since 2000, it serves customers with integrity, quality workmanship and service, and maximum value.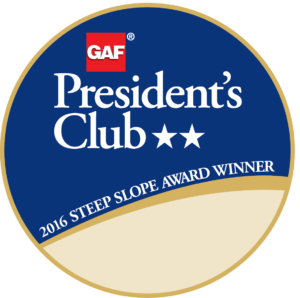 St. Louis Park, MN – May 22, 2017 –
Sela Roofing & Remodeling, Inc., of St. Louis Park, Minnesota, has received the most prestigious contractor award GAF offers: The GAF President's Club Award. This highly coveted award recognizes Sela Roofing & Remodeling as one of the "elite of the elite" residential roofing contractors in the United States.
GAF is North America's largest roofing manufacturer, and only GAF Master Elite(R) Contractors can compete for its residential President's Club Award. To qualify for this award, a residential roofing contractor must meet specific criteria in at least one out of three different pathways: the Performance pathway, where contractors focus on giving their property owners the best possible service, quality, and protection; the Reliability pathway, where the contractor has a long history of offering their customers the best quality and protection; and the Service pathway, where contractors consistently offer their customers the best protection available in the marketplace.
Sela Roofing & Remodeling has been a GAF Master Elite(R) Contractor since 2000; the company received the President's Club Award due to its excellent performance in 2016. To become a Master Elite(R) Contractor–a status that less than 2% of roofing contractors nationwide are able to achieve–a candidate must demonstrate proper licensing, maintain insurance (in states that require it), have a proven reputation, and show commitment to ongoing professional training.
"Most people can say it, but they can't back it up." That's how Patrick Hall, operations manager at Sela Roofing & Remodeling, responds when asked what separates Sela from contractors who claim quality, service, value, and craftsmanship as their selling points. "Our craftsmanship and our installers achieve higher standards in the finished product. We have a history of 135,000 satisfied customers and an A+ rating with the Better Business Bureau. Our reputation is driven by reviews on the Internet, referrals, as well as the fact that we're a member of organizations that carry very high credentials."
The company's size contributes to its success. "We're the biggest exterior contractor in the Twin Cities in Minnesota," states Hall. "Because we're the biggest, we are very competitive in the market, offering high-quality products at a very competitive price."
Sela Roofing & Remodeling carries some impressive credentials. "We're super excited about receiving the President's Club Award again from GAF," says Hall. The company is also a preferred installer for James Hardie Fiber Cement Board, a preferred partner with Pella Windows, and certified by Velux and the Vinyl Siding Institute.
Even a company as large and successful as Sela Roofing & Remodeling still finds time to give back to the community. "We work with Habitat for Humanity, we participate in GAF's Roofs for Troops program, and we contribute to many different types of charities and community activities," adds Hall. The company has installed roofs for orphanages and shelters for abused women, works with Little League and softball organizations, and has been recognized as the Recycle Contractor of the Year for the last several years.
Going forward, the record of success will continue, concludes Hall. "We're installing more and more metal roofing systems, as well as putting more additions on houses. Let the building keep going! We strive for 100% customer satisfaction. That's always our goal."
About Sela Roofing & Remodeling
"Quality, Integrity, Service" is the Sela Roofing seal of satisfaction. The company is committed to serving customer needs with quality workmanship and materials, professional integrity, exceptional service, and maximum value. In business since 1982, Sela Roofing & Remodeling has built its name, business, and reputation by honoring that commitment. Currently, Sela is the leading roofing, siding, window, and gutter contractor in the Twin Cities area, with more than 135,000 satisfied customers.
Sela Roofing & Remodeling
4100 Excelsior Blvd.
St. Louis Park, MN 55416
(612) 823-8046
http://www.selaroofing.com
Facebook: https://www.facebook.com/SelaRoofing
Twitter: https://twitter.com/selaroofing
LinkedIn: https://www.linkedin.com/in/selaroofing
YouTube channel: http://www.youtube.com/user/TheSelaRoofing
About GAF:
Founded in 1886, GAF is the largest roofing manufacturer in North America. The Company is an operating subsidiary of Standard Industries.
GAF products include a comprehensive portfolio of roofing systems for residential and commercial properties, which are supported by an extensive national network of factory-certified contractors. Its success is driven by its commitment to Advanced Quality, Industry Expertise, and Solutions Made Simple. GAF was the first roofing manufacturer to offer a Lifetime limited warranty on all of its laminated shingles, which then evolved with the introduction of the GAF Lifetime Roofing System by extending the Lifetime coverage beyond just the roofing shingles.
With a focus on social responsibility, GAF developed Advanced Protection(R) Shingle Technology, providing excellent durability and wind resistance while reducing the use of natural resources. The Company has also developed single-ply and asphaltic roofing membranes with excellent durability and high reflectivity to meet the most rigorous industry standards while helping commercial property owners and designers reduce energy consumption.
GAF also supports the roofing industry through CARE, the Center for the Advancement of Roofing Excellence(TM), which has provided education to over 230,000 professionals. CARE's mission is to help professional contractors and distributors build their businesses through sales and management education, and to provide product and installation training to contractors, distributors, architects, property owners, and related industry personnel.
For more information about GAF, visit: gaf.com
About Standard Industries:
Standard Industries is a privately-held, global, diversified holding company with interests in building materials, aggregates, and related investment businesses in public equities and real estate. With over 7,500 employees and operations in more than 80 countries, Standard maintains a team-oriented culture of meritocracy and operational excellence, and a passionate focus on investing in its people.
Media Contact
Company Name: Sela Roofing & Remodeling
Contact Person: Pat Hall
Email: pat@selaroofing.com
Phone: (612) 823-8046
Address:4100 Excelsior Blvd.
City: St. Louis Park
State: MN
Country: United States
Website: http://www.selaroofing.com