R.W. Mulligan of Riverhead, NY, has received GAF's 2017 President's Club Award. A GAF Master Elite(R) contractor since 2005, it is considered the premier residential/commercial roofing and siding company serving eastern Long Island.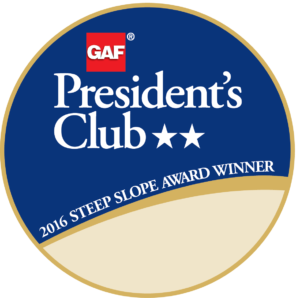 Riverhead, NY – May 22, 2017 –
R.W. Mulligan of Riverhead, New York, has received the most prestigious contractor award GAF offers: The GAF President's Club Award. This highly coveted award recognizes R.W. Mulligan as one of the "elite of the elite" residential roofing contractors in the United States.
GAF is North America's largest roofing manufacturer, and only GAF Master Elite(R) Contractors can compete for its residential President's Club Award. To qualify for this award, a residential roofing contractor must meet specific criteria in at least one out of three different pathways: the Performance pathway, where contractors focus on giving their property owners the best possible service, quality, and protection; the Reliability pathway, where the contractor has a long history of offering their customers the best quality and protection; and the Service pathway, where contractors consistently offer their customers the best protection available in the marketplace.
R.W. Mulligan has been a GAF Master Elite(R) Contractor since 2005; the company received the President's Club Award due to its excellent performance in 2016. To become a Master Elite(R) Contractor–a status that less than 2% of roofing contractors nationwide are able to achieve–a candidate must demonstrate proper licensing, maintain insurance (in states that require it), have a proven reputation, and show commitment to ongoing professional training.
Modern roofing employs a myriad of continually upgrading techniques, materials, and designs to meet all the roofing requirements of 21st-century construction. R.W. Mulligan takes great pride in both its expertise in traditional roofing techniques and its ever-expanding knowledge of new advances in the industry. "Our craftsmen have the necessary skills to properly install any type of roof called for in a customer's specifications," according to president Thomas E. Mulligan. "We are specialists in EPDM roofing and siding, cedar shingles and shakes for roofing and sidewall applications, asphalt shingles, slate roofs, vinyl siding, window and door systems, and custom metal work, including copper and seamless gutters."
"Asphalt shingles are versatile, durable, and economical," adds Mulligan, "which is why they are the material most often chosen for residential roofing in our market area. Plus, they are available in a wide selection of colors and styles, resulting in a roof that is both long-lasting and attractive. But we also work with slate, which is beautiful, durable, and naturally impermeable to water; cedar, a fully renewable resource that fares well under extreme weather conditions and is aesthetically suitable for many architectural designs and styles; and even, occasionally, copper, which yields a durable roofing system with a distinct and unique appearance."
R.W. Mulligan is a company that cares about the lives of its customers and neighbors. "We have adopted policies and practices that are in keeping with the idea of helping those in need," explains Mulligan. "We believe it is the responsibility of every successful business to give something back to the community, and we encourage other contractors to follow our lead and reach out to the less fortunate who cross their paths." The company has worked with the Tuberous Sclerosis Alliance and the local chapter of Habitat for Humanity; it has also reached out and helped others in the local community when there has been a need. It holds an A+ accreditation with the Better Business Bureau.
Often featured in local news media for its work, R.W. Mulligan continues to stay in the spotlight.
"We make professionalism, quality materials, craftsmanship, safety, and cleanliness our top priorities," concludes Mulligan, "and our list of repeat customers is testament to that policy. We know that our customers have come to expect the highest quality when we take on their projects, and we've built our reputation by delivering that quality in every roofing job we do."
About R.W. Mulligan
Long considered the premier roofing and siding company serving eastern Long Island, R.W. Mulligan is fully qualified to install all types of steep-slope and low-slope roof systems. Standing behind its work, the company offers the industry's most comprehensive warranties. Whether the roofing job is for a private residence, a commercial or industrial building, or even an entire shopping center, R.W. Mulligan has both the expertise to handle the job and the credentials to prove it.
R.W. Mulligan
246 West Main St.
Riverhead, NY 11901
(631) 727-7555
http://www.rwmulligan.com
About GAF:
Founded in 1886, GAF is the largest roofing manufacturer in North America. The Company is an operating subsidiary of Standard Industries.
GAF products include a comprehensive portfolio of roofing systems for residential and commercial properties, which are supported by an extensive national network of factory-certified contractors. Its success is driven by its commitment to Advanced Quality, Industry Expertise, and Solutions Made Simple. GAF was the first roofing manufacturer to offer a Lifetime limited warranty on all of its laminated shingles, which then evolved with the introduction of the GAF Lifetime Roofing System by extending the Lifetime coverage beyond just the roofing shingles.
With a focus on social responsibility, GAF developed Advanced Protection(R) Shingle Technology, providing excellent durability and wind resistance while reducing the use of natural resources. The Company has also developed single-ply and asphaltic roofing membranes with excellent durability and high reflectivity to meet the most rigorous industry standards while helping commercial property owners and designers reduce energy consumption.
GAF also supports the roofing industry through CARE, the Center for the Advancement of Roofing Excellence(TM), which has provided education to over 230,000 professionals. CARE's mission is to help professional contractors and distributors build their businesses through sales and management education, and to provide product and installation training to contractors, distributors, architects, property owners, and related industry personnel.
For more information about GAF, visit: gaf.com
About Standard Industries:
Standard Industries is a privately-held, global, diversified holding company with interests in building materials, aggregates, and related investment businesses in public equities and real estate. With over 7,500 employees and operations in more than 80 countries, Standard maintains a team-oriented culture of meritocracy and operational excellence, and a passionate focus on investing in its people.
Media Contact
Company Name: R.W. Mulligan
Contact Person: Thomas Mulligan
Email: rwmco2000@yahoo.com
Phone: (631) 727-7555
Address:246 West Main St.
City: Riverhead
State: NY
Country: United States
Website: http://www.rwmulligan.com