Roofing & More of Herndon, VA, has received GAF's 2017 President's Club Award. A GAF Master Elite(R) contractor since 2004, it is a family-owned company focused on making the home-improvement experience enjoyable for its customers.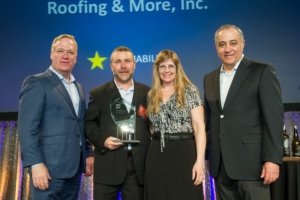 Herndon, VA – May 22, 2017 –
Roofing & More, Inc., of Herndon, Virginia, has received the most prestigious contractor award GAF offers: The GAF President's Club Award. This highly coveted award recognizes Roofing & More as one of the "elite of the elite" residential roofing contractors in the United States.
GAF is North America's largest roofing manufacturer, and only GAF Master Elite(R) Contractors can compete for its residential President's Club Award. To qualify for this award, a residential roofing contractor must demonstrate an exceptional level of excellence in their business, especially in the areas of Installation Excellence, Consumer Protection, and Installer Training.
Roofing & More has been a GAF Master Elite(R) Contractor since 2004; the company received the President's Club Award due to its excellent performance in 2016. To become a Master Elite(R) Contractor–a status that less than 2% of roofing contractors nationwide are able to achieve–a candidate must meet specific criteria in at least one out of three different pathways: the Performance pathway, where contractors focus on giving their property owners the best possible service, quality, and protection; the Reliability pathway, where the contractor has a long history of offering their customers the best quality and protection; and the Service pathway, where contractors consistently offer their customers the best protection available in the marketplace.
Roofing & More is certainly an accurate, descriptive name. "We didn't just do roofing and then add siding, windows, and doors," according to owner and president, Kyle Hoffman. "We train our people to be just as great in the installation of windows, for example, as they are with roofing products. With all the products that we use, we look for great quality, and we train our people to do their absolute best with every job. This is a critical success factor in our business plan."
That enthusiastic attitude is prevalent throughout the company and is reflected in its practices. "We have an employee handbook, standard operating procedures, job descriptions, a core value statement, a mission statement, and a vision statement," explains Hoffman. "These standards dictate how we react or respond to any given situation. People who come to work here are trained to conduct business according to our standards. Our pledge to customers is: 'We will treat your home as if it were ours; we'll respect you as a member of our family; and we'll strive to achieve your 100% satisfaction.' Any employee who wears a shirt with our logo agrees to abide by that pledge. That's how we operate; it sets us apart from other companies."
"Everything we do, from start to finish, is intended to show people value," continues Hoffman. "There is a market of homeowners out there looking for quality contractors who do what they say and who run a different kind of business. And it shows; customers tell us this all the time in writing and in video testimonials."
The company strives to make a difference not only in the lives of customers but in the community. "Most of what we do can be described as 'one-on-one' assistance," says Hoffman. "I might go by a home and see that they need some help, or one of my crew will call and say, 'Boss, I've found somebody that we can help.' These projects aren't about everybody seeing what you do–it's between us, the recipient, and God. That's how I look at it."
Moving forward, the company will continue providing its customers with great experiences. "Our mission statement is to 'reinvent new ways and ideas to serve our customers better,'" concludes Hoffman. "We already use great products from GAF and other manufacturers, and we have solid employee experience and training. If we continue on that course–serving our customers, improving our employees' lives, and giving back to the community–then we'll be doing great, and I will sleep well at night!"
About Roofing & More
Founded in 1993, Roofing & More is a family-owned company focused on making the home-improvement experience enjoyable for its customers. With a deep commitment to providing quality, affordable home improvements in northern Virginia, the company has built a strong reputation for quality and ensuring customer satisfaction. Roofing & More offers the highest quality products for roofing, siding, gutters, windows, and doors. The company has an established track record and maintains an A+ accreditation with the Better Business Bureau.
Roofing & More, Inc.
609 Carlisle Drive
Herndon, VA 20170
(703) 467-0206
http://www.roofingandmoreinc.com
Facebook: https://www.facebook.com/pages/Roofing-More-Inc/150741348299893
Twitter: https://twitter.com/HerndonRoofing
LinkedIn: https://www.linkedin.com/pub/kyle-hoffman/a/a68/24a
YouTube channel: https://www.youtube.com/channel/UCkWeXtvR_5dROb2Zo4R1dag
About GAF:
Founded in 1886, GAF is the largest roofing manufacturer in North America. The Company is an operating subsidiary of Standard Industries.
GAF products include a comprehensive portfolio of roofing systems for residential and commercial properties, which are supported by an extensive national network of factory-certified contractors. Its success is driven by its commitment to Advanced Quality, Industry Expertise, and Solutions Made Simple. GAF was the first roofing manufacturer to offer a Lifetime limited warranty on all of its laminated shingles, which then evolved with the introduction of the GAF Lifetime Roofing System by extending the Lifetime coverage beyond just the roofing shingles.
With a focus on social responsibility, GAF developed Advanced Protection(R) Shingle Technology, providing excellent durability and wind resistance while reducing the use of natural resources. The Company has also developed single-ply and asphaltic roofing membranes with excellent durability and high reflectivity to meet the most rigorous industry standards while helping commercial property owners and designers reduce energy consumption.
GAF also supports the roofing industry through CARE, the Center for the Advancement of Roofing Excellence(TM), which has provided education to over 230,000 professionals. CARE's mission is to help professional contractors and distributors build their businesses through sales and management education, and to provide product and installation training to contractors, distributors, architects, property owners, and related industry personnel.
For more information about GAF, visit: gaf.com
About Standard Industries:
Standard Industries is a privately-held, global, diversified holding company with interests in building materials, aggregates, and related investment businesses in public equities and real estate. With over 7,500 employees and operations in more than 80 countries, Standard maintains a team-oriented culture of meritocracy and operational excellence, and a passionate focus on investing in its people.
Media Contact
Company Name: Roofing & More, Inc.
Contact Person: Marie Hoffman
Email: info@roofingandmoreinc.com
Phone: (703) 467-0206
Address:609 Carlisle Drive
City: Herndon
State: VA
Country: United States
Website: http://www.roofingandmoreinc.com