Brad Smith Roofing Co. of Westlake, OH, has received GAF's 2017 President's Club Award. A GAF Master Elite(R) contractor since 2003, it installs commercial roofing systems and offers a wide spectrum of residential roofing solutions.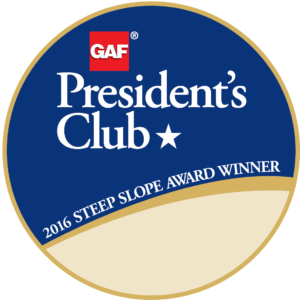 Westlake, OH – May 22, 2017 –
Brad Smith Roofing Co., Inc., of Westlake, Ohio, has received the most prestigious contractor award GAF offers: The GAF President's Club Award. This highly coveted award recognizes Brad Smith Roofing as one of the "elite of the elite" residential roofing contractors in the United States.
GAF is North America's largest roofing manufacturer, and only GAF Master Elite(R) Contractors can compete for its residential President's Club Award. To qualify for this award, a residential roofing contractor must meet specific criteria in at least one out of three different pathways: the Performance pathway, where contractors focus on giving their property owners the best possible service, quality, and protection; the Reliability pathway, where the contractor has a long history of offering their customers the best quality and protection; and the Service pathway, where contractors consistently offer their customers the best protection available in the marketplace.
Brad Smith Roofing has been a GAF Master Elite(R) Contractor since 2003; the company received the President's Club Award due to its excellent performance in 2016. To become a Master Elite(R) Contractor–a status that less than 2% of roofing contractors nationwide are able to achieve–a candidate must demonstrate proper licensing, maintain insurance (in states that require it), have a proven reputation, and show commitment to ongoing professional training.
The estimators at Brad Smith Roofing have a reputation for knowledge and experience in both roofing and construction. This reputation comes not only from years of accumulated knowledge and first-hand field experience, but also from ongoing learning. "I believe in continuous education because the roofing industry is constantly changing," states owner Brad Smith. "Our sales team also excels because of this practice, and our office staff supports the efforts of the estimators and field staff. I expect everyone on staff to maintain a good knowledge base; I encourage cross-training, so that each of us can step out of his or her job description to go above and beyond for our customers."
Exceptional customer service is a natural extension of the educational atmosphere. "All of us work together to provide timely information to our customers," explains Smith. "Any consumer expects and deserve quality service, and homeowners have many questions–before and during a project and after it's completed. Our family business is committed to that quality and service. Customers frequently see our estimators and field supervisors at job sites, monitoring steady progress and answering any homeowner questions or concerns."
Whether a customer needs a small repair or a completely new roof, the company provides a free estimate and written proposal that exactly target the customer's needs. The company's services include residential and commercial roofing and roof repairs, masonry, gutters, copper installation, slate and tile installation, crane rental, roof maintenance, ice and snow removal, skylights, home improvements, business renovations, and emergency storm service.
The company's can-do attitude extends to its neighbors. The company contributes to community projects, such as working with the Boy Scouts and contributing to local home makeover efforts. An EPA-certified lead-free contractor, Brad Smith Roofing is a member of the National Roofing Contractors Association and the Greater Cleveland Safety Council, and it has received the Angie's List Super Service Award. The company holds an A+ accreditation with the Better Business Bureau.
With an eye toward the future, the company keeps the bar high for customer service. "My son, our lead estimator, is invested in keeping us on the cutting edge of roofing technology," concludes Smith. "Our family, supporting each other as a team, makes us successful, and our employees and their families are thriving. Quality materials and responsible practices cannot be sacrificed in the interests of 'getting the job done'–our conviction to these ideals has endured to this day."
About Brad Smith Roofing Co.
Founded in 1979, Brad Smith Roofing was started with the guiding principle that the customer deserves to be educated about all possible options for a quality roofing job. For more than 30 years, the company has served thousands of residential and commercial customers across northern Ohio. Whether a customer is missing a shingle or needs a full roof replacement, the job is important to Brad Smith Roofing. The company installs commercial roofing systems and offers a wide spectrum of residential roofing solutions, as well as window and door replacement, interior repair and finish work, siding, masonry, and restoration of the historic features of older homes.
Brad Smith Roofing
24550 Sperry Drive
Westlake, OH 44145
(440) 835-3377
http://bradsmithroofing.com
Facebook: https://www.facebook.com/bradsmithroofing
Twitter: https://twitter.com/BradSmithRoof
LinkedIn: https://www.linkedin.com/company/brad-smith-roofing-co-inc-
YouTube channel: https://www.youtube.com/channel/UCf-jHnTQaEIXe6rs5FVdSYg
About GAF:
Founded in 1886, GAF is the largest roofing manufacturer in North America. The Company is an operating subsidiary of Standard Industries.
GAF products include a comprehensive portfolio of roofing systems for residential and commercial properties, which are supported by an extensive national network of factory-certified contractors. Its success is driven by its commitment to Advanced Quality, Industry Expertise, and Solutions Made Simple. GAF was the first roofing manufacturer to offer a Lifetime limited warranty on all of its laminated shingles, which then evolved with the introduction of the GAF Lifetime Roofing System by extending the Lifetime coverage beyond just the roofing shingles.
With a focus on social responsibility, GAF developed Advanced Protection(R) Shingle Technology, providing excellent durability and wind resistance while reducing the use of natural resources. The Company has also developed single-ply and asphaltic roofing membranes with excellent durability and high reflectivity to meet the most rigorous industry standards while helping commercial property owners and designers reduce energy consumption.
GAF also supports the roofing industry through CARE, the Center for the Advancement of Roofing Excellence(TM), which has provided education to over 230,000 professionals. CARE's mission is to help professional contractors and distributors build their businesses through sales and management education, and to provide product and installation training to contractors, distributors, architects, property owners, and related industry personnel.
For more information about GAF, visit: gaf.com
About Standard Industries:
Standard Industries is a privately-held, global, diversified holding company with interests in building materials, aggregates, and related investment businesses in public equities and real estate. With over 7,500 employees and operations in more than 80 countries, Standard maintains a team-oriented culture of meritocracy and operational excellence, and a passionate focus on investing in its people.
Media Contact
Company Name: Brad Smith Roofing
Contact Person: Drew Smith
Email: s.smith@bradsmithroofing.com
Phone: (440) 835-3377
Address:24550 Sperry Drive
City: Westlake
State: OH
Country: United States
Website: http://bradsmithroofing.com