Baker Roofing Company of Raleigh, NC, has received GAF's 2017 President's Club Award. A GAF Master Elite(R) contractor since 1997, it has 18 locations in six southeastern states and works both across the United States and internationally.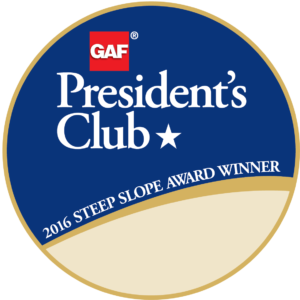 Raleigh, NC – May 22, 2017 –
Baker Roofing Company of Raleigh, North Carolina, has received the most prestigious contractor award GAF offers: The GAF President's Club Award. This highly coveted award recognizes Baker Roofing Company as one of the "elite of the elite" residential roofing contractors in the United States.
GAF is North America's largest roofing manufacturer, and only GAF Master Elite(R) Contractors can compete for its residential President's Club Award. To qualify for this award, a residential roofing contractor must meet specific criteria in at least one out of three different pathways: the Performance pathway, where contractors focus on giving their property owners the best possible service, quality, and protection; the Reliability pathway, where the contractor has a long history of offering their customers the best quality and protection; and the Service pathway, where contractors consistently offer their customers the best protection available in the marketplace.
Baker Roofing Company has been a GAF Master Elite(R) Contractor since 1997; the company received the President's Club Award due to its excellent performance in 2016. To become a Master Elite(R) Contractor–a status that less than 2% of roofing contractors nationwide are able to achieve–a candidate must demonstrate proper licensing, maintain insurance (in states that require it), have a proven reputation, and show commitment to ongoing professional training.
Baker Roofing Company has some fame beyond the local area and outside the roofing industry, thanks to a sign made by its founder in 1915 that, today, hangs in the lobby of the company's Raleigh headquarters. It reads: "We shall do good work. At a profit if we can, at a loss if we must, but always good work." The sign continues to be a daily reminder of the values that drive Baker Roofing as a team and as an organization.
The company offers its residential customers a comprehensive list of services, including roofing, siding, windows, doors, decks, sunrooms, and gutters. Baker Roofing works on diverse roofing types, including asphalt shingle, metal, slate, clay tile, cedar shake, and synthetic tile.
Committed to sustainable operating and business practices, both on the job site and in the office, the company has made intentional decisions to integrate certain strategies in its normal operations. In 2009, Baker Roofing launched a renewable energy division to design, engineer, and install photovoltaic, solar-thermal, and wind-power systems, with some single systems exceeding 1 MW in power-generation capacity. The company also has a vegetative roofing department that conducts installations on residential, commercial, and government-facility roofs. Recycling is also important at Baker Roofing, which has not only an in-office plastics and paper recycling program but a shingle-recycling program for all asphalt shingles removed during residential and commercial re-roofing projects.
Founder W.P. Baker was active in the community–a practice that survives in the company to this day. Baker Roofing supports numerous charitable endeavors, including the Salvation Army, Boys & Girls Clubs of Wake County, Habitat for Humanity, Step Up Ministries, and Jobs for Life. The company was won numerous awards; on multiple occasions, Baker Roofing has received the Angie's List Super Service Award and Indy Week's Best of the Triangle Award. Baker Roofing is a member of the National Roofing Contractors Association and a GAF Certified Green Roofer(TM).
The "We shall do good work" sign from 1915 continues to communicate the organization's commitment to its customers. Baker Roofing Company looks forward to completing customers' new construction and home-renovation projects for many years to come.
About Baker Roofing Company
In business since 1915, Baker Roofing Company has grown to become one of the nation's largest and most respected roofing contractors. With 18 locations in six states throughout the Southeast, the company performs work across the United States, as well as internationally.
Baker Roofing Company
517 Mercury Street
Raleigh, NC 27603
(919) 828-2975
http://bakerroofing.com
Facebook: https://www.facebook.com/bakerroofing
Twitter: http://www.twitter.com/bakerroofing
LinkedIn: https://www.linkedin.com/company/baker-roofing-company
YouTube channel: https://www.youtube.com/channel/UCaxBbmuH_mhhckET9KK26YQ
About GAF:
Founded in 1886, GAF is the largest roofing manufacturer in North America. The Company is an operating subsidiary of Standard Industries.
GAF products include a comprehensive portfolio of roofing systems for residential and commercial properties, which are supported by an extensive national network of factory-certified contractors. Its success is driven by its commitment to Advanced Quality, Industry Expertise, and Solutions Made Simple. GAF was the first roofing manufacturer to offer a Lifetime limited warranty on all of its laminated shingles, which then evolved with the introduction of the GAF Lifetime Roofing System by extending the Lifetime coverage beyond just the roofing shingles.
With a focus on social responsibility, GAF developed Advanced Protection(R) Shingle Technology, providing excellent durability and wind resistance while reducing the use of natural resources. The Company has also developed single-ply and asphaltic roofing membranes with excellent durability and high reflectivity to meet the most rigorous industry standards while helping commercial property owners and designers reduce energy consumption.
GAF also supports the roofing industry through CARE, the Center for the Advancement of Roofing Excellence(TM), which has provided education to over 230,000 professionals. CARE's mission is to help professional contractors and distributors build their businesses through sales and management education, and to provide product and installation training to contractors, distributors, architects, property owners, and related industry personnel.
For more information about GAF, visit: gaf.com
About Standard Industries:
Standard Industries is a privately-held, global, diversified holding company with interests in building materials, aggregates, and related investment businesses in public equities and real estate. With over 7,500 employees and operations in more than 80 countries, Standard maintains a team-oriented culture of meritocracy and operational excellence, and a passionate focus on investing in its people.
Media Contact
Company Name: Baker Roofing Company
Contact Person: Dana Champion
Email: dchampion@bakerroofing.com
Phone: (919) 828-2975
Address:517 Mercury Street
City: Raleigh
State: NC
Country: United States
Website: http://bakerroofing.com