Aspenmark Roofing & Solar of Dallas, TX, has received GAF's 2017 President's Club Award. A GAF Master Elite(R) contractor since 2009, Aspenmark provides an exceptional experience by delivering quality workmanship and unmatched value.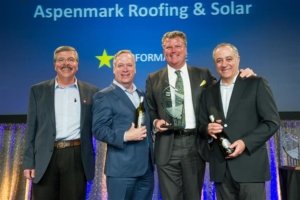 Dallas, TX – May 22, 2017 –
Aspenmark Roofing & Solar of Dallas, Texas, has received the most prestigious contractor award GAF offers: The GAF President's Club Award. This highly coveted award recognizes Aspenmark Roofing & Solar as one of the "elite of the elite" residential roofing contractors in the United States.
GAF is North America's largest roofing manufacturer, and only GAF Master Elite(R) Contractors can compete for its residential President's Club Award. To qualify for this award, a residential roofing contractor must meet specific criteria in at least one out of three different pathways: the Performance pathway, where contractors focus on giving their property owners the best possible service, quality, and protection; the Reliability pathway, where the contractor has a long history of offering their customers the best quality and protection; and the Service pathway, where contractors consistently offer their customers the best protection available in the marketplace.
Aspenmark Roofing & Solar has been a GAF Master Elite(R) Contractor since 2009; the company received the President's Club Award due to its excellent performance in 2016. To become a Master Elite(R) Contractor–a status that less than 2% of roofing contractors nationwide are able to achieve–a candidate must demonstrate proper licensing, maintain insurance (in states that require it), have a proven reputation, and show commitment to ongoing professional training.
What is the term used to describe a contractor who is always striving to say "yes" to customers, has founded its own roofing charity to give back to the communities it serves, and produces wines through its own Napa Valley vineyard? Some may use the term customer-centric, others may say innovative, while others simply call it Aspenmark Roofing & Solar. "We're one of the good guys," according to Chris Zazo, Chief Executive Officer. "In an industry where good service is hard to find, we deliver everything in a positive fashion to find what's best for the customer. We make our homeowners and commercial building owners feel like part of the Aspenmark family."
The company is dedicated to providing "white-glove" service. "Our trucks are clean," states Zazo. "Our people follow a dress code. Trucks and shirts alike display our logo. When we're on the job, we're taking care of and in custody of someone's home–so we ensure that we give customers the respect they deserve. We pride ourselves on that reputation."
Aspenmark utilizes modern technology in all aspects of its daily work. "We give our presentations on iPads, and we have access to all the technical information on the GAF side. Our pricing is readily available, so we have a real-time quoting model. On top of all this, we employ an expert social-media strategy that delivers ongoing value to our customers. Homeowners can find great roofing resources on our Facebook, Twitter, and LinkedIn pages, which are proving to be great ways to interact with customers." The company also utilizes cutting-edge weather technology through the National Storm Damage Center, a contractor network that shares information and job leads outside of contractors' home markets.
In partnership with Dallas Habitat for Humanity, Aspenmark has founded its own charity, called Roof Angels, says Zazo. "We provide roofing for veterans, for people without insurance, or anyone who can't afford it, really. It's been a big hit since we launched last year. The charity work has also helped engage our employees through service to others, which ultimately reinforces our overall approach to doing business, so it's really had a ripple effect throughout our company. Studies have shown that this type of program increases employee retention. It helps with morale and keeping people together." In the past few years, Aspenmark has roofed a number of homes for Habitat for Humanity.
And let's not forget about the wine … "That's on the fun side," says Zazo. "Because so much of our living comes from repairing hail damage, we named our winery Hailstone Vineyards. It's quality Napa wine, and we're very proud of it. It started as a customer appreciation thing, but now it's got some distribution throughout the country and is even served at some high-end restaurants. It's actually another sign of how we do things at Aspenmark: first-rate and with class."
Looking toward the future, Zazo concludes: "We're on a path of continuing to grow and build on our reputation and credentials, aided in large part by our great partners and distributors. Working as a network and a family, they really make us look like stars!"
About Aspenmark Roofing & Solar
Serving the Dallas/Fort Worth area since 2005, Aspenmark's core business values are designed to provide an exceptional experience by delivering quality workmanship and unmatched value, before, during, and after the job, while offering the safest and cleanest job sites in the industry.
Aspenmark Roofing & Solar
2947 Blystone Lane
Dallas, TX 75220
(214) 823-7663
http://www.AspenmarkRoofing.com
Facebook: http://www.facebook.com/aspenmarkroofing
Twitter: https://twitter.com/aspenmark
LinkedIn: https://www.linkedin.com/company/aspenmark-roofing-and-solar-solutions
YouTube channel: https://www.youtube.com/channel/UClEG3x1QCxgy8tBHv6EgSFQ
About GAF:
Founded in 1886, GAF is the largest roofing manufacturer in North America. The Company is an operating subsidiary of Standard Industries.
GAF products include a comprehensive portfolio of roofing systems for residential and commercial properties, which are supported by an extensive national network of factory-certified contractors. Its success is driven by its commitment to Advanced Quality, Industry Expertise, and Solutions Made Simple. GAF was the first roofing manufacturer to offer a Lifetime limited warranty on all of its laminated shingles, which then evolved with the introduction of the GAF Lifetime Roofing System by extending the Lifetime coverage beyond just the roofing shingles.
With a focus on social responsibility, GAF developed Advanced Protection(R) Shingle Technology, providing excellent durability and wind resistance while reducing the use of natural resources. The Company has also developed single-ply and asphaltic roofing membranes with excellent durability and high reflectivity to meet the most rigorous industry standards while helping commercial property owners and designers reduce energy consumption.
GAF also supports the roofing industry through CARE, the Center for the Advancement of Roofing Excellence(TM), which has provided education to over 230,000 professionals. CARE's mission is to help professional contractors and distributors build their businesses through sales and management education, and to provide product and installation training to contractors, distributors, architects, property owners, and related industry personnel.
For more information about GAF, visit: gaf.com
About Standard Industries:
Standard Industries is a privately-held, global, diversified holding company with interests in building materials, aggregates, and related investment businesses in public equities and real estate. With over 7,500 employees and operations in more than 80 countries, Standard maintains a team-oriented culture of meritocracy and operational excellence, and a passionate focus on investing in its people.
Media Contact
Company Name: Aspenmark Roofing & Solar
Contact Person: Paula Felix
Email: pfelix@aspenmarkroofing.com
Phone: (214) 823-7663
Address:2947 Blystone Lane
City: Dallas
State: TX
Country: United States
Website: http://www.AspenmarkRoofing.com