Roof It Right of Orange Park, FL, has received GAF's 2017 President's Club Award. A GAF Master Elite(R) contractor since 2010, it is dedicated to quality installations and offers complete solutions for roofing repair or replacement.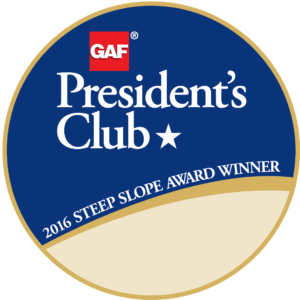 Orange Park, FL – May 25, 2017 –
Roof It Right, LLC, of Orange Park, Florida, has received the most prestigious contractor award GAF offers: The GAF President's Club Award. This highly coveted award recognizes Roof It Right as one of the "elite of the elite" residential roofing contractors in the United States.
GAF is North America's largest roofing manufacturer, and only GAF Master Elite(R) Contractors can compete for its residential President's Club Award. To qualify for this award, a residential roofing contractor must meet specific criteria in at least one out of three different pathways: the Performance pathway, where contractors focus on giving their property owners the best possible service, quality, and protection; the Reliability pathway, where the contractor has a long history of offering their customers the best quality and protection; and the Service pathway, where contractors consistently offer their customers the best protection available in the marketplace.
Roof It Right has been a GAF Master Elite(R) Contractor since 2010; the company received the President's Club Award due to its excellent performance in 2016. To become a Master Elite(R) Contractor–a status that less than 2% of roofing contractors nationwide are able to achieve–a candidate must demonstrate proper licensing, maintain insurance (in states that require it), have a proven reputation, and show commitment to ongoing professional training.
Roof It Right serves Orange Park, Florida, and the surrounding area by providing quality roofing installations that are second to none. The company's employees truly care about roofing issues and treat customers' properties as if they were their own. Offering services in reroofs, repairs, new roofs, construction, and maintenance, Roof It Right is trusted by its customers to do the job right the first time.
Because every home's roofing system is different, Roof It Right's crews are fully trained to address any roofing situation they might encounter. The company gives a free estimate on the actions needed for a homeowner's roof and advises whether a roof replacement is indicated or if repairs are sufficient. Roof It Right also offers the option of regular maintenance service, to make the roof last longer and exceed expectations.
The company installs every roof using the building codes appropriate for the area and offers rock-solid warranties. It is fully licensed and insured, with full workers' compensation insurance on its employees. Roof It Right holds an A+ accreditation with the Better Business Bureau.
By treating customers' properties with respect, Roof It Right ensures that they will notice the difference long after the roofing work is completed. With highly trained employees who can accurately diagnose a roof's condition and devise the correct plan to repair or replace it, Roof It Right has the roofing solutions to meet any homeowner's needs. As the company motto says: "Roof It Right, so you can sleep at night!"
About Roof It Right, LLC
Roof It Right's priority is to install a customer's roof with pride and integrity. With trained professionals who offer a complete solution for either repair or replacement, the company is dedicated to quality installations and great service without cutting corners. Roof It Right puts its name on every roof it services, with a focus on satisfying every customer.
Roof It Right
2175 Kingsley Ave., Suite 207
Orange Park, FL 32073
(904) 541-1191
http://www.roofitrightfl.com
Facebook: https://www.facebook.com/pages/Roof-it-Right/155690567813210
YouTube video: https://www.youtube.com/watch?v=mKAjjM7vob4
About GAF:
Founded in 1886, GAF is the largest roofing manufacturer in North America. The Company is an operating subsidiary of Standard Industries.
GAF products include a comprehensive portfolio of roofing systems for residential and commercial properties, which are supported by an extensive national network of factory-certified contractors. Its success is driven by its commitment to Advanced Quality, Industry Expertise, and Solutions Made Simple. GAF was the first roofing manufacturer to offer a Lifetime limited warranty on all of its laminated shingles, which then evolved with the introduction of the GAF Lifetime Roofing System by extending the Lifetime coverage beyond just the roofing shingles.
With a focus on social responsibility, GAF developed Advanced Protection(R) Shingle Technology, providing excellent durability and wind resistance while reducing the use of natural resources. The Company has also developed single-ply and asphaltic roofing membranes with excellent durability and high reflectivity to meet the most rigorous industry standards while helping commercial property owners and designers reduce energy consumption.
GAF also supports the roofing industry through CARE, the Center for the Advancement of Roofing Excellence(TM), which has provided education to over 230,000 professionals. CARE's mission is to help professional contractors and distributors build their businesses through sales and management education, and to provide product and installation training to contractors, distributors, architects, property owners, and related industry personnel.
For more information about GAF, visit: gaf.com
About Standard Industries:
Standard Industries is a privately-held, global, diversified holding company with interests in building materials, aggregates, and related investment businesses in public equities and real estate. With over 7,500 employees and operations in more than 80 countries, Standard maintains a team-oriented culture of meritocracy and operational excellence, and a passionate focus on investing in its people.
Media Contact
Company Name: Roof It Right
Contact Person: Brian Cameron
Email: brian@roofitrightfl.com
Phone: (904) 541-1191
Address:2175 Kingsley Ave., Suite 207
City: Orange Park
State: FL
Country: United States
Website: http://www.roofitrightfl.com