Premier Roofing Company of Denver, CO, has received GAF's 2017 President's Club Award. A GAF Master Elite(R) contractor since 2008, Premier has the experience to accomplish all residential, commercial, and multi-family roofing projects.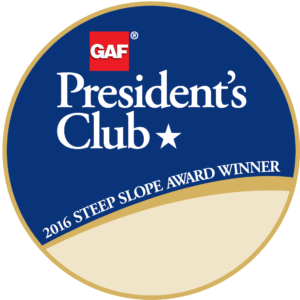 Denver, CO – May 25, 2017 –
Premier Roofing Company of Denver, Colorado, has received the most prestigious contractor award GAF offers: The GAF President's Club Award. This highly coveted award recognizes Premier Roofing Company as one of the "elite of the elite" residential roofing contractors in the United States.
GAF is North America's largest roofing manufacturer, and only GAF Master Elite(R) Contractors can compete for its residential President's Club Award. To qualify for this award, a residential roofing contractor must meet specific criteria in at least one out of three different pathways: the Performance pathway, where contractors focus on giving their property owners the best possible service, quality, and protection; the Reliability pathway, where the contractor has a long history of offering their customers the best quality and protection; and the Service pathway, where contractors consistently offer their customers the best protection available in the marketplace.
Premier Roofing Company has been a GAF Master Elite(R) Contractor since 2008; the company received the President's Club Award due to its excellent performance in 2016. To become a Master Elite(R) Contractor–a status that less than 2% of roofing contractors nationwide are able to achieve–a candidate must demonstrate proper licensing, maintain insurance (in states that require it), have a proven reputation, and show commitment to ongoing professional training.
Premier Roofing was founded in 2005 by Ben McFerron and Chris Tulp with the goal of bringing honesty and dedication to the roofing industry. After working for another roofer, they realized that they could provide better quality and value to customers. "When you buy a roof, you're taking a huge leap of faith," according to Tulp. "Regardless of the references, examples of work, insurance, and so forth, you can't test-drive a new roof before you buy it. The customer relies on the contractor to paint a picture of the experience. When that doesn't come to fruition, the customer is going to be dissatisfied."
"We set the right expectations for customers," adds McFerron. "Competitors promise the world and try to beat us on price. At the end of the day, they provide an experience that's mediocre at best, because they believe the industry is about over-promising and under-delivering. The company that educates customers with straight talk–an extensive presentation about the process, explaining warranties and liabilities–truly helps homeowners understand why they shouldn't just settle on the cheapest company with a shady reputation."
The company offers residential and multi-family roofing services at all locations and commercial services in Colorado. Residential services include free inspections and damage assessments and removal and replacement of asphalt, wood shake, metal, and tile roofs. Commercial clients receive detailed performance reports and project scopes; services include roof design, infrared thermal imaging, maintenance plans, and cost-benefit analyses. In the multi-family part of the business, Premier repairs, replaces, and maintains roofs on apartments, town homes, and multiple single-family homes.
Premier donates time and funds to Wounded Warrior USA and Habitat for Humanity; it also participates in a Holiday Adopt-a-Family program, which provides assistance and support to needy families in the community. The company operates a referral rewards program; current customers can win various prizes for referring new ones. Premier Roofing is a member of the National Roofing Contractors Association, the Colorado Roofing Association, and the Colorado Roofing & Restoration Council and a recipient of the Angie's List Super Service Award. It maintains an A+ accreditation with the Better Business Bureau.
"Our mantra is 'a business is only as good as its people'–we believe that hiring good people is paramount to our success," says McFerron. "We do one thing, roofing, better than anyone else," adds Tulp. "We can continue to grow inside the industry where we have the most experience by being more aggressive than our competition and maintaining a great reputation. We've found our identity, and we improve upon our processes and provide more value to an increasing number of customers every year."
About Premier Roofing Company
Dedicated to serving the roofing needs of homeowners in many localities, Premier Roofing Company maintains permanent offices and local employees in Colorado Springs, Fort Collins, Kansas City, Chicago, and its headquarters in Denver. Since 2005, the company has completed more than 10,000 roofing projects in five states. Customers can rest assured that Premier Roofing has the experience and know-how to accomplish all residential, commercial, and multi-family roofing projects.
Premier Roofing Company
2570 W 8th Ave.
Denver, CO 80204
(303) 233-7663
http://www.premier-roofing.com
Facebook: https://www.facebook.com/premier.roofing.company
Twitter: http://www.twitter.com/premierroofco
LinkedIn: https://www.linkedin.com/company/the-premier-roofing-company
YouTube channel: https://www.youtube.com/channel/UCca40mBZwu4YHSODSmt5x8g
About GAF:
Founded in 1886, GAF is the largest roofing manufacturer in North America. The Company is an operating subsidiary of Standard Industries.
GAF products include a comprehensive portfolio of roofing systems for residential and commercial properties, which are supported by an extensive national network of factory-certified contractors. Its success is driven by its commitment to Advanced Quality, Industry Expertise, and Solutions Made Simple. GAF was the first roofing manufacturer to offer a Lifetime limited warranty on all of its laminated shingles, which then evolved with the introduction of the GAF Lifetime Roofing System by extending the Lifetime coverage beyond just the roofing shingles.
With a focus on social responsibility, GAF developed Advanced Protection(R) Shingle Technology, providing excellent durability and wind resistance while reducing the use of natural resources. The Company has also developed single-ply and asphaltic roofing membranes with excellent durability and high reflectivity to meet the most rigorous industry standards while helping commercial property owners and designers reduce energy consumption.
GAF also supports the roofing industry through CARE, the Center for the Advancement of Roofing Excellence(TM), which has provided education to over 230,000 professionals. CARE's mission is to help professional contractors and distributors build their businesses through sales and management education, and to provide product and installation training to contractors, distributors, architects, property owners, and related industry personnel.
For more information about GAF, visit: gaf.com
About Standard Industries:
Standard Industries is a privately-held, global, diversified holding company with interests in building materials, aggregates, and related investment businesses in public equities and real estate. With over 7,500 employees and operations in more than 80 countries, Standard maintains a team-oriented culture of meritocracy and operational excellence, and a passionate focus on investing in its people.
Media Contact
Company Name: Premier Roofing Company
Contact Person: Ben McFerron
Email: kgarneau@premier-roofing.com
Phone: (303) 233-7663
Address:2570 W 8th Ave.
City: Denver
State: CO
Country: United States
Website: http://www.premier-roofing.com