Roof One of Pontiac, MI, has received GAF's 2017 President's Club Award. A GAF Master Elite(R) contractor since 2008, it is one of Michigan's largest roofers, installing and servicing all residential and commercial roofing types.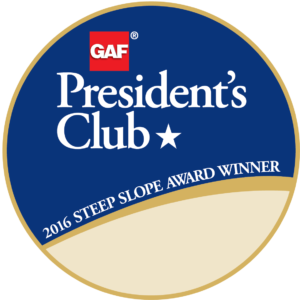 Pontiac, MI – May 25, 2017 –
Roof One LLC of Pontiac, Michigan, has received the most prestigious contractor award GAF offers: The GAF President's Club Award. This highly coveted award recognizes Roof One as one of the "elite of the elite" residential roofing contractors in the United States.
GAF is North America's largest roofing manufacturer, and only GAF Master Elite(R) Contractors can compete for its residential President's Club Award. To qualify for this award, a residential roofing contractor must meet specific criteria in at least one out of three different pathways: the Performance pathway, where contractors focus on giving their property owners the best possible service, quality, and protection; the Reliability pathway, where the contractor has a long history of offering their customers the best quality and protection; and the Service pathway, where contractors consistently offer their customers the best protection available in the marketplace.
Roof One has been a GAF Master Elite(R) Contractor since 2008; the company received the President's Club Award due to its excellent performance in 2016. To become a Master Elite(R) Contractor–a status that less than 2% of roofing contractors nationwide are able to achieve–a candidate must demonstrate proper licensing, maintain insurance (in states that require it), have a proven reputation, and show commitment to ongoing professional training.
By continually investing in training and certification, Roof One ensures its employees are the best in the business. With preferred contractor status from major manufacturers, competitive pricing, and the best available warranties and guarantees, the company has set itself apart from other roofing companies in Michigan.
Roof One uses a consultative approach to estimating, taking the time to understand the project goals and to explain benefits and limitations, thoroughly discussing the process and presenting customizable product options that fit the customer's vision. After inspection of the exterior project area, Roof One draws up a proposal and explains the warranties and financing available. The final stage is to schedule the start date and complete the project. Roof One employees are always available to answer inquiries and ensure complete customer satisfaction, leaving the home in better condition than they found it.
Replacing more roofs in the Tri-County area than most other contractors, the company performs repairs due to damage from factors such as hail, storms, and wind. Some repairs are necessary due to improper prior installation or defective flashing. Roof One checks associated problems, such as clogged gutters, incorrectly nailed shingles, and flue pipes in chimneys, that could lead to further damage. The company makes repairs with composition shingles, impact-resistant shingles, metal or tile roofing, or stone-coated steel. Other residential services include insulation, siding, windows, gutters, doors, ventilation, and skylights.
Qualified in the best commercial services, Roof One repairs and installs roofing systems for apartment buildings, car dealerships, industrial buildings, retail centers, churches, office buildings, and other business properties. Commercial customers may chose from a variety of roofing systems, including EPDM rubber membrane, TPO white reflective, DuroLast,, and other types of energy-efficient or impact-resistant roofs. The company works on flat, low-slope, and steep-grade roofs and offers quick leak-repair and emergency services.
Active in the community, the company donates time and resources to Habitat for Humanity, Detroit's Ronald McDonald House, local women's shelter The Well, and the Oakland County Sheriff's Office Benefit for the Disabled. It also has assisted families in need, who could not otherwise afford their roofing solutions. A member of the National Roofing Contractors Association, Roof One is a GAF Certified Green Roofer(TM), a GAF Certified SlateCrafter(TM), and an EPA-certified lead-safe firm. It is accredited by the Better Business Bureau and holds an A+ rating.
Certified to service the highest quality roofing systems, crew members are long-term employees who have undergone extensive in-house and factory training. With the best installations and guarantees, Roof One stands above the crowd in quality workmanship and quality materials, enabling it to boast: "The one to call is Roof One."
About Roof One LLC
From its humble beginnings, Roof One has grown to be one of Michigan's largest roofing companies. The company provides installation of all roofing types, a wide variety of siding types, window replacements, gutter systems, and blown-in insulation. With the goal of quality installations for the total protection of homeowners' families and property, Roof One is committed to providing beautiful roofs that customers will be proud to see on their homes.
Roof One
275 Telegraph Rd.
Pontiac, MI 48341
(248) 322-1000
http://www.roofonemichigan.com
Facebook: https://www.facebook.com/RoofOneMichigan
About GAF:
Founded in 1886, GAF is the largest roofing manufacturer in North America. The Company is an operating subsidiary of Standard Industries.
GAF products include a comprehensive portfolio of roofing systems for residential and commercial properties, which are supported by an extensive national network of factory-certified contractors. Its success is driven by its commitment to Advanced Quality, Industry Expertise, and Solutions Made Simple. GAF was the first roofing manufacturer to offer a Lifetime limited warranty on all of its laminated shingles, which then evolved with the introduction of the GAF Lifetime Roofing System by extending the Lifetime coverage beyond just the roofing shingles.
With a focus on social responsibility, GAF developed Advanced Protection(R) Shingle Technology, providing excellent durability and wind resistance while reducing the use of natural resources. The Company has also developed single-ply and asphaltic roofing membranes with excellent durability and high reflectivity to meet the most rigorous industry standards while helping commercial property owners and designers reduce energy consumption.
GAF also supports the roofing industry through CARE, the Center for the Advancement of Roofing Excellence(TM), which has provided education to over 230,000 professionals. CARE's mission is to help professional contractors and distributors build their businesses through sales and management education, and to provide product and installation training to contractors, distributors, architects, property owners, and related industry personnel.
For more information about GAF, visit: gaf.com
About Standard Industries:
Standard Industries is a privately-held, global, diversified holding company with interests in building materials, aggregates, and related investment businesses in public equities and real estate. With over 7,500 employees and operations in more than 80 countries, Standard maintains a team-oriented culture of meritocracy and operational excellence, and a passionate focus on investing in its people.
Media Contact
Company Name: Roof One
Contact Person: Steve McCusker
Email: roofonellc@comcast.net
Phone: (248) 322-1000
Address:275 Telegraph Rd.
City: Pontiac
State: MI
Country: United States
Website: http://www.roofonemichigan.com