Triton Roofing & Solar of Colorado Springs, CO, has received GAF's 2017 President's Club Award. A GAF Master Elite(R) contractor since 2012, Triton has grown to become one of the premier roofing and solar contractors in southern Colorado.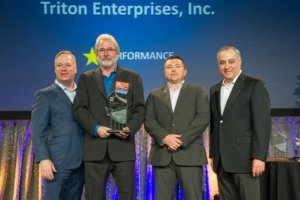 Colorado Springs, CO – May 26, 2017 –
Triton Roofing & Solar of Colorado Springs, Colorado, has received the most prestigious contractor award GAF offers: The GAF President's Club Award. This highly coveted award recognizes Triton Roofing & Solar as one of the "elite of the elite" residential roofing contractors in the United States.
GAF is North America's largest roofing manufacturer, and only GAF Master Elite(R) Contractors can compete for its residential President's Club Award. To qualify for this award, a residential roofing contractor must meet specific criteria in at least one out of three different pathways: the Performance pathway, where contractors focus on giving their property owners the best possible service, quality, and protection; the Reliability pathway, where the contractor has a long history of offering their customers the best quality and protection; and the Service pathway, where contractors consistently offer their customers the best protection available in the marketplace.
Triton Roofing & Solar has been a GAF Master Elite(R) Contractor since 2012; the company received the President's Club Award due to its excellent performance in 2016. To become a Master Elite(R) Contractor–a status that less than 2% of roofing contractors nationwide are able to achieve–a candidate must demonstrate proper licensing, maintain insurance (in states that require it), have a proven reputation, and show commitment to ongoing professional training.
Prospective solar customers in the Colorado Springs area require a contractor that knows both solar and roofing. Triton Solar & Roofing is such a contractor, double-certified with a professional team that performs quality solar installations while providing customers with exceptional service and communication through the entire process.
Founded by friends Justin Baker and Todd Dorpinghaus, Triton was begun when the two co-owners saw a disturbing trend in the roofing industry: distinctive patterns of poor customer service and a lack of product support. Former military men, they were accustomed to high standards and attention to detail. With their similar backgrounds and core beliefs, they set about to start a change in the roofing industry and how it is perceived.
"Our mission is to provide the highest-quality products and workmanship to our clients," according to Baker, "and our goal is to achieve 100% customer satisfaction, with a no-hassle experience." Dorpinghaus adds: "With Triton's extensive knowledge, training, and certifications, we can far exceed any expectations for all residential or commercial roofing projects. We're equipped to fulfill the requirements of virtually any roofing job."
The company, privately held and family-owned, utilizes the GAF Solar(TM) System to help customers to become their own energy providers. "Solar saves money," state Baker and Dorpinghaus. "By owning a solar roofing system, homeowners save on electricity while also insulating themselves against potential increases in utility costs. Solar gives independence. Plus, they can take advantage of incentives and rebates that are available to those who switch to solar."
Triton is certified by GAF as both a Master Elite(R) and a Solar Elite(TM) contractor and participates in GAF's Roofs for Troops promotion. The company is also a National Storm Damage Center certified contractor and a multi-year winner of the Angie's List Super Service Award.
With Triton's monitoring solutions, customers are assured of optimal system performance, according to Baker and Dorpinghaus. "We're always available to answer questions, any time the customers need us," they conclude. "People shouldn't trust their biggest asset to just any contractor. With us, customers can rest assured that their roofs and their solar systems are in safe hands."
About Triton Roofing & Solar
With an unequaled record of experience, expertise, professionalism, and customer service, Triton Roofing & Solar has grown to become one of the premier roofing and solar contractors in southern Colorado. Working with engineers, builders, Realtors(R), homeowners, and insurance companies, the company has enjoyed success from the beginning, due to the fundamental beliefs that guide Triton's operations and partnerships with its customers.
Triton Roofing & Solar
5170 N Union Blvd., Ste. 102
Colorado Springs, CO 80918
(719) 322-3673
http://www.tritonroofing.com
Facebook: https://www.facebook.com/TritonRoofingAndSolarColoradoSprings
LinkedIn: https://www.linkedin.com/pub/triton-roofing/3a/405/3b4
About GAF:
Founded in 1886, GAF is the largest roofing manufacturer in North America. The Company is an operating subsidiary of Standard Industries.
GAF products include a comprehensive portfolio of roofing systems for residential and commercial properties, which are supported by an extensive national network of factory-certified contractors. Its success is driven by its commitment to Advanced Quality, Industry Expertise, and Solutions Made Simple. GAF was the first roofing manufacturer to offer a Lifetime limited warranty on all of its laminated shingles, which then evolved with the introduction of the GAF Lifetime Roofing System by extending the Lifetime coverage beyond just the roofing shingles.
With a focus on social responsibility, GAF developed Advanced Protection(R) Shingle Technology, providing excellent durability and wind resistance while reducing the use of natural resources. The Company has also developed single-ply and asphaltic roofing membranes with excellent durability and high reflectivity to meet the most rigorous industry standards while helping commercial property owners and designers reduce energy consumption.
GAF also supports the roofing industry through CARE, the Center for the Advancement of Roofing Excellence(TM), which has provided education to over 230,000 professionals. CARE's mission is to help professional contractors and distributors build their businesses through sales and management education, and to provide product and installation training to contractors, distributors, architects, property owners, and related industry personnel.
For more information about GAF, visit: gaf.com
About Standard Industries:
Standard Industries is a privately-held, global, diversified holding company with interests in building materials, aggregates, and related investment businesses in public equities and real estate. With over 7,500 employees and operations in more than 80 countries, Standard maintains a team-oriented culture of meritocracy and operational excellence, and a passionate focus on investing in its people.
Media Contact
Company Name: Triton Roofing & Solar
Contact Person: Justin Baker
Email: cos@tritonroofing.com
Phone: (719) 322-3673
Address:5170 N Union Blvd., Ste. 102
City: Colorado Springs
State: CO
Country: United States
Website: http://www.tritonroofing.com