Tri-County Roofing & Siding of Ladson, SC, has received GAF's 2017 President's Club Award. A GAF Master Elite(R) contractor since 1997, it offers innovative maintenance programs, extended warranties, and outstanding customer service.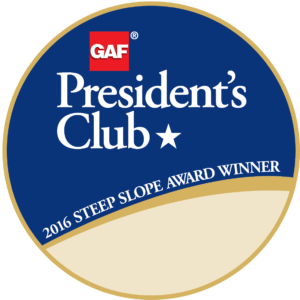 Ladson, SC – May 26, 2017 –
Tri-County Roofing & Siding of Ladson, South Carolina, has received the most prestigious contractor award GAF offers: The GAF President's Club Award. This highly coveted award recognizes Tri-County Roofing & Siding as one of the "elite of the elite" residential roofing contractors in the United States.
GAF is North America's largest roofing manufacturer, and only GAF Master Elite(R) Contractors can compete for its residential President's Club Award. To qualify for this award, a residential roofing contractor must meet specific criteria in at least one out of three different pathways: the Performance pathway, where contractors focus on giving their property owners the best possible service, quality, and protection; the Reliability pathway, where the contractor has a long history of offering their customers the best quality and protection; and the Service pathway, where contractors consistently offer their customers the best protection available in the marketplace.
Tri-County Roofing & Siding has been a GAF Master Elite(R) Contractor since 1997; the company received the President's Club Award due to its excellent performance in 2016. To become a Master Elite(R) Contractor–a status that less than 2% of roofing contractors nationwide are able to achieve–a candidate must demonstrate proper licensing, maintain insurance (in states that require it), have a proven reputation, and show commitment to ongoing professional training.
Some contractors, like Tri-County Roofing & Siding, know the ins and outs of the roofing industry and have the track record and the certifications to reflect it. "Tri-County is about staying power," according to founder Dale Hawkins. "We partner with and educate our customers. We're about local values and giving back to the community. We're about honesty and professionalism. Our customers get more than our services; they get a sustained relationship with us, reflected in our follow-up and our ability to respond to future needs."
As a multigenerational family business, Tri-County Roofing & Siding intrinsically understands construction issues that are unique to Charleston and the South Carolina coastal region. "We employ the knowledge, techniques, and education that enable our customers' roofs and homes to weather the coastal storms," explains Hawkins. "Storms with high winds and driving rains can rip through the Charleston and Savannah area in an instant. All types of roofs are vulnerable to damage from these storms. High winds can tear off shingles, bend metal, and send flying debris that can puncture roofing."
Tri-County is skilled in the installation, maintenance, and repair of shingle, metal, and slate roofs, as well as commercial roofing systems. "Our experienced and trustworthy contractors are factory-certified for all roof systems," says Hawkins. The company adds curb appeal and increases energy efficiency with siding and insulation services, as well as the installation of windows, skylights, and gutters. Tri-County operates a 24-hour emergency roof-repair program, with service vehicles that are fully equipped for any type of roof system and service experts to quickly stop leaks, prevent further damage, and assist with interior cleanup.
The company understands the value of community. "We and all of our employees live in the area," states Hawkins. "Generosity strengthens a community, and a vital community is important to everyone." Tri-County sponsors community events and organizations, such as Little League teams and high-school football games. It has worked with Habitat for Humanity and Debi's Kids, partnered with the Salvation Army's Angel Tree program, and supported breast-cancer fundraisers. The company participates in GAF's Roofs for Troops promotion and holds an A+ accreditation with the Better Business Bureau.
"We won't try to sell a customer a new roof if it is not needed," concludes Hawkins. "Customer satisfaction is our number one goal and our professional guarantee. As I have said to employees and customers, time and time again: As long as people have roofs over their heads, we will be there to put them on."
About Tri-County Roofing & Siding
Tri-County Roofing is a full-service roofing company, doing new installations, restorations, maintenance, reroofs, and repairs, as well as installations of siding, windows, skylights, fascia, soffits, and gutters. A locally owned and operated family business, it has been Charleston's leading roofing company since 1973 and completed its 40,000th roofing project in October 2013. Servicing both residential and commercial customers, Tri-County offers innovative maintenance programs, extended warranties, and outstanding customer service.
Tri-County Roofing & Siding
780 College Park Rd.
Ladson, SC 29456
(843) 572-2175
Toll-free: (800) NEW-ROOF
http://www.tricountyroofingsc.com
Facebook: https://www.facebook.com/tricountyroofing
Twitter: https://twitter.com/tricountyroofsc
LinkedIn: https://www.linkedin.com/company/tri-county-roofing-and-siding
YouTube channel: http://www.youtube.com/user/tricountyroofingsc
About GAF:
Founded in 1886, GAF is the largest roofing manufacturer in North America. The Company is an operating subsidiary of Standard Industries.
GAF products include a comprehensive portfolio of roofing systems for residential and commercial properties, which are supported by an extensive national network of factory-certified contractors. Its success is driven by its commitment to Advanced Quality, Industry Expertise, and Solutions Made Simple. GAF was the first roofing manufacturer to offer a Lifetime limited warranty on all of its laminated shingles, which then evolved with the introduction of the GAF Lifetime Roofing System by extending the Lifetime coverage beyond just the roofing shingles.
With a focus on social responsibility, GAF developed Advanced Protection(R) Shingle Technology, providing excellent durability and wind resistance while reducing the use of natural resources. The Company has also developed single-ply and asphaltic roofing membranes with excellent durability and high reflectivity to meet the most rigorous industry standards while helping commercial property owners and designers reduce energy consumption.
GAF also supports the roofing industry through CARE, the Center for the Advancement of Roofing Excellence(TM), which has provided education to over 230,000 professionals. CARE's mission is to help professional contractors and distributors build their businesses through sales and management education, and to provide product and installation training to contractors, distributors, architects, property owners, and related industry personnel.
For more information about GAF, visit: gaf.com
About Standard Industries:
Standard Industries is a privately-held, global, diversified holding company with interests in building materials, aggregates, and related investment businesses in public equities and real estate. With over 7,500 employees and operations in more than 80 countries, Standard maintains a team-oriented culture of meritocracy and operational excellence, and a passionate focus on investing in its people.
Media Contact
Company Name: Tri-County Roofing & Siding
Contact Person: Travis Hawkins
Email: travis@tricountyroofingsc.com
Phone: (843) 572-2175
Address:780 College Park Rd.
City: Ladson
State: SC
Country: United States
Website: http://www.tricountyroofingsc.com