Latite Roofing & Sheet Metal Co. of Pompano Beach, FL, has received GAF's 2017 President's Club Award. A GAF Master Select(TM) contractor since 2002, it has provided roofing services to residents and businesses for more than 70 years.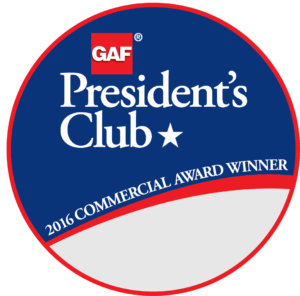 Pompano Beach, FL – June 10, 2017 –
Latite Roofing & Sheet Metal Company, LLC, of Pompano Beach, Florida, has received the most prestigious contractor award GAF offers: The GAF President's Club Award. This highly coveted award recognizes Latite Roofing & Sheet Metal Company as one of the "elite of the elite" commercial roofing contractors in the United States.
GAF is North America's largest roofing manufacturer, and only GAF Master Select(TM) Contractors can compete for its commercial President's Club Award. To qualify for this award, a commercial roofing contractor must meet specific criteria in at least one out of three different pathways: the Performance pathway, where contractors focus on giving their property owners the best possible service, quality, and protection; the Reliability pathway, where the contractor has a long history of offering their customers the best quality and protection; and the Service pathway, where contractors consistently offer their customers the best protection available in the marketplace.
Latite Roofing & Sheet Metal Company has been a GAF Master Select(TM) Contractor since 2002; the company received the President's Club Award due to its excellent performance in 2016. To become a Master Select(TM) Contractor–a status that less than 1% of roofing contractors nationwide are able to achieve–a candidate must demonstrate proper licensing, maintain insurance (in states that require it), have a proven reputation, and show commitment to ongoing professional training.
Founded in 1943, Latite Roofing & Sheet Metal began by servicing the roofing needs of homeowners. As time passed, the company added commercial services. Today, Latite offers quality, technically advanced roofing services, at competitive prices, to homeowners, contractors, and corporations. As the premier roofing company in Florida, it delivers roofing services in a professional, safe, courteous, and honest manner. All employees are thoroughly trained, and the company has an extensive Quality Assurance program in place.
Residential customers benefit from the expertise of Latite's technicians in diagnosing the sources of leaks and repairing intrusions. The company's roofers follow the strictest quality standards, using code-approved materials from the best manufacturers in the industry. Using a 64-point inspection plan, Latite can detect any issues that may affect the integrity of a home. The company's technicians have an average tenure of 12 years and are experts at working on all types of roofs, including clay or concrete tile, standing seam metal, shingle, and flat deck. Each roofing project has a dedicated project manager who ensures high-quality installation and follows through on the company's daily Safety and Cleanliness Plan.
The company has a long tradition of service to homeowner/condo associations and commercial clients. Latite is a factory-certified installer for major roofing material manufacturers. Its business customers benefit from a comprehensive, 92-point inspection of the building envelope to detect even the smallest issues affecting the roof and building structure. An annual maintenance program helps owners and managers to maintain their buildings in good condition for many years, thus lowering life-cycle costs and improving asset value.
Latite is known for helping the community; it has partnered with Rebuilding Together to provide labor and materials to help with roofing issues for needy families. Active in the industry, the company has received awards from the American Institute of Architects, the Construction Association of South Florida, and Associated Builders & Contractors. Latite is a member of the Florida Roofing & Sheet Metal Association and the Roofing Contractors Association of South Florida and holds an A+ accreditation with the Better Business Bureau.
With more than 400 roofers and utilizing no subcontractors, Latite runs customers' jobs seamlessly from start to finish. Having all in-house crews allows the company to control the process and contain labor costs while improving consistency and quality of installations. Completing jobs on time and on budget, Latite delivers a true value to its customers.
About Latite Roofing & Sheet Metal Company
The largest roofer in South Florida, Latite Roofing & Sheet Metal Company has been providing roofing services to area residents and businesses for more than 70 years. A family-owned and operated company, it has completed a multitude of commercial and residential roofing projects in its market and is committed to excellence in roofing. Latite's team of experienced, professional roofers is prepared to exceed customers' roofing needs, from roof installations to emergency repairs.
Latite Roofing & Sheet Metal Company
2280 West Copans Road
Pompano Beach, FL 33069
Toll-free: (888) 660-9704
http://www.latite.com
Facebook: https://www.facebook.com/pages/Latite-Roofing-Sheetmetal-Company/373691659211
Twitter: https://twitter.com/Latiteroofing
LinkedIn: https://www.linkedin.com/company/latite-roofing-&-sheetmetal-llc
YouTube channel: http://www.youtube.com/user/LatiteRoofing1
About GAF:
Founded in 1886, GAF is the largest roofing manufacturer in North America. The Company is an operating subsidiary of Standard Industries.
GAF products include a comprehensive portfolio of roofing systems for residential and commercial properties, which are supported by an extensive national network of factory-certified contractors. Its success is driven by its commitment to Advanced Quality, Industry Expertise, and Solutions Made Simple. GAF was the first roofing manufacturer to offer a Lifetime limited warranty on all of its laminated shingles, which then evolved with the introduction of the GAF Lifetime Roofing System by extending the Lifetime coverage beyond just the roofing shingles.
With a focus on social responsibility, GAF developed Advanced Protection(R) Shingle Technology, providing excellent durability and wind resistance while reducing the use of natural resources. The Company has also developed single-ply and asphaltic roofing membranes with excellent durability and high reflectivity to meet the most rigorous industry standards while helping commercial property owners and designers reduce energy consumption.
GAF also supports the roofing industry through CARE, the Center for the Advancement of Roofing Excellence(TM), which has provided education to over 230,000 professionals. CARE's mission is to help professional contractors and distributors build their businesses through sales and management education, and to provide product and installation training to contractors, distributors, architects, property owners, and related industry personnel.
For more information about GAF, visit: gaf.com
About Standard Industries:
Standard Industries is a privately-held, global, diversified holding company with interests in building materials, aggregates, and related investment businesses in public equities and real estate. With over 7,500 employees and operations in more than 80 countries, Standard maintains a team-oriented culture of meritocracy and operational excellence, and a passionate focus on investing in its people.
Media Contact
Company Name: Latite Roofing & Sheet Metal Company
Contact Person: Rebecca Boerner
Email: rebecca@latite.com
Phone: (888) 660-9704
Address:2280 West Copans Road
City: Pompano Beach
State: FL
Country: United States
Website: http://www.latite.com