North American Roofing of Asheville, NC, has received GAF's 2017 President's Club Award. A GAF Master Select(TM) contractor since 2006, it is one of the top three commercial U.S. roofing companies, serving customers nationwide.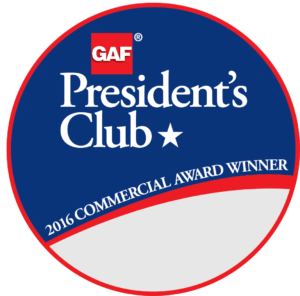 Asheville, NC – June 12, 2017 –
North American Roofing of Asheville, North Carolina, has received the most prestigious contractor award GAF offers: The GAF President's Club Award. This highly coveted award recognizes North American Roofing as one of the "elite of the elite" commercial roofing contractors in the United States.
GAF is North America's largest roofing manufacturer, and only GAF Master Select(TM) Contractors can compete for its commercial President's Club Award. To qualify for this award, a commercial roofing contractor must meet specific criteria in at least one out of three different pathways: the Performance pathway, where contractors focus on giving their property owners the best possible service, quality, and protection; the Reliability pathway, where the contractor has a long history of offering their customers the best quality and protection; and the Service pathway, where contractors consistently offer their customers the best protection available in the marketplace.
North American Roofing has been a GAF Master Select(TM) Contractor since 2006; the company received the President's Club Award due to its excellent performance in 2016. To become a Master Select(TM) Contractor–a status that less than 1% of roofing contractors nationwide are able to achieve–a candidate must demonstrate proper licensing, maintain insurance (in states that require it), have a proven reputation, and show commitment to ongoing professional training.
For a company with a nationwide reach, North American Roofing maintains consistent quality in all of its markets. "We're really data-driven in our operations, meaning that we use a standard operating procedure," explains Brian Verble, president and chief executive officer. "Our customers everywhere know what to expect from us, each time we're on the job. Every installation, no matter where in the country it's done, delivers the same experience."
As a major service provider across the nation (including Puerto Rico and the U.S. Virgin Islands) and even in some international markets, the company performs diverse roofing jobs for many different kinds of customers. "We offer the best value, bar none–an optimal roof system solution at a competitive price," states Verble. "We have a lot of buildings across the country, and we maintain multiple levels of communication with our customers from start to finish. Top that off with our 38 years of experience and our great partnership with GAF, and you can see why we've been able to grow."
Several key factors contribute to ongoing success. "Training is a big component of our company," says Verble. "We have a director of training who ensures that all employees, across every department, go through various levels of training. We've also implemented a 'customer action center' and a 'dream team.' The customer action center is an extension of our customer service, keeping customers informed and overseeing the workflow process. The dream team is our team of experts, looking at the technical aspects of jobs to see how we can do things smarter and provide more value."
Innovation is always in play at North American Roofing. In 2014, it introduced its RoofGuard(TM) Asset Management Program, which inspects for potential problems to save customers money and reduce repair costs. "We also stay on top of technology and sustainable initiatives," says Verble, "looking into things like green roofing practices and solar installations, and we've implemented the use of iPads to maximize our communication processes."
Perhaps the biggest success factor at North American Roofing was its conversion to an employee stock ownership plan in 2012. "We've always had a culture of doing what's right for the customer," concludes Verble, "but being employee-owned has brought a whole new element. With round-table-style decision making and contribution of ideas for improvement from all levels, the employees are the ones who are driving the company's success. It's really transforming us, removing the hierarchy and operating by the people. The results reflect it: we have 95% customer retention, and profitability just continues to grow."
About North American Roofing
A third-generation national commercial roofing company built on a foundation of integrity, hard work, and committed teamwork, North American Roofing is one of the top three commercial/industrial roofing companies in the United States. With a growing list of commercial and industrial customers nationwide, the company installs value-engineered roofing systems and services them throughout their life cycles, while maintaining healthy, engaging, and safe working environments for its employees.
North American Roofing
41 Dogwood Road
Asheville, NC 28806
(828) 687-7767
http://www.naroofing.com
Facebook: https://www.facebook.com/NorthAmericanRoofing
Twitter: https://twitter.com/naroofing
LinkedIn: https://www.linkedin.com/company/north-american-roofing
About GAF:
Founded in 1886, GAF is the largest roofing manufacturer in North America. The Company is an operating subsidiary of Standard Industries.
GAF products include a comprehensive portfolio of roofing systems for residential and commercial properties, which are supported by an extensive national network of factory-certified contractors. Its success is driven by its commitment to Advanced Quality, Industry Expertise, and Solutions Made Simple. GAF was the first roofing manufacturer to offer a Lifetime limited warranty on all of its laminated shingles, which then evolved with the introduction of the GAF Lifetime Roofing System by extending the Lifetime coverage beyond just the roofing shingles.
With a focus on social responsibility, GAF developed Advanced Protection(R) Shingle Technology, providing excellent durability and wind resistance while reducing the use of natural resources. The Company has also developed single-ply and asphaltic roofing membranes with excellent durability and high reflectivity to meet the most rigorous industry standards while helping commercial property owners and designers reduce energy consumption.
GAF also supports the roofing industry through CARE, the Center for the Advancement of Roofing Excellence(TM), which has provided education to over 230,000 professionals. CARE's mission is to help professional contractors and distributors build their businesses through sales and management education, and to provide product and installation training to contractors, distributors, architects, property owners, and related industry personnel.
For more information about GAF, visit: gaf.com
About Standard Industries:
Standard Industries is a privately-held, global, diversified holding company with interests in building materials, aggregates, and related investment businesses in public equities and real estate. With over 7,500 employees and operations in more than 80 countries, Standard maintains a team-oriented culture of meritocracy and operational excellence, and a passionate focus on investing in its people.
Media Contact
Company Name: North American Roofing
Contact Person: Lee Ann Rorex
Email: lrorex@naroofing.com
Phone: (828) 687-7767
Country: United States
Website: http://www.naroofing.com