The global cocoa processing market witnessed a steady growth in recent years. The major factor which has contributed in influencing the growth is the diversified applications of cocoa in several industries such as food, cosmetics and skin care, and pharmaceuticals.
The latest report by IMARC Group titled, "Cocoa Processing Market: Global Industry Trends, Share, Size, Growth, Opportunity and Forecast 2017-2022", finds that the global cocoa processing market reached a volume of more than 4 Million Tons in 2016, growing at a CAGR of around 2% during 2009-2016. Cocoa processing is the process of converting the cocoa beans to obtain different products such as cocoa liquor, cocoa butter, cocoa cakes and cocoa powder. These cocoa beans are derived from the cocoa tree, or Theobroma cocoa, which are mostly found in the tropical regions. The four major types of cocoa which are used for cultivation include criollo, forastero, trinitario and nacional.
Request sample of the report: http://www.imarcgroup.com/request?type=report&id=618&flag=B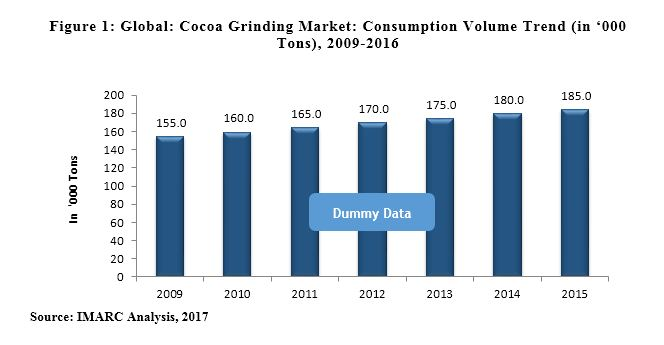 Highlights of the global cocoa processing market:
Due to its functional properties, cocoa is being used for various applications which has emerged as the biggest driving factor for the cocoa processing market.
Europe holds the largest share in the global cocoa processing market.
The market is expected to reach a volume of around 5 Million Tons by 2022.
The market for cocoa processing is catalysed by the rising demand for processed cocoa products, particularly in the production of chocolate. Cocoa is widely used in chocolate milk, biscuits, ice cream, cakes, cocoa tea, etc. Apart from this, cocoa is also used in other industries in the manufacturing of cosmetic and skin care products such as face masks, moisturisers, lipsticks and soaps, and pharmaceutical products. In the pharmaceutical industry, cocoa is preferred as a result of its chemical properties – antioxidant, anti-inflammatory, anti-allergenic and anti-carcinogenic properties. These properties help in improving brain health, preventing the risk of cardiovascular diseases, lowering blood pressure, work as mood enhancer, and treat neurodegenerative disorders. Moreover, the presence of several essential elements such as iron, magnesium, calcium, phosphorous, copper, manganese, selenium, potassium, zinc, etc. assists in providing essential nutrients for a healthy body and smooth skin. Further, the market is expected to reach a volume of nearly 5 Million Tons by 2022.
The report has segmented the market on a regional basis with some of the major regions being Europe, Africa, North America, South America and Asia Pacific. Currently, Europe holds the largest processing capacity for cocoa beans, accounting for more than a third of the total global cocoa processing in the world. An evaluation of the competitive landscape is also provided along with the details of the major players operating in the market. Some of the key players are Barry Callebaut, Cargill, ADM, Blommer and Mondelez.
Browse full report with TOC: http://www.imarcgroup.com/cocoa-processing-plant
The report provides a comprehensive insight into the historical and current trends in the cocoa processing industry. This study serves as an exceptional tool to understand the market trends, regional markets, growth, key players, value chain, success and risk factors, manufacturing process, raw material requirements, machinery requirements, capital costs, operating costs, incomes, expenditures and profits in the cocoa processing industry. This study can serve as an excellent tool for cocoa cultivators, cocoa processers, consultants, researchers, marketing strategists, investors and all those who plan to foray into the cocoa market in any form.
The report has examined the global cocoa processing market on the basis of:
Key Regions:
Europe
Africa
North America
South America
Asia Pacific
Key Player:
Barry Callebaut
Cargill
ADM
Blommer
Mondelez
Browse related reports:
Cassava Starch Market: http://www.imarcgroup.com/cassava-starch-processing-plant
Corn Glucose Market: http://www.imarcgroup.com/corn-glucose-manufacturing-plant
About Us
IMARC Group is a leading market research company that offers management strategy and market research worldwide. We partner with clients in all sectors and regions to identify their highest-value opportunities, address their most critical challenges, and transform their businesses.
IMARC's information products include major market, scientific, economic and technological developments for business leaders in pharmaceutical, industrial, and high technology organizations. Market forecasts and industry analysis for biotechnology, advanced materials, pharmaceuticals, food and beverage, travel and tourism, nanotechnology and novel processing methods are at the top of the company's expertise.
Media Contact
Company Name: IMARC Group
Contact Person: Jim Clarke
Email: sales@imarcgroup.com
Phone: +1-631-791-1145
Country: United States
Website: http://www.imarcgroup.com/