The global pectin market has witnessed a positive growth over the past few years. This can be attributed to the increasing use of pectin in food and beverage industry, particularly in drinkable and spoonable yogurts.
According to IMARC Group's new report, titled "Pectin Market: Global Industry Trends, Share, Size, Growth, Opportunity and Forecast 2017-2022", the global pectin market reached a volume of around 103 Thousand Tons in 2016, exhibiting a CAGR of 6% during 2009-2016. Pectin is a naturally occurring polysaccharide which is generally used as a gelling and thickening agent. It is found in pears, apples, plums, guavas, quince, gooseberries, oranges and other citrus fruits, and is extracted using hot dilute acids. Citrus peels are the richest source of pectin, followed by apple peel, apricots, oranges and others. Pectin offers certain health benefits and, apart from the food and beverage industry, it is also used in the pharmaceutical sector. Owing to the increasing applications of pectin in these sectors, the global pectin market is further expected to reach a volume of around 144 Thousand Tons by 2022, growing at a CAGR of 5.7% during 2017-2022.
Request sample of the report: http://www.imarcgroup.com/request?type=report&id=644&flag=B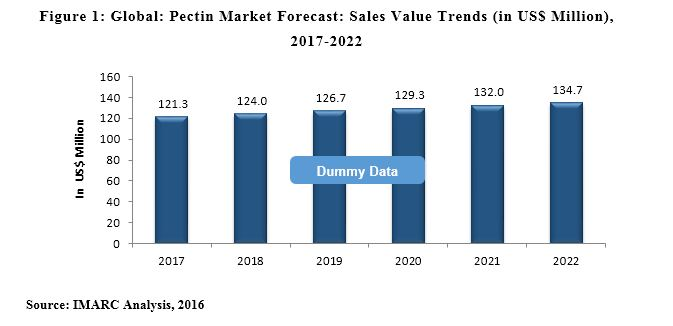 Highlights of the global pectin market:
The global demand for pectin has increased substantially as a result of rising health consciousness.
Food and beverage industry is the leading end-use industry, with drinkable and spoonable yogurt as the leading segment.
Europe represents the largest producer of pectin globally.
Pectin is used in jams or jellies to impart a gel-like texture, and in yogurts as thickener. Due to rising demand for low-fat and low-calorie food products among health conscious consumers, the demand for pectin has increased as it is used in low sugar jams and carbonated beverages. Besides food and beverage industry, pectin finds applications in the cosmetic sector. It is used in the formulation of personal care products, makeup foundations, as well as in shampoos, hair conditioners, hair gels, and other hair products. In the pharmaceutical sector, it is used for controlled release of drugs, treating allergies and as an anti-diarrhoeal agent. It is also used in ostomy devices and wound dressings. Moreover, it fights high cholesterol and triglycerides levels, prevents colon and prostate cancer, and combats diabetes and gastroesophageal reflux disease.
On the basis of end-use, drinkable and spoonable yogurt is the leading segment, followed by jams and preserves, other milk drinks and fruit beverages. On the regional basis, Europe represents the largest market for pectin, accounting for more than a third of the global production. Other major regions include Asia, North America and Latin America. Some of the key players operating in the global pectin market are CP Kelco, Dansico, Cargill, Herbstreith & Fox Corporate group, Yantai Andre Pectin and Naturex.
Browse full report with TOC: http://www.imarcgroup.com/pectin-technical-material-market-report
The report by IMARC Group has examined the global pectin market on the basis of:
End-use:
Drinkable and Spoonable yogurt
Jams and preserves
Other milk drinks
Fruit beverages
Region:
Europe
Asia
North America
Latin America
Major Manufacturers:
CP Kelco
Danisco
Cargill
Herbstreith & Fox Corporate Group
Nature
Yantai Andre Pectin
Browse related reports:
Caustic Potash Market: http://www.imarcgroup.com/caustic-potash-technical-material-market-report
Copper Sulphate Market: http://www.imarcgroup.com/copper-sulphate-technical-material-market-report
About Us
IMARC Group is a leading market research company that offers management strategy and market research worldwide. We partner with clients in all sectors and regions to identify their highest-value opportunities, address their most critical challenges, and transform their businesses.
IMARC's information products include major market, scientific, economic and technological developments for business leaders in pharmaceutical, industrial, and high technology organizations. Market forecasts and industry analysis for biotechnology, advanced materials, pharmaceuticals, food and beverage, travel and tourism, nanotechnology and novel processing methods are at the top of the company's expertise.
Media Contact
Company Name: IMARC Group
Contact Person: Jim Clarke
Email: sales@imarcgroup.com
Phone: +1-631-791-1145
Country: United States
Website: http://www.imarcgroup.com/