Casein is one of the two major types of proteins present in milk and has several nutritional and functional properties. It finds applications in a number of industries such as food and beverages, animal feed, cosmetics, pharmaceuticals, dental, plastic and fibre, medical, adhesives, paints, etc.
IMARC Group's recently published report, titled "Casein Market: Global Industry Trends, Share, Size, Growth, Opportunity and Forecast 2017-2022", finds that the global casein market has grown at a CAGR of around 4% during 2009-2016, reaching a volume of 313 Thousand Metric Tons in 2016. Casein represents one of the two major types of proteins present in milk, accounting for around 80% of the total protein present in cow's milk. Casein contains a number of nutrients such as carbohydrates, calcium, phosphorus and almost all the essential amino acids required by the human body.
The high nutritional content makes casein a basic ingredient of many health drinks, protein supplements, nutritional bars, etc. It also has several functional properties which help in enhancing the texture, flavour and colour of foods. As a result of these characteristics, casein finds numerous applications in the food sector. Its uses include manufacturing of yogurt, cheese, bakery products, ice-cream, sauces, soups, etc. Casein also has a number of industrial applications in the animal feed, cosmetics, pharmaceuticals, plastic and fibre, paint, adhesives, medical and dental industries.
Request sample of the report: http://www.imarcgroup.com/request?type=report&id=708&flag=B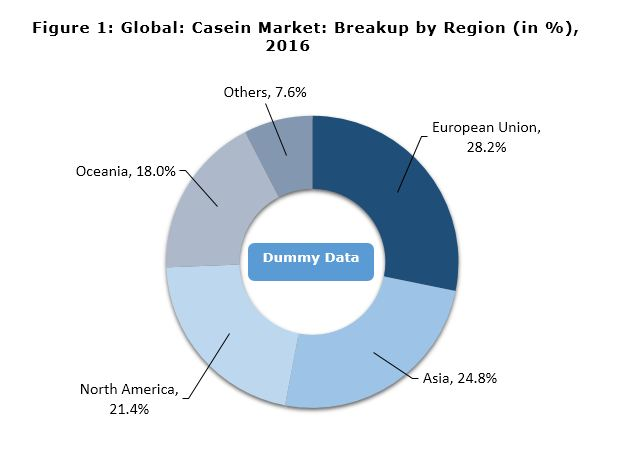 Highlights of the global casein market:
Increasing demand for functional foods and protein supplements remains the major growth driver.
Europe dominates the market, accounting for nearly a half of the total global production.
Lactalis Group represents the largest producer of casein globally.
The market is being driven by a number of growth inducing factors. Rising health awareness and the growing fitness trend have resulted in an increasing demand for food supplements and value-added products. Manufacturers are also launching new products and engaging in promotional activities so as to expand their consumer base. This has led to a surge in the demand for casein in the pharmaceuticals industry. The flourishing food and beverage industry along with rising disposable incomes, population growth and demand from developing regions have also influenced the demand for casein. According to the report, the market is further projected to reach a volume of around 394 Metric Tons by 2022.
Browse full report with TOC: http://www.imarcgroup.com/casein-market
The report has analysed the market on the basis of key regions. Europe currently represents the world's biggest producer of casein and accounts for around half of the total global production. Other major regions include North America and Oceania. The report has also analysed the import and export trends of casein. On the basis of import trends, the report finds that the United States currently represents the largest importer of casein. Other major importers include Spain, Italy, Mexico and Germany. The report has further analysed the competitive landscape of the market. Lactalis Group currently dominates the market as the largest casein producer globally. Some of the other key players operating in the market include Fonterra, FrieslandCampina and Armor Proteines.
The report has examined the global casein market on the basis of:
Region:
Asia
North America
Europe
Oceania
Major Manufacturers:
Lactalis Group
Fonterra
FrieslandCampina
Armor Proteines
Browse related reports:
GCC UHT Milk Market: http://www.imarcgroup.com/gcc-uht-milk-market
GCC Fresh Milk Market: http://www.imarcgroup.com/gcc-fresh-milk-market
About Us
IMARC Group is a leading market research company that offers management strategy and market research worldwide. We partner with clients in all sectors and regions to identify their highest-value opportunities, address their most critical challenges, and transform their businesses.
IMARC's information products include major market, scientific, economic and technological developments for business leaders in pharmaceutical, industrial, and high technology organizations. Market forecasts and industry analysis for biotechnology, advanced materials, pharmaceuticals, food and beverage, travel and tourism, nanotechnology and novel processing methods are at the top of the company's expertise.
Contact Us
IMARC Group
USA: +1-631-791-1145
Email: sales@imarcgroup.com
Website: http://www.imarcgroup.com
Follow us on twitter: @imarcglobal
Media Contact
Company Name: IMARC Group
Contact Person: Jim Clarke
Email: sales@imarcgroup.com
Phone: +1-631-791-1145
Country: United States
Website: http://www.imarcgroup.com/