The global seeds market has witnessed a significant growth over the past few years. One of the major growth factors has been the technological advancements in the seeds industry, which has further increased the demand for enhanced seed varieties.
Seeds are mature fertilised ovules or embryonic plants that play an essential part in the reproductive process of plants. Their primary function is to provide protection and nutrients to the embryo. Apart from this, seeds are also used for industrial purposes such as production of fibre, non-edible oils and medicines.
IMARC Group's latest report, titled "Seeds Market: Global Industry Trends, Share, Size, Growth, Opportunity and Forecast 2017-2022", finds that the global seeds market reached a value of US$ 58,450 Million in 2016, growing at a CAGR of nearly 7% during 2009-2016.
Request sample of the report: http://www.imarcgroup.com/request?type=report&id=111&flag=B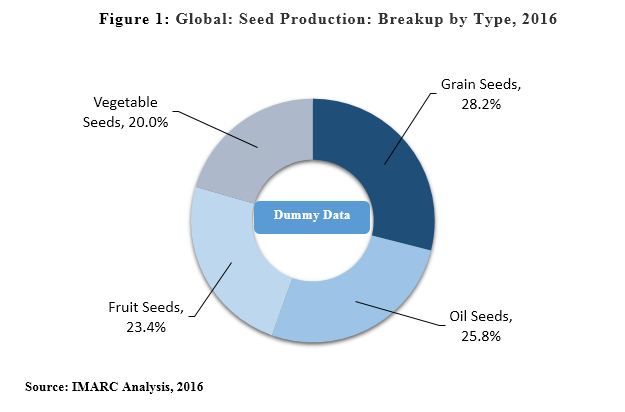 Highlights of the Global Seeds Market:
Consistent innovation in seed technology remain the primary growth driving factor.
Grain seeds are the most popular seed type, accounting for the majority of the market share.
North America accounts for the majority of the global share, representing the largest market.
The market is currently being driven by a number of factors. Innovation in the field of seeds production has facilitated better yields of seeds which have a greater resistance to environmental stresses. Some of the other catalysing forces include rising population, urbanisation, high profit margins, increasing adoption of genetically-modified seeds, expanding biofuel production and a strong demand from emerging regions. According to the report, the market is further expected to reach a value of more than US$ 86,599 Million by 2022.
Browse full report with TOC: http://www.imarcgroup.com/prefeasibility-report-seed-processing-plant
The market has been segmented on the basis of seed type. Currently, grain seeds represent the largest seed type produced accounting for the majority of the market share. On the basis of region, North America represents the largest producer of seeds accounting for nearly a third of the total global share. This can be attributed to the rapid technological innovations in the region. The other major regions include Asia-Pacific, Europe, Latin America, and Middle East and Africa. Some of the key players operating in the market are Mosanto, DuPont, Syngenta, Dow Chemicals and Bayer.
The report has examined the global seeds market on the basis of:
Seed type:
Grain seeds
Oil seeds
Fruit seeds
Vegetable seeds
Regions:
North America
Asia-Pacific
Europe
Latin America
Middle East and Africa
Major Manufacturers:
Mosanto
DuPont
Syngenta
Dow Chemicals
Bayer
Browse related reports:
Agriculture Industry: http://www.imarcgroup.com/agriculture-industry-in-india
Farming Market: http://www.imarcgroup.com/farming-horticulture-industry-india
About Us
IMARC Group is a leading market research company that offers management strategy and market research worldwide. We partner with clients in all sectors and regions to identify their highest-value opportunities, address their most critical challenges, and transform their businesses.
IMARC's information products include major market, scientific, economic and technological developments for business leaders in pharmaceutical, industrial, and high technology organizations. Market forecasts and industry analysis for biotechnology, advanced materials, pharmaceuticals, food and beverage, travel and tourism, nanotechnology and novel processing methods are at the top of the company's expertise.

Contact Us
IMARC Group
USA: +1-631-791-1145
Email: sales@imarcgroup.com
Website: http://www.imarcgroup.com
Follow us on twitter: @imarcglobal
Media Contact
Company Name: IMARC Group
Contact Person: Jim Clarke
Email: sales@imarcgroup.com
Phone: +1-631-791-1145
Country: United States
Website: http://www.imarcgroup.com/