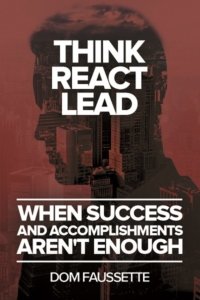 Dom's new book hit best-seller lists on Amazon.com within 24 hours of release. It was ranked #1 in the Kindle "Business Knowledge Capital" category, as well as #4 in "Management and Leadership Science"
With over a decade of corporate leadership, executive coaching, and most importantly, real-world, in-the-trenches business experience, his view is radically different. We cannot do anything we put our mind to, without first unlearning what the mind has retained. Dom Faussette extracts the unidentified natural leadership ability individuals currently possess to build out their platform. Dom appreciates, and shares with readers, that success is a moment-to-moment choice and not about title, capital gain or possessions. Success is a feeling of opportunity that requires engaged thought, performance-driven action, and influential leadership.
Faussette commented: "Being intentional is nothing more than having your thoughts, your desires, your hopes, your expectations, your actions, all being aligned with where you want to go in life, and what it is you want to accomplish in life. There's a three-step process of making sure that you hit your goals when you set them: Authenticity, Vision and Recognition. I achieved the goal I had for my book which is written in a unique way to immerse yourself in the content through a conversational writing style as if I am speaking straight to you. You will also find that you will learn more easily from this book, not only because of the flow of the content, but there is also an integrated Action Guide which allows you to implement your learning!"
In the foreword Dom's Father and Pastor, Ron Faussette said: "I have had the pleasure of knowing his life events which have allowed him to become a remarkable leader. I truly believe that it was these, sometimes extremely difficult, life lessons that have allowed Dom to hone his leadership skills and abilities which qualify him to be the very guide for those who desire that life fulfillment but can't seem to reach it on their own. I know that this book can change your life."
"Think React Lead" can be purchased on Amazon
Company: Think React Lead Inc.
LinkedIn: https://www.linkedin.com/in/domfaussette
Website: www.DomFaussette.com
Phone: 602-481-0650
Media Contact
Company Name: Marketing Huddle, LLC
Contact Person: Mike Saunders, MBA
Email: mike@marketinghuddle.com
Phone: 720-232-3112
Country: United States
Website: http://www.MarketingHuddle.com