RSI Roofing of San Diego, CA, has received GAF's 2017 President's Club Award. A GAF Master Select(TM) contractor since 2006, it provides roofing, reroofing, maintenance, repair, and emergency leak services in the San Diego County area.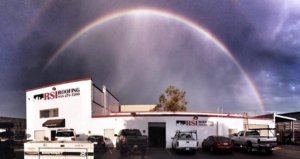 San Diego, CA – June 27, 2017 –
RSI Roofing of San Diego, California, has received the most prestigious contractor award GAF offers: The GAF President's Club Award. This highly coveted award recognizes RSI Roofing as one of the "elite of the elite" commercial roofing contractors in the United States.
GAF is North America's largest roofing manufacturer, and only GAF Master Select(TM) Contractors can compete for its commercial President's Club Award. To qualify for this award, a commercial roofing contractor must meet specific criteria in at least one out of three different pathways: the Performance pathway, where contractors focus on giving their property owners the best possible service, quality, and protection; the Reliability pathway, where the contractor has a long history of offering their customers the best quality and protection; and the Service pathway, where contractors consistently offer their customers the best protection available in the marketplace.
RSI Roofing has been a GAF Master Select(TM) Contractor since 2006; the company received the President's Club Award due to its excellent performance in 2016. To become a Master Select(TM) Contractor–a status that less than 1% of roofing contractors nationwide are able to achieve–a candidate must demonstrate proper licensing, maintain insurance (in states that require it), have a proven reputation, and show commitment to ongoing professional training.
"Professionalism" and "communication"–those are what separate RSI Roofing from its competitors, according to president David Susi. "It starts with ethics and honesty. We do what we say we're going to do. We show up on time, bringing well-trained personnel to the job–every manager and foreman is a long-time employee. A bunch of employees have been here for 12 to 17 years, several for 17 to 20 years, and a few have been with us for our entire existence. We constantly train and up-train and promote from within. So we've maintained a very stable workforce over our history."
RSI has established a recognizable brand in its market area. "People know us from referrals and other happy customers," states Susi. "There's a lot of repeat business; some customers have been with us since day one. Most of our customers are property managers who maintain relationships with vendors–and their relationship with this roofing vendor is second to none!" Adds James Adams, vice president of sales and marketing: "We don't do any cold calling. Our customers refer us to their peers in the industry, so we get leads from them."
With the experience and the talent to withstand years of recession and continuing drought, RSI has stayed vibrant and strong. "Even struggling through those factors, we managed to hit more than $11 million in sales in 2014," says Susi. "It says a lot that we've maintained a healthy company, thanks to a backbone of both good customers and employees." The company continues to expand into new services. "We'd like to expand our residential and solar divisions, and we partnered with GAF's solar program. There's a lot of customer interest in solar, and they like the idea of a single source–for construction and for financing–for a new roof and a new solar system."
The company makes it a point to constantly give back to the community; it has rehabilitated a local Little League building and has done past work for indigents, senior citizens, and community centers. "We've also done some pro bono work across the border," explains Susi. "We went down to Mexicali, Mexico, and reroofed an elementary school. We've also worked for Project Mercy in another area of Mexico, where we went there, built a home for a person, and put a roof on it."
With its in-house safety manager and dedicated maintenance division complementing its roofing business, RSI has found the right formula for continued success going forward. "Something like 70% of our business is repeat or referral," concludes Susi, "so we're doing the right things. Customers get the products and the service that they expect. We know what to do, and we do it right every time!"
About RSI Roofing
Providing roofing, reroofing, maintenance, repair, and emergency leak services in the San Diego County area, RSI Roofing continues to lead, based on its core principles of knowledge, ethics, innovation, and communication. Founded in 1993, RSI Roofing has been ranked the #1 roofing contractor in San Diego since 2010 by Roofing Contractor magazine.
RSI Roofing
8285 Buckhorn St.
San Diego, CA 92111
(858) 278-7200
http://www.thinkrsi.com
Facebook: https://www.facebook.com/pages/RSI-Roofing/110319684205
Twitter: https://twitter.com/RSIRoofing
LinkedIn: https://www.linkedin.com/company/107104
YouTube channel: https://www.youtube.com/channel/UCHubzYFWt3xPEew1P2IzrUw
About GAF:
Founded in 1886, GAF is the largest roofing manufacturer in North America. The Company is an operating subsidiary of Standard Industries.
GAF products include a comprehensive portfolio of roofing systems for residential and commercial properties, which are supported by an extensive national network of factory-certified contractors. Its success is driven by its commitment to Advanced Quality, Industry Expertise, and Solutions Made Simple. GAF was the first roofing manufacturer to offer a Lifetime limited warranty on all of its laminated shingles, which then evolved with the introduction of the GAF Lifetime Roofing System by extending the Lifetime coverage beyond just the roofing shingles.
With a focus on social responsibility, GAF developed Advanced Protection(R) Shingle Technology, providing excellent durability and wind resistance while reducing the use of natural resources. The Company has also developed single-ply and asphaltic roofing membranes with excellent durability and high reflectivity to meet the most rigorous industry standards while helping commercial property owners and designers reduce energy consumption.
GAF also supports the roofing industry through CARE, the Center for the Advancement of Roofing Excellence(TM), which has provided education to over 230,000 professionals. CARE's mission is to help professional contractors and distributors build their businesses through sales and management education, and to provide product and installation training to contractors, distributors, architects, property owners, and related industry personnel.
For more information about GAF, visit: gaf.com
About Standard Industries:
Standard Industries is a privately-held, global, diversified holding company with interests in building materials, aggregates, and related investment businesses in public equities and real estate. With over 7,500 employees and operations in more than 80 countries, Standard maintains a team-oriented culture of meritocracy and operational excellence, and a passionate focus on investing in its people.
Media Contact
Company Name: RSI Roofing
Contact Person: David Susi
Email: dsusi@thinkrsi.com
Phone: (858) 278-7200
Address:8285 Buckhorn St.
City: San Diego
State: CA
Country: United States
Website: http://www.thinkrsi.com