Rayco Construction of Minneapolis, MN, has received GAF's 2017 President's Club Award. A GAF Master Select(TM) contractor since 2003, Rayco leads the industry with innovative products, high service standards, and extended warranties.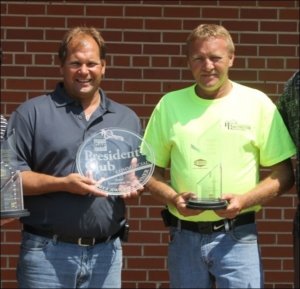 Minneapolis, MN – June 27, 2017 –
Rayco Construction of Minneapolis, Minnesota, has received the most prestigious contractor award GAF offers: The GAF President's Club Award. This highly coveted award recognizes Rayco Construction as one of the "elite of the elite" commercial roofing contractors in the United States.
GAF is North America's largest roofing manufacturer, and only GAF Master Select(TM) Contractors can compete for its commercial President's Club Award. To qualify for this award, a commercial roofing contractor must meet specific criteria in at least one out of three different pathways: the Performance pathway, where contractors focus on giving their property owners the best possible service, quality, and protection; the Reliability pathway, where the contractor has a long history of offering their customers the best quality and protection; and the Service pathway, where contractors consistently offer their customers the best protection available in the marketplace.
Rayco Construction has been a GAF Master Select(TM) Contractor since 2003; the company received the President's Club Award due to its excellent performance in 2016. To become a Master Select(TM) Contractor–a status that less than 1% of roofing contractors nationwide are able to achieve–a candidate must demonstrate proper licensing, maintain insurance (in states that require it), have a proven reputation, and show commitment to ongoing professional training.
At some companies, management sometimes seems detached from daily operations and knowing about the products. That's not the case at Rayco. "Our owners are salesmen, too," says Trevor Gutting of Rayco Construction. "They're also the ones who actually go to look at a roof and inspect it, to determine if it needs a reroof or just a repair. They've been roofers for many years, and they bring firsthand experience and knowledge to the process."
The current owners bought the company several years ago, but the level of professionalism at Rayco–a Master Select(TM) contractor for more than a decade–has continued uninterrupted. "Most employees have been here a long time," states Gutting, "some for up to 15 years. We don't see a lot of staff turnover in commercial roofing. So we pride ourselves on having that long-term experience in the company."
"Rayco is prompt with service," continues Gutting. "We get out there quickly to check roofs. We're efficient, we pay attention to details, and we do the job in a prompt manner that works with the customer's schedule. On top of all that, we always maintain communication with the customer–from the opening bid, through the sales process, and while we have our team out there working on the roof. Customers are always kept informed about when we'll be working, if there will be a delay due to weather, and so forth–they never have to call to ask."
"We love working with GAF," according to Gutting. "Whenever there are new GAF products, we work with them, we test them out. We work closely with our reps in the Twin Cities area."
Going forward, Rayco looks forward to new marketing initiatives and expanding growth in its core customer base. "About 75% of our business is with management companies," says Gutting, "so we like building strong relationships with them, to keep them coming back as repeat customers." Gutting concludes by citing the positive energy in Rayco's offices. "We've got some new employees and new roles here, and we are very ambitious–that energy is moving Rayco forward into the future, for many years to come."
About Rayco Construction
Rayco Construction is a Minnesota-based commercial and sheet-metal roofing contractor that has served the Upper Midwest since 1978. Rayco leads the industry with innovative products and technologies, high service standards, and extended warranties. With quality craftsmanship, knowledge, and expertise, Rayco provides seamless completion of roofing projects with minimal downtime or interference to the customer.
Rayco Construction
211 St. Anthony Parkway
Minneapolis, MN 55418
(612) 781-6092
http://www.raycoconstruction.com
Facebook: https://www.facebook.com/raycoconstruction
LinkedIn: https://www.linkedin.com/company/rayco-construction
About GAF:
Founded in 1886, GAF is the largest roofing manufacturer in North America. The Company is an operating subsidiary of Standard Industries.
GAF products include a comprehensive portfolio of roofing systems for residential and commercial properties, which are supported by an extensive national network of factory-certified contractors. Its success is driven by its commitment to Advanced Quality, Industry Expertise, and Solutions Made Simple. GAF was the first roofing manufacturer to offer a Lifetime limited warranty on all of its laminated shingles, which then evolved with the introduction of the GAF Lifetime Roofing System by extending the Lifetime coverage beyond just the roofing shingles.
With a focus on social responsibility, GAF developed Advanced Protection(R) Shingle Technology, providing excellent durability and wind resistance while reducing the use of natural resources. The Company has also developed single-ply and asphaltic roofing membranes with excellent durability and high reflectivity to meet the most rigorous industry standards while helping commercial property owners and designers reduce energy consumption.
GAF also supports the roofing industry through CARE, the Center for the Advancement of Roofing Excellence(TM), which has provided education to over 230,000 professionals. CARE's mission is to help professional contractors and distributors build their businesses through sales and management education, and to provide product and installation training to contractors, distributors, architects, property owners, and related industry personnel.
For more information about GAF, visit: gaf.com
About Standard Industries:
Standard Industries is a privately-held, global, diversified holding company with interests in building materials, aggregates, and related investment businesses in public equities and real estate. With over 7,500 employees and operations in more than 80 countries, Standard maintains a team-oriented culture of meritocracy and operational excellence, and a passionate focus on investing in its people.
Media Contact
Company Name: Rayco Construction
Contact Person: Kaloni Nelson
Email: kaloni.nelson@raycoconstruction.com
Phone: (612) 781-6092
Country: United States
Website: http://www.raycoconstruction.com