The book explains the most dominant tool in the wolf and dog's bag of survival equipment – Aggression.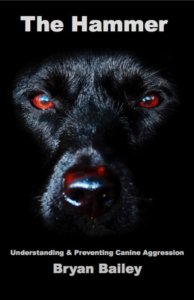 "There are so many myths about canine aggression which people need to learn." says Bailey , "Since 2005, over 400 Americans have been killed and over 50 million have been treated in emergency rooms because they believed these myths. Sadly, most of these attacks could have been prevented, but because dog aggression is the most misinterpreted and misunderstood of all dog behaviors, these numbers are rising at a steady rate of 6% per year."
Bailey continues, dog aggression or "The Hammer," is a tool which has allowed for ingestion, digestion, reproduction and survival by wolves for thousands of years in a very hostile and competitive world and it was passed to our dogs. Its use by our dogs is often misinterpreted and misunderstood and this has led to an increase in avoidable attacks to dog owners and their children."
The books goal is to educate readers on the real causes of dog aggression, how to recognize when an attack is imminent and how to avoid it.
Release for the book is scheduled for Fall of 2017.
For information on Bryan Bailey, the book and his programs visit www.BryanBailey.net.
About Bryan Bailey
A nationally-recognized, award-winning author and behaviorist with over thirty years of education and experience studying wolves and other predators worldwide, Bryan has become a Master at understanding how nature has influenced the inner workings of the canine mind.
He has been featured on CNN, Fox & Friends, SiriusXM Radio, Talk of Alabama, WREG TV-3, and in many publications, including Dog World, At Home Mid-South Tennessee, Bloom Magazine, HOSS Magazine, SheKnows, The Chicago Tribune and the Miami Herald. Veterinarians, dog owners, and celebrities such as John Mellencamp, James Fitzpatrick, the late Junior Seau, Julio Jones and many others have eagerly sought out his services.
Media Contact
Company Name: Efluential Publishing
Contact Person: Cliff Pelloni
Email: cliff@efluentialmarketing.com
Phone: 7705709901
Country: United States
Website: http://www.efluentialpublishing.com