A segment for truTV's "Impractical Jokers" was filmed during Advanced Learning Institute's "SharePoint for Internal Communications" event in New York. Geoff Ables, Managing Partner of C5 Insight chaired the event and appeared in the episode that recently aired.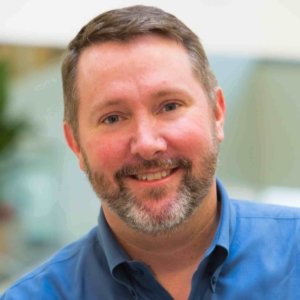 C5 Insight Managing Partner Geoff Ables chaired the Advanced Learning Institute's "SharePoint for Internal Communications" event in New York City on March 14-16. At the end of the conference, truTV filmed a segment that was to be aired as part of an episode of the comedy show, Impractical Jokers.
After three days of serious business and technology discussions, Ables introduced Sal Vulcano, a stand-up comedian, to the attendees to lighten it up a little before closing the conference. Unknown to the attendees, Vulcano, one of the stars of truTV's Impractical Jokers, was there to "bomb" as a comedian. He did a great job as his co-stars were remotely whispering unfunny lines in his ear. Ables was in on the joke, but the TV cameras recorded the uncomfortable laughter and puzzling expressions on the faces of the conference participants as Vulcano told one bad joke after another.
The segment, included as part of Season 6, Episode 12 of Impractical Jokers, recently aired on the truTV network. The episode is currently available on-demand at truTv's web site and on most cable systems.
Ables is the author of The LUCK Principle, Business Results at the Intersection of People & Profit. In the book he teaches how to harness the power of people, process, and technology to transform a business into a workplace that balances a people-first culture with bottom-line results. The book is available in both paperback and Kindle versions on Amazon at https://www.Amazon.com/dp/B01N0QW5H4.
Geoff Ables is a best selling author, speaker, and entrepreneur. He has over 20 years of consulting experience on topics including intranets, customer relationship management, social collaboration, and big data. As a thought leader on customer and employee engagement, his insights have been seen and heard in dozens of global venues. He founded C5 Insight in 2002, and has consulted with hundreds of companies in a broad range of industries. The firm has twice been named to the Inc. 5000 list of fastest growing companies.
For more information about Geoff Ables and C5 Insight, visit
https://www.C5Insight.com.
Media Contact
Company Name: Nations Media Group
Contact Person: Bill Kopatich
Email: BillK@NationsMediaGroup.com
Phone: 704-625-0097
Country: United States
Website: http://NationsMediaGroup.com