As the new member of Fosjoas, U3 is worthy of people's great expectations. The joining of U3 will further strengthen the status of Fosjoas 2-wheeled electric scooters.
The increasing pressure makes metropolitan people yearn for the life in countryside and they often take self-driving travels on weekends to relax themselves. Besides private car, people also need a tool to take the place of walking when enjoying the beautiful countryside. After all, walking for several hours must be suffering. Fosjoas U3 double-wheels electric scooter is the ideal transport for countryside sightseeing.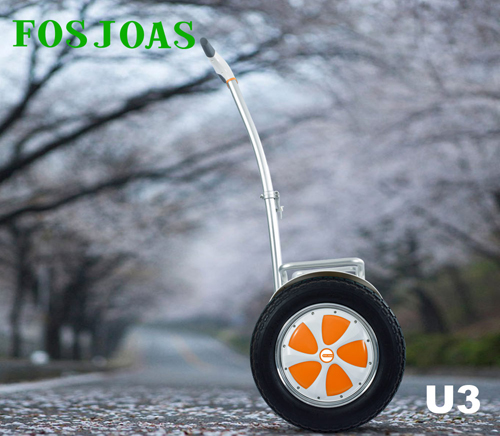 Fosjoas U3 inherits classic two-wheeled and standing-posture riding designs. U3 is both strong and fashionable like V9 because of its sleek and contoured features. However, duplications will never make sense. It goes even farther than V9 in an all-round manner. The reason why Fosjoas U3 intelligent power scooter is highly praised as the SUV electric scooter is because it has strong adaptability to different rugged road conditions, such as bumpy country path, rough mountain road or stiff gravel road and so on, which largely benefit from two high-end 16-inch tires.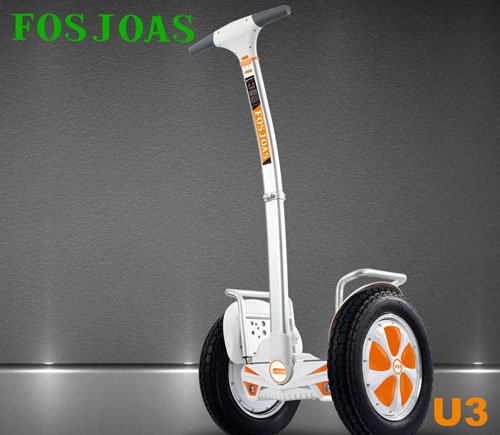 Besides powerful road holding ability, the tires also have perfect performances in wear resistance, dewatering and heat dissipation. In the meantime, Fosjoas U3 fast intelligent self-balancing scooters is equipped with 680Wh branded lithium-ion battery, which covers long enough distance if fully charged. Thus, with the guarantee of strong adaptability to roads and long range, people are totally worry-free when riding Fosjoas U3 in countryside.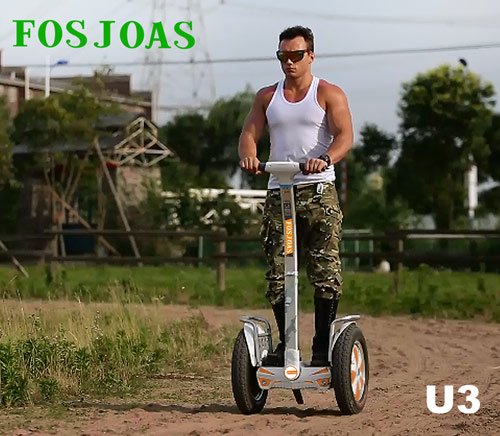 In addition, Fosjoas U3 also has a built-in sound box with high tone quality, which can be connected with the phone. Then, during the sightseeing process, people also can play the melodious music in the phone, which makes the journey more relaxing and the mood more pleasing. What is more, the appearance of Fosjoas U3 self-balancing electric scooter gives people strong sense of sport and beauty. Riding it in countryside will attract lots of enviable eyes. Also, saving storage space is another advantage of Fosjoas U3, because it is foldable. In this case, when the scooter is not needed temporarily, it can be placed into the boot of cars. U3 electric standing scooter is able to let riders enjoy the countryside scenery at will.
Media Contact
Company Name: Moben Intl (England) Co., Limited
Contact Person: Jason
Email: moben@fosjoas.com
Phone: +86-755-83777600
City: London
Country: United Kingdom
Website: http://www.fosjoas.com/