Tecta America Amarillo CS of Amarillo, TX, has received GAF's 2017 President's Club Award. A GAF Master Select(TM) contractor, the company has the goal of being the best in the commercial roofing market, capable of handling any project.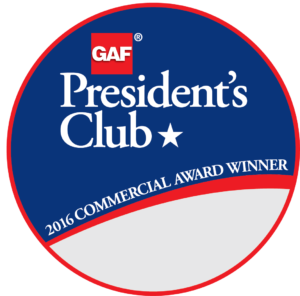 Amarillo, TX – August 21, 2017: Tecta America Amarillo CS LLC
Tecta America Amarillo CS LLC of Amarillo, Texas, has received the most prestigious contractor award GAF offers: The GAF President's Club Award. This highly coveted award recognizes Tecta America Amarillo CS as one of the "elite of the elite" commercial roofing contractors in the United States.
GAF is North America's largest roofing manufacturer, and only GAF Master Select(TM) Contractors can compete for its commercial President's Club Award. To qualify for this award, a commercial roofing contractor must meet specific criteria in at least one out of three different pathways: the Performance pathway, where contractors focus on giving their property owners the best possible service, quality, and protection; the Reliability pathway, where the contractor has a long history of offering their customers the best quality and protection; and the Service pathway, where contractors consistently offer their customers the best protection available in the marketplace.
Tecta America Amarillo CS received the President's Club Award due to its excellent performance in 2016. To become a Master Select(TM) Contractor–a status that less than 1% of roofing contractors nationwide are able to achieve–a candidate must demonstrate proper licensing, maintain insurance (in states that require it), have a proven reputation, and show commitment to ongoing professional training.
Amarillo, Texas, is home to a roofing company that's been in business for more than 70 years yet is still modern and up to date. "Founded in 1943 and located in Amarillo since the 1960s, we've slowly grown into the premiere commercial roofing contractor here," states operating unit president Tracy Honea. "Our personnel are properly trained in construction safety and updated with the newest roofing practices. Additionally, we invest in the newest equipment so that we're using the latest and safest equipment and trucks."
A roofing company with that kind of longevity knows how to get things done the right way. "Our professionalism makes us stand out," explains Honea. "Unlike typical roofing contractors, we're easily identified by our professional appearance. When we arrive to a project, we have the experience and knowledge to meet customers' needs and expectations."
Old-fashioned customer service is part of the recipe for success, according to Honea. "We always want to manage and meet the customer's expectations. Roofing is a tough, dirty, messy job, but we visit with owners to explain how the project will proceed and what they can expect during the process. We determine what's important to the customers–particularly if they have critical items that require special attention–and ensure we achieve the desired outcome. We tailor the job to meet the customer's needs."
"A great materials manufacturer like GAF and our excellent sales rep and local distributors make for a great team," continues Honea. "We all contribute to getting that roof installed."
In recent years, the company has devoted an increasing amount of resources to a service division. "We have two dedicated full-time crews that perform small repairs and maintenance," says Honea. "They investigate, search, and repair reported leaks and provide visual inspection of current roof conditions. These crews can be a vital asset to any building owner or facility manager by providing timely leak response, quality repairs, and an overview of the current general roof condition."
The future looks good, concludes Honea. "We have a strong backlog, so there should be another wonderful and successful year ahead of us. We'll maintain focus on the quality of our work and keeping our customers satisfied, and we'll continue to improve and reinvest in our company. It says a lot that about 80% of our business is from repeat customers. We are the contractor that everyone–owners, architects, facility managers, general contractors–looks to for roofing guidance, expertise, and solutions. Our customers have learned that they can count on us to bring projects to completion with the results they expect and deserve."
About Tecta America Amarillo CS
Founded in 1943 and doing business in the Amarillo area since 1960, Tecta America Amarillo CS was founded with the simple goal of being the best in the commercial roofing market. Capable of handling any project without regard to size or complexity–from small roof repairs to new roofing to reroofing–the company's dedicated service crews handle anything from small-leak investigation and remediation to full roof restorations. Customer-service oriented, Tecta America Amarillo CS has the constant goal of achieving quality work for quality customers.
Tecta America Amarillo CS
2214 S. Lincoln Street
Amarillo, TX 79109
(806) 373-1732
http://www.tectaamerica.com/commercial-roofing-amarillo-texas/
Facebook: https://www.facebook.com/TectaAmerica
Twitter: https://twitter.com/tectaamerica
LinkedIn: https://www.linkedin.com/company/tecta-america-corp
YouTube channel: https://www.youtube.com/user/TectaAmericaCorp
About GAF:
Founded in 1886, GAF is the largest roofing manufacturer in North America. The Company is an operating subsidiary of Standard Industries.
GAF products include a comprehensive portfolio of roofing systems for residential and commercial properties, which are supported by an extensive national network of factory-certified contractors. Its success is driven by its commitment to Advanced Quality, Industry Expertise, and Solutions Made Simple. GAF was the first roofing manufacturer to offer a Lifetime limited warranty on all of its laminated shingles, which then evolved with the introduction of the GAF Lifetime Roofing System by extending the Lifetime coverage beyond just the roofing shingles.
With a focus on social responsibility, GAF developed Advanced Protection(R) Shingle Technology, providing excellent durability and wind resistance while reducing the use of natural resources. The Company has also developed single-ply and asphaltic roofing membranes with excellent durability and high reflectivity to meet the most rigorous industry standards while helping commercial property owners and designers reduce energy consumption.
GAF also supports the roofing industry through CARE, the Center for the Advancement of Roofing Excellence(TM), which has provided education to over 230,000 professionals. CARE's mission is to help professional contractors and distributors build their businesses through sales and management education, and to provide product and installation training to contractors, distributors, architects, property owners, and related industry personnel. For more information about GAF, visit gaf.com.
About Standard Industries:
Standard Industries is a privately-held, global, diversified holding company with interests in building materials, aggregates, and related investment businesses in public equities and real estate. With over 7,500 employees and operations in more than 80 countries, Standard maintains a team-oriented culture of meritocracy and operational excellence, and a passionate focus on investing in its people.
Media Contact
Company Name: Tecta America Amarillo CS
Contact Person: Tracy Honea
Email: thonea@tectaamerica.com
Phone: (806) 373-1732
Country: United States
Website: http://www.tectaamerica.com/commercial-roofing-amarillo-texas/