Greensboro Roofing Co. of Greensboro, NC, has received GAF's 2017 President's Club Award. A GAF Master Select(TM) contractor, it has built a reputation for superior work and attention to detail, using quality, American-made products.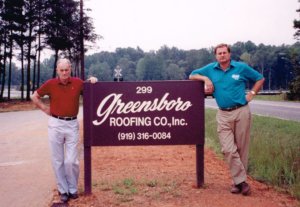 Greensboro, NC – August 21, 2017: Greensboro Roofing Co., Inc.
Greensboro Roofing Co., Inc., of Greensboro, North Carolina, has received the most prestigious contractor award GAF offers: The GAF President's Club Award. This highly coveted award recognizes Greensboro Roofing as one of the "elite of the elite" commercial roofing contractors in the United States.
GAF is North America's largest roofing manufacturer, and only GAF Master Select(TM) Contractors can compete for its commercial President's Club Award. To qualify for this award, a commercial roofing contractor must meet specific criteria in at least one out of three different pathways: the Performance pathway, where contractors focus on giving their property owners the best possible service, quality, and protection; the Reliability pathway, where the contractor has a long history of offering their customers the best quality and protection; and the Service pathway, where contractors consistently offer their customers the best protection available in the marketplace.
Greensboro Roofing received the President's Club Award due to its excellent performance in 2016. To become a Master Select(TM) Contractor–a status that less than 1% of roofing contractors nationwide are able to achieve–a candidate must demonstrate proper licensing, maintain insurance (in states that require it), have a proven reputation, and show commitment to ongoing professional training.
Greensboro Roofing Co. is the oldest family-owned commercial/industrial roofing company in Piedmont North Carolina. "Of course, price is the major reason for our success," according to president Terry Glidewell, "but we've also built a reputation for quality workmanship and attention to detail, on every project, large or small. Our employees are conscientious and strive for perfection on each project. In fact, 90% of our projects that are inspected by the roofing manufacturer–prior to issuing their no-dollar-limit warranty–receive a rating of 10 for workmanship."
A built-up roof-system specialist, Greensboro Roofing works with a variety of roofing systems and materials. Services include new construction/re-roofs, modified bitumen, TPO, PVC, EPDM, architectural metal, slate, and concrete tile. Other building services include roof inspections, maintenance programs, and infrared moisture surveys. The company has a complete in-house metal fabrication shop and 25,000 square feet of warehouse storage for all necessary roofing equipment and materials.
Greensboro Roofing has received several professional certifications from GAF. The Asphaltic Certification indicates that the contractor specializes in installing asphaltic roofing systems, and the Single-Ply Certification indicates a specialization in installing single-ply roofing systems. With the Topcoat Certification, Greensboro Roofing is recognized for specializing in the installation of GAF's TOPCOAT(R) products–liquid-applied roofing restoration systems formulated to stand up to the harshest of roof conditions and provide energy savings at a fraction of the cost of a new roof.
The company has always worked to help improve the communities it serves. "We are active in our community," adds Glidewell, "from donating roofing materials and labor to the Greensboro Children's Museum, to PTA projects at local schools, to giving monetary donations to local charities, Special Olympics, and the Boys and Girls Clubs." The company is a member of the Greensboro Chamber of Commerce, the National Roofing Contractors Association, the Greensboro Builders Association, and the American Subcontractors Association. It is accredited by the Better Business Bureau, holding an A+ rating.
Going forward, the company wishes to continue maintaining a safe, secure work environment, one where employees know they are appreciated. "Dedication to our staff explains why we have an excellent safety record and many long-term employees," says Glidewell. He concludes: "Over the history of our company, we've seen just about everything related to roofing materials and systems. As we continually educate customers on the different systems and the life expectancy of each, we hope that some of the proven, long-lasting roofing systems will regain popularity in the marketplace. At Greensboro Roofing, we want our customers to get the best, longest-lasting roof system for their money."
About Greensboro Roofing Co., Inc.
Founded in 1977, Greensboro Roofing Co. has installed more than 14 million square feet of commercial and industrial roofing in North Carolina. The employees understand the importance of quality and that the company is "only as good as the last project." Over the past 40 years, Greensboro Roofing Co. has built a reputation for superior work and attention to detail, using quality, American-made products.
Greensboro Roofing Co.
299 Edwardia Dr.
Greensboro, NC 27409
(336) 316-0084
Toll-free: (800) 596-3357
http://www.greensbororoofing.com
About GAF:
Founded in 1886, GAF is the largest roofing manufacturer in North America. The Company is an operating subsidiary of Standard Industries.
GAF products include a comprehensive portfolio of roofing systems for residential and commercial properties, which are supported by an extensive national network of factory-certified contractors. Its success is driven by its commitment to Advanced Quality, Industry Expertise, and Solutions Made Simple. GAF was the first roofing manufacturer to offer a Lifetime limited warranty on all of its laminated shingles, which then evolved with the introduction of the GAF Lifetime Roofing System by extending the Lifetime coverage beyond just the roofing shingles.
With a focus on social responsibility, GAF developed Advanced Protection(R) Shingle Technology, providing excellent durability and wind resistance while reducing the use of natural resources. The Company has also developed single-ply and asphaltic roofing membranes with excellent durability and high reflectivity to meet the most rigorous industry standards while helping commercial property owners and designers reduce energy consumption.
GAF also supports the roofing industry through CARE, the Center for the Advancement of Roofing Excellence(TM), which has provided education to over 230,000 professionals. CARE's mission is to help professional contractors and distributors build their businesses through sales and management education, and to provide product and installation training to contractors, distributors, architects, property owners, and related industry personnel. For more information about GAF, visit gaf.com.
About Standard Industries:
Standard Industries is a privately-held, global, diversified holding company with interests in building materials, aggregates, and related investment businesses in public equities and real estate. With over 7,500 employees and operations in more than 80 countries, Standard maintains a team-oriented culture of meritocracy and operational excellence, and a passionate focus on investing in its people.
Media Contact
Company Name: Greensboro Roofing Co.
Contact Person: Terry Glidewell
Email: terry@greensbororoofing.com
Phone: (336) 316-0084
Country: United States
Website: http://www.greensbororoofing.com