The banning plan of gas engine vehicles in UK and France will bring EU into spring of electric vehicle in coming decades
For the improvement of environment protection, France has announced to stop coal fire power generation at 2022, and stop selling diesel and gasoline vehicles at 2030.
Similar plan is going to be adopted by UK government as well, who has announced to raise environmental-pollution duty rate, and stop the manufacture and use of all diesel and gasoline vehicles until 2040.
German senate made the plan even earlier. In Oct 2016, they issue an initiative to stop selling oil vehicles at 2030, aiming to promote the application of electric vehicles.
According to annalistic, the restriction of diesel vehicles is the universal action all over EU. If all these regulations and plans are finally approved, oil vehicle industry and many other traditional industrials like petrol stations would face the fate of bankruptcy.
The trend of Electric vehicles substituting traditional oil vehicles has appeared, under the threat of environmental pollution. Many international vehicle brands have involved in the green energy vehicle industry in recent years, including Volkswagen, Mercedes Benz, BMW, Volvo, Toyota, and so forth.
In China, Chery, BYD, Geely, Chana, Greatwall also planned into new energy vehicle industry, to occupy the vast local and international market.
All these news indicates a spring of electric vehicle is coming, and so does Onebot join the trend of green power industry.
Being a new by aggressive coming in the folding electric scooter/bike field, Onebot team comes up with original design and patents of utility, from their first unparalleled model T8 series, to the various new gadgets like scooter luggage etc.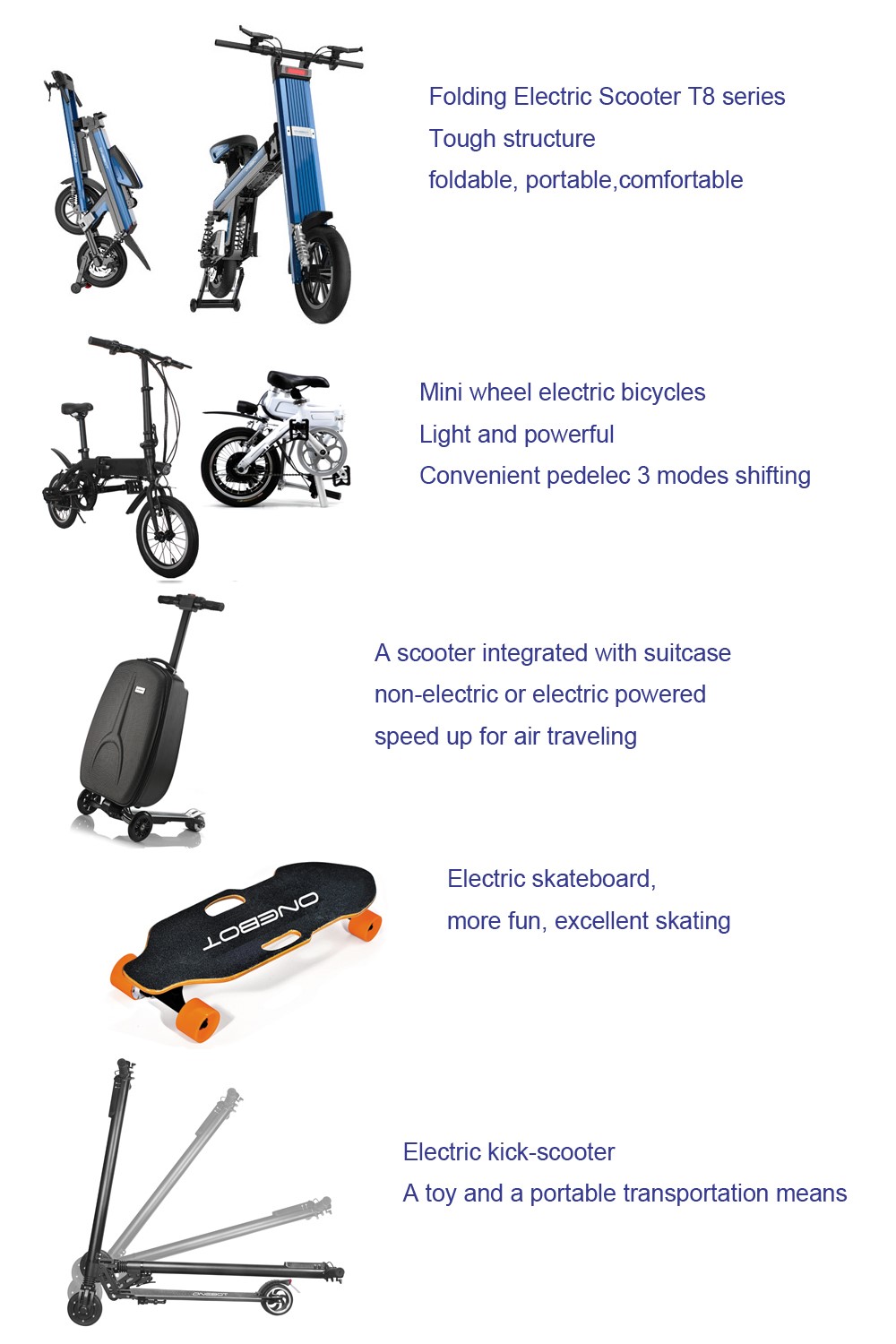 At the autumn of 2017, another new pedelec Ebike of Onebot will soon be launched to attract more attention from market, leading another style of fashion.
Media Contact
Company Name: Shenzhen Concepts Wit Technology Co., Ltd.
Contact Person: Quella Way
Email: quella@onebotbike.com
Phone: 86-755-29308048
Country: China
Website: http://www.onebotbike.com