JIVE64 have started a crowdfunding campaign on the Indiegogo platform to support LGBTQ rights in Chechnya.
An exciting crowdfunding campaign has been launched by Electro Pop Duo JIVE64 to raise money to produce a new single with all profits going to support LGBT rights in Chechnya. The campaign which has been described as one of the most important crowdfunding campaigns of 2017 has become a huge talking point on social media.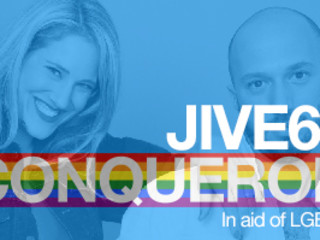 The Pop Duo, Ella Tadmor & Roy Cohen have got together with Grammy nominated Pen Up Girls to light up the charts with a retro electro hit. The campaign is not just about bringing some quality back to the charts; it's also about changing people's lives.
Everyone deserves the same rights and support and in most countries around the world that support is given. However, Lesbian, gay, bisexual and transgender rights in Chechnya have for a long time been a major concern. In recent years Amnesty International and Human Rights Watch have expressed their serious concerns over their lack of rights, and now, Electro Pop Duo JIVE64 want to do something about it.
Ella Tadmor & Roy Cohen are asking for their fans and those that care about equality to support their important crowdfunding campaign. The money raised will be used for recording, mixing and mastering as well as all the other associated costs that come with producing and marketing a new record. The money left over, and all the money raised through the radio play, and the sales of the new single will go towards supporting LGBTQ rights in Chechnya.
Ella Tadmor from JIVE64 said: "By supporting our crowdfunding campaign from as little as £5 it will help to bring much-needed support to those that are suffering. There should be no hate in this world, and everyone should be allowed to live without fear or prejudice, and by supporting this crowdfunding campaign that could really happen."
There are lots of rewards on offer for those that support the important crowdfunding campaign, giving people another great reason to support the campaign. One of the big reasons is to bring JIVE64 back to the charts.
As well as supporting the campaign financially, Ella and Roy would like to see their fans share details of their campaign on all social media networks, making it one of the most talked about crowdfunding campaigns on Facebook in recent years.
To learn more about the crowdfunding campaign and to support LGBTQ rights in Chechnya, please visit https://www.indiegogo.com/projects/jive64-conqueror-in-aid-of-lgbtq-rights-love-pop#/
About JIVE64
JIVE64 is an electro pop duo that has been active for a decade now. It was founded by two musicians who are also 80s lovers – Ella Tadmor & Roy Cohen.
Media Contact
Company Name: JIVE64
Contact Person: Media Manager
Email: info@jive64.com
Country: United States
Website: https://www.indiegogo.com/projects/jive64-conqueror-in-aid-of-lgbtq-rights-love-pop#/