International Best-selling author MJ Jenkins spoke at Business Expert Forum at Harvard Faculty Club and released a new book called "The NEW YOU Formula, Bouncing Back From Death Divorce Disaster Disease."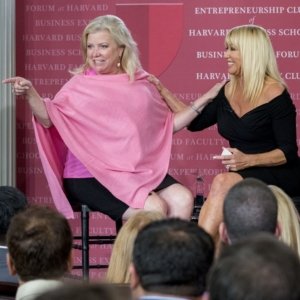 Breast cancer survivor turned activist and author MJ Jenkins spoke at the Entrepreneurship Student Club at Harvard Business School's Business Expert Forum recently and shared the stage with best-selling author Suzanne Somers, who recently released "Tox-Sick to Not Sick."
"It was an honor to meet Suzanne Somers and to speak at Entrepreneurship Student Club at Harvard Business School's Business Expert Forum," said Jenkins, who was honored as Transformation Coach of the Year. She recently published a new book called "The NEW YOU Formula, Bouncing Back From Death Divorce Disaster Disease," which takes all she has learned and teaches others from her surviving all four of the 4-Ds.
She is dedicated to helping those who are going through breast cancer as she did several years ago.
Jenkins was diagnosed with Invasive Ductal Carcinoma Breast Cancer in 2012. One in eight women will be diagnosed with this type of cancer. With the help of Angelina Jolie's breast surgeon, she is celebrating four years cancer free.
"Because of this experience, I decided to write my book "Think No Pink." "If you think no pink, you think no cancer, so there is no need for any pink ribbons out there," she said. "Your thoughts, your words, and your actions will either help you survive or they will kill you."
She wrote the book to help women navigate through the challenges and diagnosis of this disease.
One of the biggest mistakes she made was putting off her annual screening. After waiting a year, the following year she was diagnosed with breast cancer. The American Cancer Society recommends going every year for a mammogram starting at age 40.
"I was even tested for hereditary breast cancer and it came back negative. You need to take into consideration both sides of your family. I learned that the genes that get tested make up a small subset of genes," she explained.
"Another thing to watch out for is women who let fat grow around their midsection. They are more likely to get breast cancer than women who live fit and healthy lifestyles," Jenkins said.
This brought about a change in lifestyle for her.
Eating healthy foods such as organic fruits and vegetables help avoid the pesticides and non-GMO foods. She has spent the last few years training and educating physicians, doctors and health coaches to help women before, during and after.
"One of the biggest myths I see," Jenkins said, "is that if you have boys they are not at risk. There is a percentage of males who are diagnosed with breast cancer." "Another is that people are denied health insurance. We have the G.I.N.A., which is the genetic information non-discrimination act. There has never been a case of documented discrimination," she said. Check with your insurance. It is very likely that this test is covered.
"Positive thinking is the key. The entire time I had breast cancer I only had positive thoughts. I really beat cancer I believe because of those thoughts and mind over matter."
MJ Jenkins is a representative of the American Cancer Society, international best-selling author of "Think No Pink," and a breast cancer survivor. She is a coach to other women with breast cancer and available for speaking engagements.
Media Contact
Company Name: M J Jenkins
Contact Person: MJ Jenkins
Email: MJ@ThinkNoPink.com
Phone: (949)-878-1530
Country: United States
Website: http://thinknopink.com