International author, publisher and speaker Tami Patzer will speak at NASDAQ Dec. 4 about Beyond the Best Seller marketing for authors. She is host of the popular Women Innovators Radio and Book series.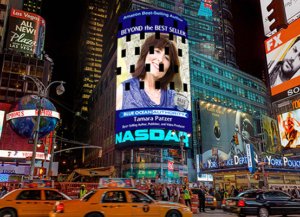 Tami Patzer, the CEO, and creator of the Daily Success Network spoke in Havana, Cuba, as part of Sharon Frame's LeadHerShip Cruise to Lead from Love. Patzer spoke about sharing personal stories to help grow and transform business and focused on how to go beyond the book using Patzer's Blue Ocean Authority and Beyond the Best Seller.
More information can be found at http://tamipatzer.com.
International speaker Tami Patzer is the CEO and creator of Blue Ocean Authority, as well as the creator of the innovative Beyond the Best Seller marketing program. She was the featured speaker on the Royal Caribbean Empress of the Sea LeadHerShip cruise program to Havana, Cuba.
During the event, she shared her vision for helping entrepreneurial women grow businesses around the world using innovative marketing programs, which include writing impactful books with big messages and big missions.
Patzer is the host of several online radio shows including Business Innovators Radio, Women Innovators Radio, The Thought Leaders Show, Author Interview, and Optimal Health show. In addition to this, she created the Daily Success Network to help promote daily life success podcasts and positive messages for today.
She was a team member of a Pulitzer Prize nominated news team, and has interviewed hundreds of entrepreneurs, authors and professionals in a range of fields. In 2017, she helped more than 100 women become international bestselling authors, who have taken their book Beyond the Best Seller to grow their business and empower other women around the world. She was a featured speaker at Business Expert Forum at Harvard Faculty Club and also spoke at Women Prosperity Network's Unconference.
As an international author and speaker, Patzer has spoken at the Business Expert Forum at Harvard Faculty Club, NASDAQ, LeadHerShip Cruises, and more. She is a certified Women Prosperity Network speaker, with thought provoking actionable programs and workshops for authors, speakers, entrepreneurs and professionals.
She is an educator for Forbes and an adjunct professor at Florida Gulf Coast University. She has taught Mass Communications and Social Media courses at University of South Florida, State College of Florida, and FGCU. She has helped clients use her leverage programs for Television Authority Marketing Implementation.
Her speeches and presentations have included talks on marketing tools, social media presentations, and more. She will be speaking at NASDAQ in December about her Beyond the Bestseller program.
Media Contact
Company Name: Blue Ocean Authority
Contact Person: Tamara Patzer
Email: tamarapatzer@gmail.com
Phone: 9414216563
Country: United States
Website: http://tamipatzer.com