WLAN, VoIP, and Fax, Oh My!
Whether a business supports 5 employees or 500, DCS Telecom has the means and motivation to keep communication flowing. Communication is the key to any business. A proud Samsung partner, DCS has PBX phone systems to support any setup. They proudly offer the Samsung OfficeServ 7000 series, which can connect 480 extension and over 100 different sites. The 7000 series is easily added to any existing systems and can be upgraded as the business grows.
For a small business, the OfficeServ 7030 is a quality machine for a low-end price. This system is able to support queuing for calls, Voice Over IP, as well as voicemail and email. The big feature of this OfficeServ model is the Samsung Auto Attendant which can answer multiple calls with greetings for various services. Another good choice for businesses that need to support less than 120 people is the OfficeServ 7100. While it also supports VoIP, sequencing for calls, and the same CTI applications that run the entire OfficeServ line, this model has two universal card slots. This allows it to be expanded and support up to 1000 different sites!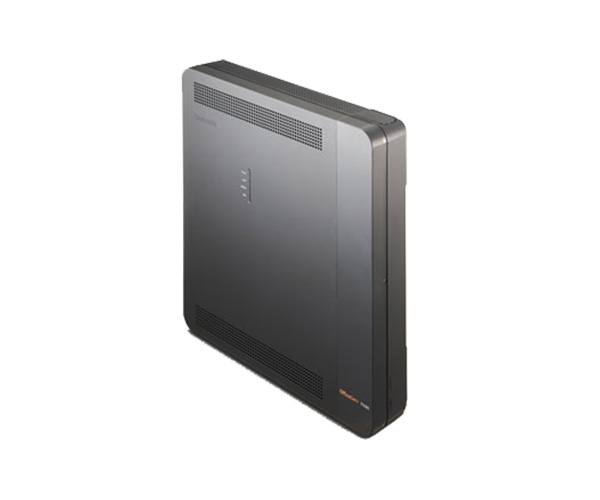 Pushing past the 128-user threshold means stepping into a mid-sized business environment and having a need to support remote and mobile connections from a centralized location. Luckily two models of OfficeServ systems are perfect for this task, the 7200 and the 7200-S. Both models are 19 inches and rack mountable, making them the perfect fit for any network. They also support WLAN, email, voicemail and, for the first time, fax capabilities. While they may seem relatively identical, there are some major differences between the two. The 7200 brings back the universal card slots that made the smaller 7100 model such a value. This time they've upgraded and included 5 slots for even further expansion. The 7200-S, on the other hand, brings with it Samsung Auto Attendant once again and up to 64 extensions. If that wasn't enough, Mobex gets the mobile game running by allowing conferencing and transferring from cell phones.
As a business grows and gains employees, needs grow as well. Once a business has outstripped the 128 user limit and needs support for up to 480 users there is really only one way to go. That way is the Samsung OfficeServ 7400. This beast of a system comes with a whopping 10 of the highly sought after universal card slots and a bucket of brilliant security features. On top of its included WLAN and fax functions, the 7400 is able to support gigabit Ethernet connections. Power failures aren't a concern with this system as the 7400 can even call 911 in case of emergencies.
DCS Telecom provides business phone services for small to large-sized organizations. Located conveniently in Vaughan, DCS has been a partner with Samsung for over 18 years and prides itself on providing the telecom and data solutions to fit every company's communication needs.
Media Contact
Company Name: DCS Telecom Ltd
Contact Person: Ruben A.
Email: Send Email
Phone: 416-674-1766
Address:155 Romina Drive Vaughan, Ontario, L4K 4Z9
City: Vaughan
State: Ontario, L4K 4Z9
Country: Canada
Website: http://www.dcstelecom.ca/contact-us/