Champion Roofing of Bensenville, IL, has received GAF's 2018 President's Club Award. A GAF Master Select(TM) contractor, it offers a complete line of commercial and residential roofing systems and services to best meet customers' needs.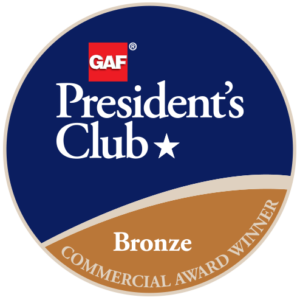 Bensenville, IL – May 31, 2018 –
Champion Roofing, Inc., of Bensenville, Illinois, has received the most prestigious contractor award GAF offers: The GAF President's Club Award. This highly coveted award recognizes Champion Roofing as one of the "elite of the elite" commercial roofing contractors in the United States.
GAF is North America's largest roofing manufacturer, and only GAF Master Select(TM) Contractors can compete for its commercial President's Club Award. To qualify for this award, a commercial roofing contractor must meet specific criteria in at least one out of three different pathways:
• Performance pathway – where contractors focus on giving their property owners the best possible service, quality, and protection
• Reliability pathway – where the contractor has a long history of offering their customers the best quality and protection
• Service pathway – where contractors consistently offer their customers the best protection available in the marketplace.
To become a Master Select(TM) Contractor–a status that less than 1% of roofing contractors nationwide are able to achieve–a candidate must demonstrate proper licensing, maintain insurance (in states that require it), have a proven reputation, and show commitment to ongoing professional training.
"We value our certified contractors for raising the industry standard year after year by installing the best roofing products and systems. Our President's Club award recognizes only those contractors who have distinguished themselves by the highest standards of excellence, customer satisfaction, and dependability," says Jim Slauson, GAF's VP of Certified Program & Services.
Champion Roofing was founded in 1999. "We hit the ground running and haven't slowed down," says president Harry Friedman. "In both commercial and residential roofing, we have been a recognized leader." The company is family-owned and family-operated, with a sister company servicing the market in Boca Raton, Florida.
"I truly believe that our installations are superior to those of our competition," states Friedman. "We follow manufacturer specs–often times, we exceed even those with our experience-taught innovations." Because of the complications presented by wind and weather in the Chicago area, the company uses only the best materials for its commercial roofing projects.
On the residential side, the company's services include roof repair and replacement, gutters and downspouts, siding, masonry, and maintenance programs. "After more than 30 years of providing residential roofing services, we offer a quality that comes only with experience," says Friedman. "That experience and the optimal quality of our materials leave our residential clients with homes that look amazing and are resilient in the face of extreme weather."
The company finds ways to give back to the community. "We're an active participant in the Chicago Chesed Fund," explains Friedman. "It's an organization that feeds the poor and helps with home repairs for people who can't afford their needs."
Champion Roofing has received professional certifications from GAF. The Asphaltic Certification indicates that the contractor specializes in installing asphaltic roofing systems, and the Single-Ply Certification indicates a specialization in installing single-ply roofing systems. The company is a winner of GAF's Triple Excellence Award and is accredited by the Better Business Bureau with an A+ rating.
Going forward, the company anticipates further success. "We've updated our fleet and created some great marketing materials," says Friedman, "and we want to continue expanding our territory and to win the President's Club Award again." He concludes: "Because of our dedication to detail, quality, and price, we've won numerous industry awards. And because of our outstanding reputation for quality and standing behind our work, customers continue to hire Champion Roofing."
About Champion Roofing, Inc.
A trusted Chicago roofing contractor, Champion Roofing has a complete line of commercial and residential roofing systems to best meet customers' needs. The company is a certified applicator and installer for multiple manufacturers, and its trained technicians assure proper installations and excellent workmanship. Champion Roofing ensures quality, every step of the way.
Champion Roofing
219 William St.
Bensenville, IL 60106
(846) 673-7663
Toll-free: (800) 780-7000
http://www.championroofing.com
Facebook: https://www.facebook.com/ChampionRoofingChicago/
Twitter: https://twitter.com/championroofg
LinkedIn: https://www.linkedin.com/company/champion-roofing-inc.
YouTube video: https://www.youtube.com/watch?v=pJlcSKECXsM
About GAF:
Founded in 1886, GAF is the leading roofing and waterproofing manufacturer in North America. As a member of the Standard Industries family of companies, GAF is part of the largest roofing and waterproofing business in the world. The company's products include a comprehensive portfolio of roofing and waterproofing solutions for residential and commercial properties as well as for civil engineering applications. The full GAF portfolio of solutions is supported by an extensive national network of factory-certified contractors. GAF continues to be the leader in quality and offers comprehensive warranty protection on its products and systems. The company's success is driven by a commitment to empowering its people to deliver advanced quality and purposeful innovation.
For more information about GAF, visit http://www.gaf.com
Media Contact
Company Name: Champion Roofing
Contact Person: Joe Smith
Email: Send Email
Phone: (846) 673-7663
Country: United States
Website: http://www.championroofing.com