John Moore and son Cole will be participating in over 16 races, competing in three stock car series for the 2018 Racing Season.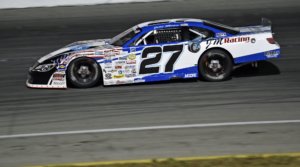 Granite Bay, California – John Moore president of JM Racing Team announced their plans for the 2018 season. JM Racing Team is competing in three stock car series for the 2018 Racing Season; the Southwest Tour Series, The Pacific Challenge Series, and the Pro Late Model Series.
The Pro Late Model Series began in Roseville on Saturday, June 16, 2018, and was attended by a record-breaking crowd. This was the Grand Re-Opening of a new era for the All American Speedway. http://www.allamericanspeedway.com The Raceway is promoted and managed by Napa Auto Parts Racing, K&N Team Owner, and West Coast Stock Car Hall of Fame member Bill McAnally.
"John More has been instrumental at the All American Speedway as a competitor and local business supporter. Great to have John and son Cole competing in the late model division. John has the same vision as I do to build the speedway to be a Roseville community asset. A place providing family entertainment with a safe and fun place for local racers to compete. John is always 100% all in and I would not want to tackle this task without his support.", noted Bill McAnally of Bill McAnally Racing Promotions.
John Moore added "JM Racing is excited about competing at the Roseville speedway. It is a great pleasure to be able to race once again in front of our hometown crowd".
JM Environmental Inc. is adding it's support for the All American Speedway this year by sponsoring a race on Saturday, September 8th, 2018. The race is "Late Model JM Environmental Highline 150" with a $10,000 prize.
The father and son team, John Moore #27, and Cole Moore #20 are heavily involved in the sport. They are racing at the highest levels of competition and consistently placing in the top ten in all three series. They have multiple top-five finishes and one win. John Moore #27, is one point away from leading the points in the Pacific Challenge Series. After leading the majority of the main event, Cole Moore #20 had a career-high best finish in the prestigious Southwest Tour Series with a second place.
JM Racing Team is sponsored by Thryv and JM Environmental Inc. Thryv provides software to help local businesses run and grow. CRM, Text and Email Marketing, Social Media, Websites and more. Thryv is part of Dex Media (OTCMKTS: DMDA). For more information about Thryv go to https://www.thryv.com
JM Environmental, Inc. are specialists in hazardous materials abatement and demolition. JM Environmental is licensed in California (#693564 A, B, C21, C-22, ASB, & HAZ) and Nevada (#0073480 A-13, A-22, & A-23). Some of their specialties include fire debris and ash removal, concrete demolition and debris removal, asbestos abatement, lead removal, demolition, mold remediation, and bio-hazard remediation.
For more information about JM Environmental call (916) 726-0304 or go to http://www.jmenv.com
Location Info:
JM Environmental Inc.
213 Kenroy Ln # 1, Roseville, California 95678
(916) 726-0304
Media Contact
Company Name: JM Environmental, Inc.
Contact Person: Haven Fry
Email: Send Email
Phone: 916-726-0304
Country: United States
Website: http://jmenv.com