Perfect Exteriors of Minnesota of Monticello, MM, has received GAF's 2018 President's Club Award. A GAF Master Elite(R) contractor, it has earned a reputation for delivering high-quality work and products on time and at fair prices.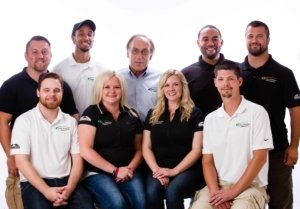 Monticello, MN – August 29, 2018 – Perfect Exteriors of Minnesota, Inc., of Monticello, Minnesota, has received the most prestigious contractor award GAF offers: The GAF President's Club Award. This highly coveted award recognizes Perfect Exteriors of Minnesota as one of the "elite of the elite" residential roofing contractors in the United States.
GAF is North America's largest roofing manufacturer, and only GAF Master Elite(R) Contractors can compete for its residential President's Club Award. To qualify for this award, a residential roofing contractor must meet specific criteria in at least one out of three different pathways:
• Performance pathway – where contractors focus on giving their property owners the best possible service, quality, and protection
• Reliability pathway – where the contractor has a long history of offering their customers the best quality and protection
• Service pathway – where contractors consistently offer their customers the best protection available in the marketplace.
To become a Master Elite(R) Contractor – a status that less than 2% of roofing contractors nationwide are able to achieve – a candidate must demonstrate proper licensing (in states that require it), maintain insurance, have a proven reputation, and show commitment to ongoing professional training.
"We value our certified contractors for raising the industry standard year after year by installing the best roofing products and systems. Our President's Club award recognizes only those contractors who have distinguished themselves by the highest standards of excellence, customer satisfaction, and dependability," says Jim Slauson, GAF's VP of Certified Program & Services.
Delivering customer-focused service at fair prices, the team at Perfect Exteriors of Minnesota serves home-improvement needs throughout the Twin Cities. "People choose us," says office manager Ashley Arrell, "because we are a local, knowledgeable, and friendly source for them. As a family-owned and family-operated company, we truly appreciate each and every one of our customers."
Customer satisfaction is the priority at Perfect Exteriors of Minnesota. "We're committed to offering only products of quality," states Arrell. "To ensure top-notch products, we work only with reputable names in roofing, gutters, siding, windows, and insulation–guaranteeing that customers get the quality they want and deserve. All products we offer are expertly installed, ensuring the best performance."
The company's services include roofing, siding, windows, gutters and downspouts, and insulation. Perfect Exteriors of Minnesota believes in following green business practices, which are extended to customers through a selection of state-of-the-art, eco-friendly products and packages. In addition to protecting customers' homes and improving energy efficiency, these high-performance products may qualify for federal and state tax credits, rebates, and incentives.
Each year, the company is proud to support various causes, such as the Team Huro "No One Fights Alone" Bike Run, which provides financial support to cancer patients and their families. Perfect Exteriors of Minnesota also participates in the nationwide No Roof Left Behind(TM) program. It has won the Best of HomeAdvisor Award and is a multiple-year winner of the Monticello Times Readers' Choice Award for Best Window and Siding Company. A member of the National Roofing Contractors Association, the company is a GAF Certified Green Roofer(TM) and a winner of GAF's Triple Excellence Award. Perfect Exteriors of Minnesota is an EPA-certified lead-safe firm and a Haag Certified Inspector, and it holds an A+ accreditation with the Better Business Bureau.
Going forward, the company would like to continue qualifying for the President's Club award and to register more roofing warranties with GAF ever before. "Our company is starting to roll out more digital options for consumers," concludes Arrell. "We have lots of new tools and data as resources. And we're constantly learning, with staff training to stay on top of industry news, product features, and installation techniques. It's all for the customers. Many companies forget that customers are the reason they're in business. Perfect Exteriors is not one of those companies! Our team goes the extra mile, to ensure satisfaction from the first phone call to long after the project wraps up."
About Perfect Exteriors of Minnesota, Inc.
A locally owned family business, Perfect Exteriors of Minnesota has earned a reputation for delivering high-quality work and products on time and at fair prices, with a customer-focused service. Serving the home-improvement needs of homeowners and businesses throughout the Twin Cities area, the company aims to exceed customers' expectations. Perfect Exteriors of Minnesota provides ongoing training for its employees to ensure the best service possible.
Perfect Exteriors of Minnesota
516 Pine Street
Monticello, MN 55362
(763) 271-8700
http://www.perfectexteriorsmn.com
Facebook: https://www.facebook.com/Perfectexteriorsmn/
Twitter: https://twitter.com/perfectextmn
YouTube video: https://www.youtube.com/watch?v=SIAXYGh8Ozk
About GAF:
Founded in 1886, GAF is the leading roofing and waterproofing manufacturer in North America. As a member of the Standard Industries family of companies, GAF is part of the largest roofing and waterproofing business in the world. The company's products include a comprehensive portfolio of roofing and waterproofing solutions for residential and commercial properties as well as for civil engineering applications. The full GAF portfolio of solutions is supported by an extensive national network of factory-certified contractors. GAF continues to be the leader in quality and offers comprehensive warranty protection on its products and systems. The company's success is driven by a commitment to empowering its people to deliver advanced quality and purposeful innovation.
For more information about GAF, visit http://www.gaf.com
Media Contact
Company Name: Perfect Exteriors of Minnesota
Contact Person: Tyler Arrell
Email: Send Email
Phone: (763) 271-8700
Country: United States
Website: http://www.perfectexteriorsmn.com