Christian Roofing and Remodeling of Watkinsville, GA, has received GAF's 2018 President's Club Award. A GAF Master Elite(R) contractor, it helps property owners to protect their investments and increase the value of their properties.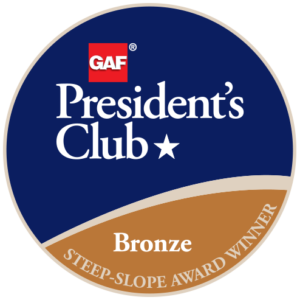 Watkinsville, GA – August 30, 2018 – Christian Roofing and Remodeling of Watkinsville, Georgia, has received the most prestigious contractor award GAF offers: The GAF President's Club Award. This highly coveted award recognizes Christian Roofing and Remodeling as one of the "elite of the elite" residential roofing contractors in the United States.
GAF is North America's largest roofing manufacturer, and only GAF Master Elite(R) Contractors can compete for its residential President's Club Award. To qualify for this award, a residential roofing contractor must meet specific criteria in at least one out of three different pathways:
• Performance pathway – where contractors focus on giving their property owners the best possible service, quality, and protection
• Reliability pathway – where the contractor has a long history of offering their customers the best quality and protection
• Service pathway – where contractors consistently offer their customers the best protection available in the marketplace.
To become a Master Elite(R) Contractor–a status that less than 2% of roofing contractors nationwide are able to achieve–a candidate must demonstrate proper licensing (in states that require it), maintain insurance, have a proven reputation, and show commitment to ongoing professional training.
"We value our certified contractors for raising the industry standard year after year by installing the best roofing products and systems. Our President's Club award recognizes only those contractors who have distinguished themselves by the highest standards of excellence, customer satisfaction, and dependability," says Jim Slauson, GAF's VP of Certified Program & Services.
Since its founding, Christian Roofing and Remodeling has evolved. The business started as a hardware store; in turn, it became a roofing supplier, a roofing contractor, and finally a full-service home-remodeling company. Backed by eight decades of experience and dedicated service to the community, it is proud to be the most trusted roofing and remodeling company in its market.
The company has experience with all types of residential and commercial roofing systems, from traditional shingle to durable metal to membrane roofing. Christian Roofing and Remodeling's knowledgeable roofing team members are experts in helping customers to choose products that will look great and last for years. Often, a remodel is the best solution for transforming a space, as a home ages and the family dynamics change. The company's talented remodeling team listens to customer needs, collaborating with them to create a customized plan of modernization and beautification.
Understanding that leaks and damage can occur without warning, Christian Roofing and Remodeling makes an effort to respond to all inquiries with a sense of urgency. The company's professional team inspects the property for roof and structural damage, documents all needed repairs with photos and detailed notes, and provides the customer with a fair, honest estimate.
A winner of GAF's Triple Excellence Award (for consumer protection, installation, and training), the company is a member of the National Roofing Contractors Association and participates in GAF's Roofs for Troops promotion. Christian Roofing and Remodeling is rated A+ by the Better Business Bureau.
By communicating effectively, completing work in a timely manner, and providing effective warranties, the company protects its customers from unforeseen issues long after the on-site work is completed. Choosing a dependable contractor that uses proven materials helps customers to lower the risk of having issues in the future. Christian Roofing and Remodeling continues the tradition of providing Athens and the surrounding areas with quality craftsmanship and the latest in home-building technology.
About Christian Roofing and Remodeling
A licensed, credentialed, award-winning contractor, Christian Roofing and Remodeling helps Athens-area property owners to protect their investments and increase the value of their properties. Alleviating the frustrations of roofing and providing a quality product, the company gives customers a pleasant experience from start to finish.
Christian Roofing and Remodeling
1030 Summit Grove Drive
Watkinsville, GA 30677
(706) 310-0505
http://www.christianroofingandremodeling.com
Facebook: http://www.facebook.com/CRRAthens
About GAF:
Founded in 1886, GAF is the leading roofing and waterproofing manufacturer in North America. As a member of the Standard Industries family of companies, GAF is part of the largest roofing and waterproofing business in the world. The company's products include a comprehensive portfolio of roofing and waterproofing solutions for residential and commercial properties as well as for civil engineering applications. The full GAF portfolio of solutions is supported by an extensive national network of factory-certified contractors. GAF continues to be the leader in quality and offers comprehensive warranty protection on its products and systems. The company's success is driven by a commitment to empowering its people to deliver advanced quality and purposeful innovation.
For more information about GAF, visit http://www.gaf.com
Media Contact
Company Name: Christian Roofing and Remodeling
Contact Person: Kevin Cash
Email: Send Email
Phone: (706) 310-0505
Country: United States
Website: http://www.christianroofingandremodeling.com